Bucatini bento lunch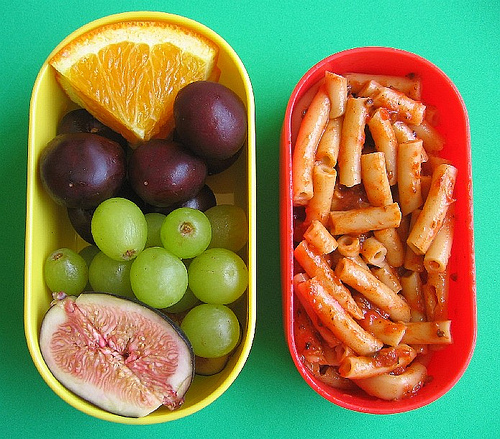 Contents of preschooler lunch: Orange, cherries, grapes, figs, and cut-up bucatini with tomato sauce.
Morning prep time: 3 minutes, using leftover sauced bucatini.
Packing: What looks like macaroni here actually started out as long tubes of bucatini, but that's difficult for a preschooler to eat neatly. To cut it up quickly and neatly, I skipped the knife and cutting board and went right for clean kitchen scissors. After I put the leftover bucatini in the little nested Thomas the Tank Engine container, I cut it up with the kitchen scissors directly in the container, Korean-style. Very fast and convenient, and Bug was able to then eat this with a little fork. The fruit was all finger food.
Lunch in a Box is nominated for Best Food Blog in the Blogger's Choice Awards. If you'd like to cast your vote for speedy lunch packing, click here (you can vote for multiple blogs in the same category).
READ MORE: