Pasta lunch and sanbaizu recipe
Morning prep time: 3 minutes. These were all leftovers, and I pre-packed the pasta the day before for speedy morning prep.
Sanbaizu broccoli: broccoli made in the microwave steamer and tossed with a sweet vinegar dressing that I keep on hand for speed ("sanbaizu", recipe below)
Shell pasta and cheese with tuna fish, green onions, spaghetti sauce and yellow bell pepper (microwaved in a covered dish with a little water, then drained)
Chicken salad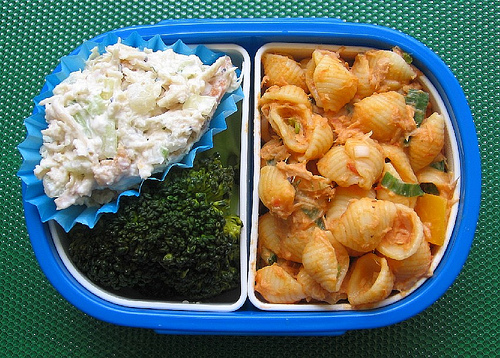 I keep a bottle of homemade sanbaizu dressing in the refrigerator as a quick flavoring for vegetables and throw-together vinegared salads (like thin-sliced cucumber). It's also excellent with seafood (especially as a dipping sauce for steamed or boiled crab). I brought some along to a Dungeness crab boil a while back, and it was a big hit even among people who don't care about Japanese food one way or the other.
Sanbaizu (three-flavored vinegar) is one of the four main vinegar dressings in Japanese cuisine, made with rice vinegar, soy sauce, dashi (bonito stock) and sugar. The other vinegar dressings are:
Nihaizu (two-flavored vinegar) with vinegar, soy and dashi
Amazu (sweetened vinegar) with vinegar, dashi and sugar
Ponzu dressing with citrus juice, vinegar, soy, mirin, bonito flakes and konbu
Sanbaizu #1 (sweet vinegar dressing)
3 Tb rice vinegar
1/4 tsp soy sauce
2 Tb sugar
1/2 tsp salt
1.5 Tb dashi (bonito stock — instant hon dashi is fine)
Sanbaizu #2 (sweet vinegar dressing)
1/3 cup rice vinegar
1/2 tsp soy sauce
1.5 Tb sugar
1/4 tsp salt
* Recipes adapted from Quick & Easy Japanese Cuisine for Everyone , Yukiko Moriyama.
Lunch in a Box is nominated for Best Food Blog in the Blogger's Choice Awards. If you'd like to cast your vote for speedy lunch packing, click here (you can vote for multiple blogs in the same category).
READ MORE: