Speed cooking technique: Multi-broiling
Morning prep time: 7 minutes each (14 minutes for two lunches). Today's speed tip is a variation on the multitasking theme: broil multiple items at once on a foil-lined pan for fast and easy cleanup (oven or toaster oven).
While I worked on the rest of the lunch, I broiled a pan of asparagus with sesame oil, and little foil cups of shimeji mushrooms topped with a squirt of ketchup and parsley ('recipe' below). Leftover refrigerated rice was warmed in the microwave, shaped into little onigiri in a mold, then wrapped with pre-cut nori or rolled in black sesame seeds. I blotted dry and cut up some leftover Chilean stewed beef lengua from dinner, as excess sauce can get into other dishes and lead to bacterial growth when the lunch is kept at room temperature. Little tomato "gap fillers" stabilize the lunch for transport, and add nice natural color (aiming for five natural food colors for good nutrition).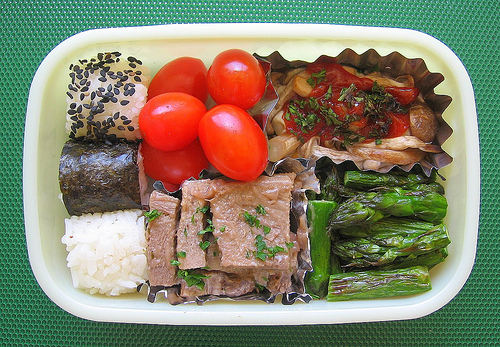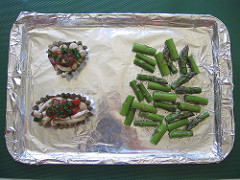 Here are the two items ready to go under the broiler. Japanese bento cookbooks often tout broiling all three lunch dishes at once (1 protein main and 2 veggie subs), but I already had leftover beef in the fridge so it wasn't necessary today. I stirred the asparagus (with sesame oil, salt and pepper) once about two minutes in, then took it out together with the mushrooms after about 4-5 minutes total cook time.
Bug's lunch was pretty much the same, with the addition of some leftover fingerling potatoes and a little plastic pick for little hands. I used up all of our leftover rice making the onigiri and didn't have quite enough starch according to the Japanese nutritional guidelines for bentos, so in with the potatoes. New development, though — Bug decided today that he's no longer a fan of black sesame seeds, so together we picked most of them off before the little rice balls were 'acceptable'. Sigh. Little things like that make me really appreciate what a remarkably unpicky eater Bug normally is.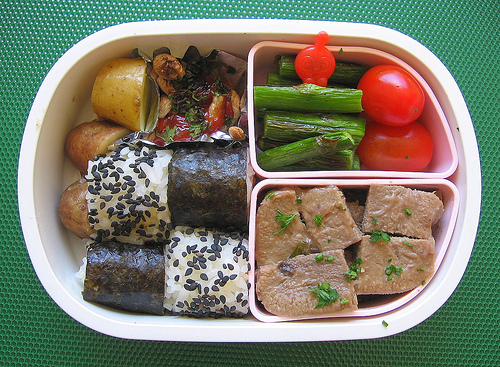 Broiled Mushroom Cup Recipe
shimeji mushrooms, bottom cut off and mushrooms separated (you can substitute other mushrooms, thinly sliced for fast cooking)
ketchup
parsley, chopped (or other herb for garnish)
1. Place two foil muffin liners inside each other for extra stability, then put on a baking sheet. You can also use shallow, extra-thick foil cups for baking.
2. Add a handful of mushrooms, top with a squirt of ketchup.
3. Put under broiler (or in a toaster oven) for 4-5 minutes or until lightly browned. Garnish with chopped parsley.
Let these cool before packing up into a closed lunch container to avoid condensation for two reasons:
The heat creates a vacuum effect in the box and makes it difficult for you (or your child) to open the lid.
The moisture from the condensation creates a favorable environment for bacterial growth when the lunch is kept at room temperature before eating (which this was). See my post on food safety.
Some bento boxes (such as Bug's 430ml box above) have a little steam vent on the lid that you can open to avoid the vacuum effect.
READ MORE: