Egg-wrapped onigiri lunch
I woke up early and decided to see how microwaved thin egg sheets (usuyaki tamago, tutorial here) would work as an alternative to nori seaweed wrappers in fake maki-zushi. (Okay, technically if you don't use flavored sushi rice it's just an onigiri rice ball.)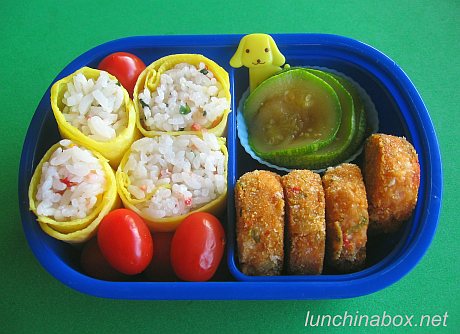 Contents of preschooler bento lunch: Mini onigiri rice balls wrapped in a thin egg sheet, mini plum tomatoes, scallop and shrimp cakes (review below), and zucchini with Korean barbecue sauce.

Morning prep time: 18 minutes, which was simply too long for me, even using frozen scallop & shrimp cakes, frozen rice and a frozen egg wrapper that I'd made previously. In the morning I microwaved the rice and egg wrapper (very briefly, on 40% power so as to not actually heat it and make it rubbery), made the onigiri (notes below), and microwaved the zucchini in my microwave mini steamer. (Read on for a review of the scallop and shrimp cakes, packing notes, and cooking notes for the faux makizushi.)
Product Review: I tried out some Jeremiah's Fine Foods mini scallop and shrimp cakes that I picked up from the freezer case at Costco, thinking they would be similar to the nice crab cakes I found there before. Unfortunately they're more heavily breaded, more fragile, and not as tasty as the Handy brand crab cakes. They fell apart in Bug's fingers when he tried to dip them in a sauce at dinner, frustrating him. The crumbling is most pronounced when the little cakes are baked or microwaved (not one of the manufacturer's recommended cooking techniques) and slightly better when they're pan-fried. They really only stay together when they're fried in a lot of oil to produce a crispy exterior, which I'm not enthusiastic about for health reasons. I have to admit being disappointed in both the flavor and texture of these frozen appetizers, and will stick to the lovely crab cakes going forward (which can be quickly microwaved, instead of needing to be fried). My three-year-old enjoyed the scallop & shrimp cakes lightly pan-fried and plain in his bento, though. (See a list of all reviews on Lunch in a Box.)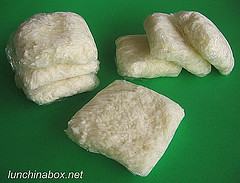 Cooking: To make the egg-wrapped onigiri, I started with packages of frozen rice that I had stashed in the freezer, wrapped in specialty plastic wrap designed to withstand the high temperatures of microwaving. Knowing that I'm likely to microwave the rice wrapped right in plastic wrap, I feel better using this than more delicate plastic wraps. If I wanted to avoid the issue altogether, I would put the rice in a microwave-safe glass or ceramic container with a lid, or re-heat it in my steamer or rice cooker (Reheat function) until warm. (Click any photo for a larger view.)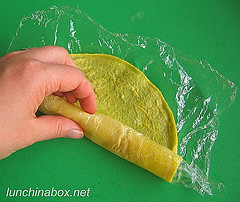 After unrolling the defrosted egg wrapper, I just spooned the furikake and rice mixture over two thirds of the egg, and used the plastic wrap that it had been frozen on to help re-roll it as fake maki-zushi. You could also use a makisu bamboo sushi mat to help with the rolling. If I were using nori seaweed as a wrapper, I would wet the end to help seal the roll together. The egg wrapper was a little trickier as it wouldn't seal on its own. If I were packing this for myself, I might use a sharp, wet knife to cut right through the whole roll (plastic wrap and all), spear them with little food picks or uncooked spaghetti, or use a dab of smushed rice on the end to keep the wrapper closed. As it was, I unwrapped the fake maki-zushi roll and cut it into even pieces with a sharp, wet knife to keep the rice from sticking, and packed the pieces tightly together in the box to help them survive transport.
I've also seen egg wrappers used make temaki hand rolls (good how-to video here) in Japanese-language bento cookbooks, sometimes using plastic wrap around the completed roll to keep everything neat and contained when you eat.

Packing: The moist zucchini went into a reusable mini silicone baking cup (US$1.50 for a pack of four from Daiso discount store) to keep it away from the dry seafood cakes, and I tucked in a little dog-shaped food pick for little hands (available at Daiso and Ichiban Kan). The lunch is packed in a 360ml Disney Cars bento box, the right size for a three-year-old according to the bento box size guidelines.
Verdict: Thumbs up once I convinced Bug to try the seafood cakes. At preschool he at the egg-wrapped mini onigiri and the zucchini, but left the rest. Evidently he remembered having trouble with the crumbly seafood cakes before, so was hesitant to eat them at school. Once I picked one up to show him they were okay, he dug in and ate them all quite happily. He had a texture issue with the tomatoes, and only wanted to suck the soft insides out of them. I had been looking to try the mini Roma tomatoes I'd heard good things about, but mistakenly picked up mini plum tomatoes instead — these had tougher skins and were not as nice as other little tomatoes I usually use.
FURTHER READING: