Mini onigiri & special Marmite lunches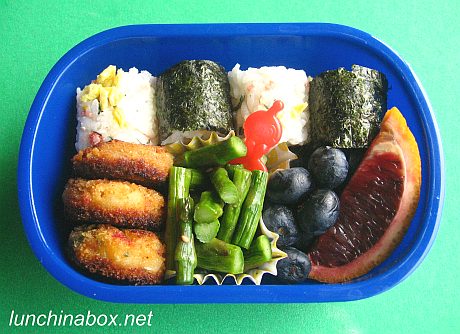 Contents of preschooler bento lunch: Shrimp and scallop cakes (review here), roasted asparagus (simple recipe here), blueberries, Moro blood orange, and mini onigiri rice balls made of rice mixed with salmon-flavored furikake rice seasoning and julienned thin egg sheets (usuyaki tamago, speedy microwave recipe here). Cooking notes for the mini rice balls follow.


Morning prep time: 15 minutes, using leftover asparagus, frozen rice, frozen julienned thin egg sheets and frozen Jeremiah's shrimp and scallop cakes from Costco. In the morning I pan-fried the seafood cakes and made the little onigiri. I got a bit distracted with the onigiri when frying, though, and the bottoms got a bit too brown (not that my three-year-old minded). Frying the shrimp & scallop cakes in more oil than I had done previously helped them develop a crust and stay together as finger food, but as you can see my attention span isn't all that great first thing in the morning. (Read on for cooking notes, limited edition Guinness- and champagne-flavored Marmite yeast extract spreads, and an additional preschooler lunch.)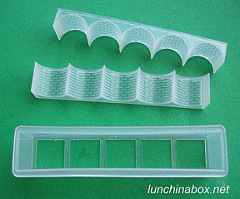 Cooking: To make the little bite-sized onigiri rice balls, I first warmed the frozen rice in the microwave, then mixed in the furikake and still-frozen julienned thin egg sheets so that they would defrost naturally in the heat of the rice. I hesitate to microwave them again unless necessary, as this risks overcooking and having them become rubbery. I threw the rice mixture into a little onigiri mold that makes five rice balls at once, and used packaged, pre-cut seasoned nori seaweed snack strips
to wrap two of them. This little onigiri mould is handy for turning out multiple tiny rice balls quickly, and I like the textured plastic insides that make it easier to remove the rice balls without rice sticking to the plastic. I picked this up cheaply a long time ago either at Kamei or Ichiban Kan in San Francisco (for store information, see my San Francisco Bay Area shopping guide for bento gear).
Packing: Wrapping alternating rice balls in nori made it easier for my three-year-old to remove one onigiri at a time from the lunch. I cut the roasted asparagus into bite-size pieces (no asparagus tips, at Bug's request), packed them in a disposable paper baking cup to keep it away from the crispy seafood cakes, and threw in a small Anpanman food pick for little hands. The whole lunch is packed in a 360ml Disney Cars bento box with subcontainers removed to accommodate the line of onigiri.
Verdict: Pretty good over time. Bug ate the seafood cakes, onigiri and orange at preschool, and the blueberries after school as a snack. He rejected the asparagus, though, saying he didn't like it in his bentos although it was good at dinner.
* * * * *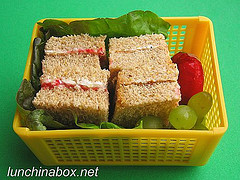 Contents of preschooler bento lunch: Grapes, wrapped cheese, and little sandwiches on whole wheat bread filled with cream cheese and a little Guinness Marmite yeast extract spread, and cream cheese and sugar-free strawberry jam.
Morning prep time: 6 minutes. I made the sandwiches fresh in the morning, although Marmite sandwiches freeze fine (without the cream cheese).
Packing: I used a leaf of lettuce as an edible liner for the small Snoopy collapsible sandwich case (general intro to sandwich cases here), and avoided hard plastic food cups that wouldn't fit in the case when collapsed.
Verdict: Big thumbs up — this was entirely demolished at preschool. I was a little surprised, because Bug had previously rejected regular Marmite. But reader docsarah kindly sent me some limited edition Marmites (Guinness and Champagne versions), and I think Bug decided to give Marmite another chance after seeing my husband and me get so excited about it.
* * * * *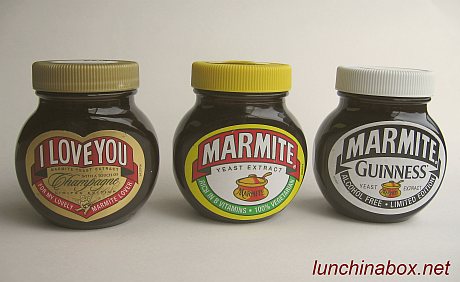 Marmite is a savory vegan yeast extract spread from the U.K. that is often eaten thinly spread on buttered toast, similar to Australian Vegemite. I became a convert in the early nineties after eating it regularly at my English friend Naomi's house for breakfast in Japan (on buttered toast, with cheddar cheese on top). Marmite does tend to be pricey in the U.S., though, with even the smallest jars going for US$7 each. On a trip to Scotland, England and Wales about three years ago, my husband and I temporarily solved this problem by stopping by a Scotland Costco for a huge catering tub of Marmite that lasted us an entire year. We're back to local sources at this point, though! You can also find Marmite on Amazon
, flavoring snacks like Twiglets or Fudges Marmite Biscuits
, or cook with it as per The Marmite Cookbook
.
The limited edition Guinness Marmite was made last year for St. Patrick's Day, and the champagne version was made this year for Valentine's Day. When reader docsarah told me about champagne Marmite in recent comments, I had my heart set on getting some for my husband for Valentine's Day (we're weird that way). We worked out a Marmite for bento gear swap, with Daiso goodies making their way to the U.K. in return for multiple jars of Guinness Marmite, Champagne Marmite, and regular Marmite.
Our whole family's favorite turned out to be the Guinness Marmite, which has a complex, mellow flavor. Maki at Just Hungry has written some comprehensive taste tests about Guinness Marmite, yeast extracts, and the Champagne Marmite. I prefer the gooey Marmite to the thicker Vegemite, and Bug will only eat the mellower limited edition Marmites (go figure!). Thanks, docsarah, for making my Marmite dream possible without eBay!
FURTHER READING: