How to make an octodog (hot dog octopus)
Japanese-style bento lunches for kids often feature the infamous "octodog", a mini-sausage shaped like an octopus. I used to split hot dogs out of necessity when my son was just starting to eat solid foods to minimize the choking risk. Now, I'm more into quick and easy lunches than food art, but octodogs still thrill my three-year-old like nobody's business and add some fun to a lunch.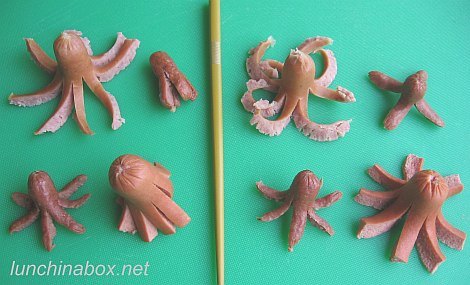 I've seen a lot of different-looking octodogs in bentos, so I set out to compare how different sausages behave with different cooking techniques. The hot dogs to the left and right of the chopstick in the photo above were cooked with two different methods: one set was boiled, the other was fried in a pan with about a half-cup of water. Can you tell which is which? (Click to read the full how-to.)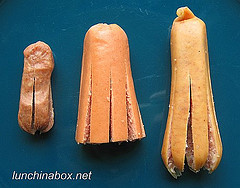 Sausage Types: First, I looked at some commonly available sausages. From the left, there's a mini cocktail sausage (Smoked Beef cocktail sausages from Costco), half of a regular American hot dog (Ball Park Franks), and a Japanese Kurobuta arabiki pork sausage (JFC brand) that I picked up at a local Japanese market. You can see that they're different sizes, but a not-so-obvious difference is that the arabiki sausage uses a natural sausage casing that helps the octodog legs curl when cooked (and gives it a crunch when you bite into it). I'm not a big fan of the flavor or texture of the American smoked cocktail sausages; if you're able to find a less processed sausage like the ones from Aidells (my favorite brand) I believe they're worth the extra money, and they behave more like the Japanese sausages used for octodogs.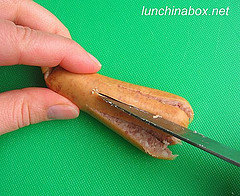 Cutting: Use a sharp knife to create the 'legs' of the octopus, leaving about a third of the sausage whole to form the head. The first two cuts that quarter the sausage are pretty easy; it's the slicing of each remaining leg evenly in half that's challenging. You can slice from the inside of the quarter leg down to the cutting board, but I find that I tend to make an uneven cut resulting in one fat, one skinny 'leg'. I prefer to cut from the outside (as in the photo) to ensure even legs. I tried cutting the smallest cocktail sausages in quarters to see if I could get good results with less cutting, but the result was something that looked more like a strange quadropod than an octopus. Cut the tiniest sausages into sixths for better results (see the top photo for examples of both).
Gadgets? Yes, they sell gadgets out there just to cut octodogs (see the American octodog cutter for US$17 or the Japanese cutter for $2.50), but I prefer the precision of a knife. I did pick up the cheap plastic Japanese cutter and tried it out, but it wasn't very sharp and mangled the sausages and hot dogs I used it on. Save your money and get your knives professionally sharpened instead (one of my Christmas presents last year) — it'll pay off in your kitchen every day of the year with more precise cutting. They also sell mini sausage cutters for different shapes like a penguin, crab or tulip. The trick to getting good results with these is to briefly freeze the sausage for 20 minutes to firm things up before cutting, and to spray the inner cutting blades with cooking spray like Pam (then boil or fry briefly to help the design bloom). This improves the definition of the design so you don't get a mushed up sausage.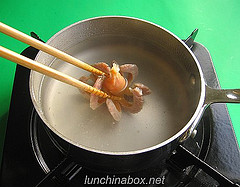 Cooking: Now for the answer to the photo quiz above. The sausages on the right were boiled in water, and those on the left were fried in a shallow pan with a half cup of water to help the legs curl. I like the look of the boiled octodogs better, but the arabiki sausage looked passable with the quicker pan-fry with water method (this is true with other sausages with natural casings). The deeper water conducts heat more thoroughly throughout the sausage, which is key for hot dogs that need a little extra help. Simply pan-frying the hot dogs without water doesn't seem to apply even enough heat to help the legs curl nicely. (EDIT: Japanese readers suggested deep-frying; I tested this and wrote a follow-up here. Frying produced the fantastically curled tentacles on the arabiki sausage below.)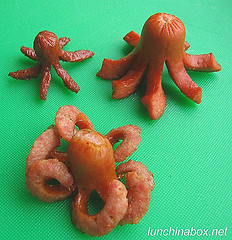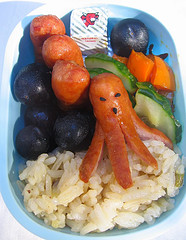 Decoration: If you're feeling super-ambitious, you can decorate your octodogs with little eyes and mouths. Stick black sesame seeds or onion seeds onto the head with a little honey, or use cream cheese or another sticky spread to affix little round cutouts of sliced cheese and nori to make eyes and mouths like the one shown in this article on Bentos, Childhood and Families in Manga. The lunch at left uses onion seeds — it's a little snack bento I made in 2006. You can go all out on decorating if you like, or go minimal — the choice is yours.
* * * * *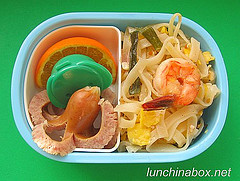 Contents of preschooler bento lunch: Octodog with ketchup, orange wedge, and pad Thai noodles with shrimp.
Morning prep time: 8 minutes, using a leftover orange slice and pad Thai.
Packing: I put ketchup in a little wide-mouthed sauce container for easy dipping, and the lunch went into a 350ml Geki Rangers bento box with noodles in the place of the missing subcontainer.

Verdict: Boo hiss! Bug ate only the octodog at preschool, and left everything else. This was largely my fault, as for some reason the pad Thai got stiff and unappetizing and I hadn't cut between the orange flesh and peel to make it easier to eat. In the car afterwards I helped him with the orange and coaxed him to eat the shrimp (one of his favorites), but no go on the noodles even after I brought them home and warmed them in the microwave. I tried a bite myself and understood why Bug rejected them… On the bright side, Bug was so excited watching me prepare the octodogs that evidently he paraded around his classroom at lunchtime showing everyone his octodog.
FURTHER READING:
Subscribe to Lunch in a Box by e-mail updates or via RSS feed