Triangular onigiri bento box lunch
Bento boxes come in all shapes and styles, from small and cute to big and mannish. I've been curious about the triangular boxes that are designed to hold triangular onigiri rice balls. I picked up a couple from local Japanese dollar stores, but so far I've only seen cheaper onigiri boxes without proper seals (fine if your lunch is not too moist). I'd welcome feedback from people with other versions, though; have you found one with a really secure seal? (Feel free to provide links to your photos or blog entries.)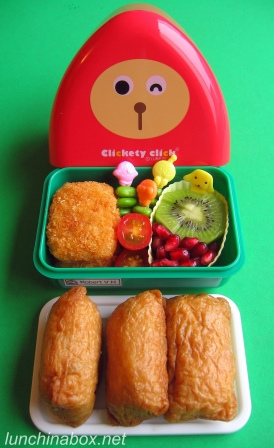 Contents of preschooler lunch: Oinarizushi (sushi rice in seasoned abura-age tofu wrappers), fried fish fillets with built-in tartar sauce (Akebono Nichiro brand, reviewed here), edamame skewers, cherry tomatoes, kiwifruit, and pomegranate arils.
Morning prep time: 8 minutes, using homemade frozen inarizushi (freezing instructions here), frozen fish fillets, frozen edamame and leftover pomegranate arils. In the morning I microwaved the frozen items and assembled the fruits/veggies.
Packing: I threaded the edamame onto thin Anpanman food picks; if you try to do this with thick or wide skewers the edamame will split apart and won't stay on. The fruit went into a medium-sized reusable silicone baking cup that I picked up at Daiso (Japanese dollar store with branches internationally, 3 cups for US$1.50), and the kiwi got a little dog-shaped pick with four prongs as legs (from Daiso).

Container: The lunch was packed in a two-tier Clickety Click onigiri bento box with the Mink Monkey character; the bottom tier is 230ml with a lid, and the 550ml top tier is large enough to hold two convenience-store-sized onigiri (rice balls). 780ml is way too big for a 3-year-old's lunch, though, so I packed the upper tier lightly with three oinarizushi rice balls for an estimated total volume of 400ml or so (still slightly too large). I picked this box up for US$1.50 at Ichiban Kan in San Francisco, along with a matching dessert box and mayonnaise cups (shown below). Quality's a little flimsy and the seal is not secure, but at that price who cares? (Just be sure to pack non-liquidy foods inside.) Store details at the SF Bay Area shopping guide for bento gear. There's no real fastener on this box, so I used a mushroom-themed elastic bento band from Daiso (US$1.50) to keep it all closed in transit. (Click on any photo for a larger view.)

Verdict: Pretty good, but there was too much food. Bug ate all of the sushi, edamame and kiwi, and half of the fish and pomegranate. Tomatoes were a no-go, though. Sometimes he gobbles them up, other times not — I'm finding he has irritatingly good taste and will inhale ripe heirloom tomatoes in season, but reject tougher, less tasty tomatoes. Reminds me of the line on the cartoon King of the Hill, just before Hank Hill tastes organic tomatoes for the first time, "You two are just talking nonsense. Tomatoes don't have any taste!"
READ MORE: