Pomegranate bento lunches
This was my son's first pomegranate — Bug was asking for a snack the day before this lunch, so we sat together at the kitchen table with a big bowl filled with water and picked apart the pomegranate. We had fun watching the arils fall to the bottom and the pith float to the top, and Bug quickly started popping the seeds into his mouth. That snack was half play, half food, so packing the remaining pomegranate arils in the next day's bento was a little reminder to him of the fun we had earlier.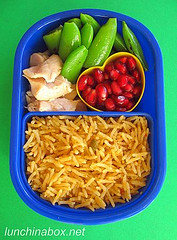 Contents of preschooler lunch: Roast chicken, sauteed sugar snap peas, pomegranate arils and Puerto Rican yellow rice with alcaparrado.
Morning prep time: 8 minutes, using leftover yellow rice, chicken and pomegranate. In the morning I made the sugar snap peas, and lightly microwaved the yellow rice to restore the texture.

Packing: I made a couple of fatal errors in packing this lunch. The key to packing a bento that will survive rough treatment in transport is packing it tight, with no gaps. At first glance this lunch would seem to be fine, but the pomegranate seeds and yellow rice are very loose and need to be contained. In an effort to do just that, I covered the pomegranate arils with a bear-shaped "surprise animal cap" and put an antibacterial lunch sheet over the rice before putting the lid on. This might have been fine, but walking into preschool I watched my son drop his whole lunch bag upside down as he was putting it into his cubbyhole, then pick it up and drop it again on its side. Ouch! Had it been a normal lunch it might have withstood this dropping, but it was a little on the fragile side to begin with, so the rice and pomegranate both jumped around in the box. Pomegranate arils are packed in a heart-shaped reusable plastic food cup from Daiso, and the whole lunch is packed in a 360ml Disney Cars bento box with one sub-divider removed to accommodate more food.
Verdict: Not so great. Once the rice mixed with the pomegranate, Bug didn't want to eat either, so he just ate the chicken and sugar snap peas. If I were to re-pack this, I'd either use a different box like the Lock & Lock one below, or securely cover the pomegranate and rice with either plastic wrap or Glad Press'n Seal.
* * * * *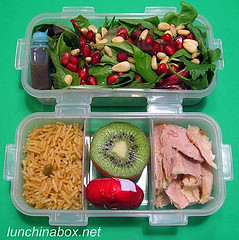 Contents of my lunch: Salad of spring greens, pomegranate arils, and pine nuts with a black fig vinaigrette. Yellow rice, kiwifruit, wrapped cheese, and roast chicken. I got the black fig vinegar from the Hop Kiln winery in the Russian River Valley a while back — a picturesque winery with a lot of Zinfandels.
Morning prep time: 5 minutes, using leftover rice, chicken and pomegranate. In the morning I just made the salad, threw in a pre-filled sauce container with vinaigrette to save time, and cut the kiwi in half to eat with a spoon. The rice got a brief spin in the microwave to restore texture.
Packing: This was the right way to pack the loose yellow rice — in a 700ml Lock & Lock bento set with built-in dividers that come right up to the lid (no room for rice to jump compartments, even if dropped).
READ MORE: