Chicken two ways, mini strainer & bowl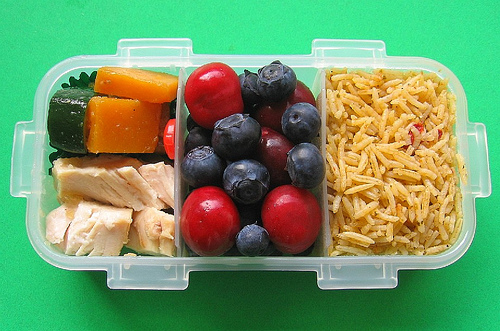 Contents of Bug's lunch: Butternut squash and zucchini with Korean barbeque sauce, roast chicken, blueberries, cherries, yellow rice (from Daisy Martinez' Daisy Cooks! Latin American cookbook, her website is here).

Morning prep time: 5 minutes. The yellow rice was leftover from dinner last night, so when I was cleaning up I packed the rice up directly into our lunch containers for the next day. Bug & I went to Costco yesterday, so we bought our requisite roast chicken and chicken salad there — perfect for quick lunches. We're still working through the veggies leftover from Mother's Day (cut, but not cooked), so I threw them all into the microwave in a microwave steamer (a covered bowl with a little water works just fine) for a minute and a half, let it stand for a minute, then quick fried it with some store-bought Korean barbeque sauce (yakiniku sauce). This is a common speed technique in Japanese bento books — using pre-made sauces to add quick flavor to fresh veggies or protein dishes.
Packing: I packed this in a 350ml Lock & Lock container, and included a mini pick to make it easy for Bug to eat the veggies. I also included a spoon (not shown) for the rice — he ate the chicken and the berries with his hands.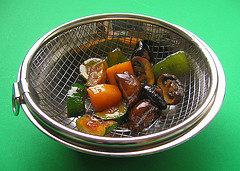 After I cooked and sauced the veggies, I put them into a small 15cm strainer set in a bowl and set the bowl in front of an open window to cool for a minute or two. The strainer allows any excess moisture to drip off, and the metal of the bowl and strainer encourage fast cooling. Packing cooled food that's not wet helps avoid condensation inside the lunch container that could: 1) make it hard for little hands to open the lid, and 2) add to the chance of food spoilage.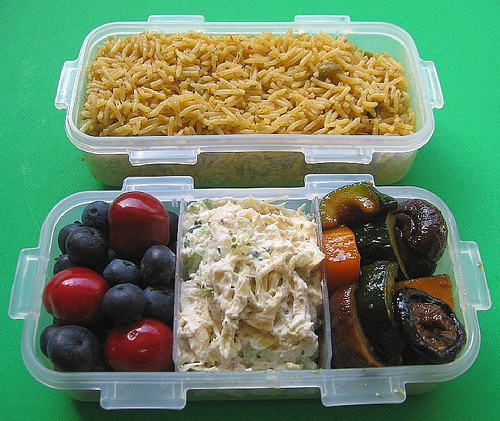 Contents of my lunch: Puerto Rican yellow rice, blueberries, cherries, chicken salad from Costco, and veggies (butternut squash, zucchini, green bell peppers and mushrooms) with Korean barbeque sauce.

Morning prep time: 5 minutes.
Packing: Mine is packed in the two 350ml tiers of the Lock & Lock lunch set, so total of 700ml lunch — just about right for me according to the bento box size guidelines. I was able to stack all three containers (Bug's & my lunch) inside of Bug's little insulated lunch bag (Thomas the Tank Engine, a hand-me-down from a friend's son).
Lunch in a Box is nominated for Best Food Blog in the Blogger's Choice Awards. If you'd like to cast your vote for speedy lunch packing, click here (you can vote for multiple blogs in the same category).
READ MORE: