Indian curry lunches, and Glad Press'n Seal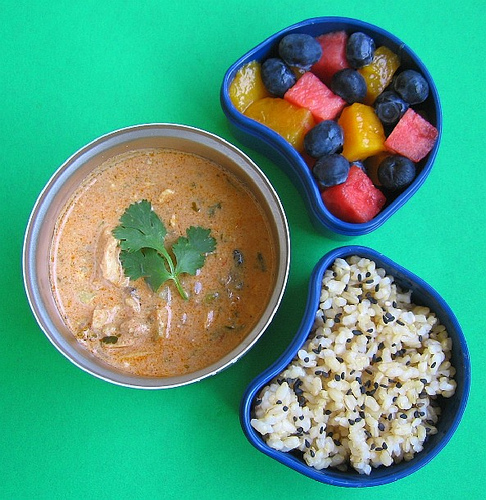 Contents of Bug's lunch: Chicken korma with broccoli (from a Costco simmer sauce), brown rice with black sesame seeds, and watermelon, mango and blueberries.Morning prep time: 7 minutes, using leftover curry and frozen brown rice. I heated the frozen rice and the cold curry (in a covered bowl) in the microwave at the same time to speed things along. The mango was already chopped and leftover from lunch a couple of days ago, so just sliced up watermelon and packed it all up.
Packing: I chopped up the chicken & broccoli in the curry and stirred in some yogurt to turn down the heat for my son. Curry went in the thermal jar portion of the insulated bento set to keep it warm; Bug eventually added the rice to the hot curry when eating. Each container has a separate lid, good for keeping the watermelon juice contained. You can get the same effect as the pricier insulated bento set by using a small side container and a thermal food jar , commonly available from stores like Target or Walmart. (Note to SF Bay Area locals: The Ichiban Kan stores stock four kinds of insulated bento sets for $20 - $25, and Kamei has two Zojirushi-brand sets for $33. Store info at the SF local shopping guide.)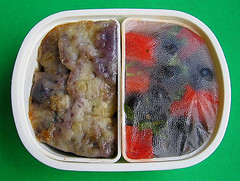 This is old hat for a lot of people, but worth throwing out there anyway. Glad Press'n Seal sealing wrap is great for creating a seal over sub-containers without lids, allowing you to pack juicy items that would otherwise leak onto other food. The underside is kind of sticky, so running your fingers firmly along the top and sides of the container creates a pretty good seal. You can also use this on makeshift sub-containers, like washed disposable cream cheese containers, applesauce cups, etc. or the little container in the Laptop Lunchbox. Look for Press'n Seal in your supermarket by the plastic wrap. Japanese bento cookbooks encourage you to drain/dry food items before packing to avoid leakage and for best food safety in hot months. If you're packing dishes with a lot of liquids in hot weather, be careful of how the lunch is stored prior to eating.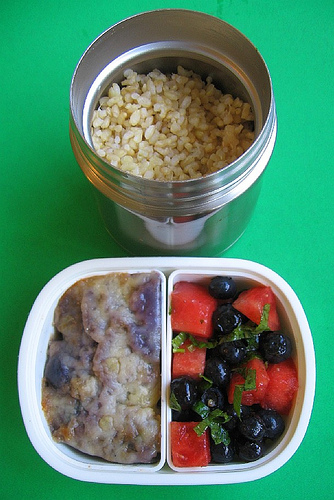 Contents: Chicken korma curry underneath the rice, purple potato gratin (scalloped potatoes), and watermelon and blueberries with fresh mint and orange juice balsamic vinaigrette.Morning prep time: 7 minutes, using leftover gratin, curry and frozen rice. The vinaigrette was already made, so just sliced up the watermelon and mint, nuked the curry/rice in the microwave, and wrapped the fruit sub-container in Glad Press'n Seal before closing the lid.
Packing: I used the "rice lid" packing technique, where a layer of rice goes on top of the hot curry in a thermal food jar (keeps everything warm and somewhat separate until eating). The Press'n Seal kept the juices from the watermelon salad from getting into the potato gratin.
Lunch in a Box is nominated for Best Food Blog in the Blogger's Choice Awards. If you'd like to cast your vote for speedy lunch packing, click here (you can vote for multiple blogs in the same category).
READ MORE: