Quick spinach lunches & recipe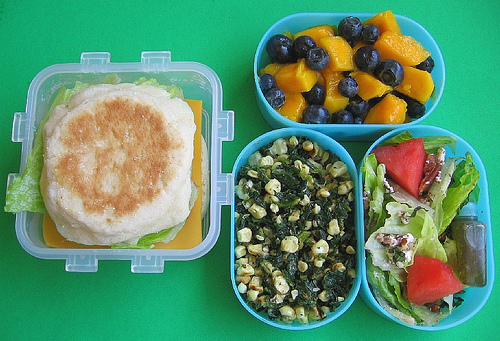 Contents: "Lamburger" (ground lamb and shredded carrot burger) on English muffin with lettuce and cheese, mangoes and blueberries with a splash of lime juice, quick spinach and corn dish with sesame seeds and vinaigrette (recipe follows), and salad with watermelon, feta, pecans and fresh mint (sauce container with orange juice balsamic vinaigrette).

Morning prep time: 7 minutes, using leftovers, freezer staples and packing some items the night before. The grilled/sauced "lamburger" patty was leftover from a friend this weekend, so I just heated it briefly in the microwave to get the texture back to normal, and assembled the burger. The salad was leftover from dinner, so I had packed that and the dressing the night before. What was left was cutting the mango and making the fast spinach and corn dish. I could have packed everything the night before except the burger, which is best assembled the morning of.

Packing: The salad really needed its own container because of the salad dressing, so I went with a cheapie three-tier 495ml box (170ml, 165ml and 155ml tiers), and a deep Lock & Lock box for the lamburger (too tall to fit into other boxes). I wrapped all of these in an insulated lunch cloth to keep the salad crisp and cool.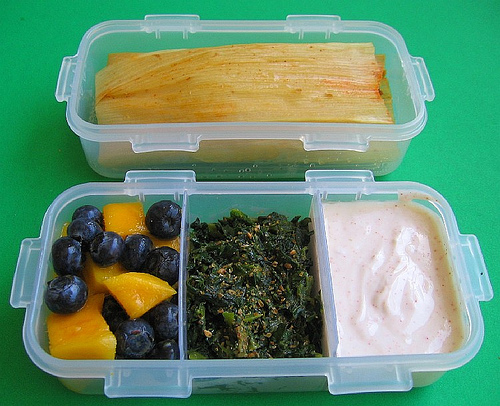 Contents of Bug's lunch: Pork tamale and yogurt sauce with chipotle pepper, lime juice and garlic. Mango and blueberries with a splash of lime juice, and spinach with vinaigrette and roasted sesame seeds.
Morning prep time: 5 minutes. Last night after dinner I packed the leftover tamale and dipping sauce, and refrigerated them overnight. This morning the only thing left was cutting the mango and prepping the quick spinach dish. If I'd had my act together, the entire lunch could have been packed the night before.
Packing: The Lock & Lock containers have secure built-in dividers that keep the food separate with only minimal spillover, so the yogurt was okay in this and didn't get into the spinach (I carried it, not Bug). Bug has a bottomless pit for tamales (he ate TWO last night at dinner!), so he was able to eat all of this — much to my amazement. To keep the yogurt cool and safe, I packed it in an insulated lunch bag with an ice pack cut from a flexible ice blanket.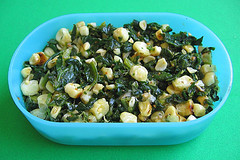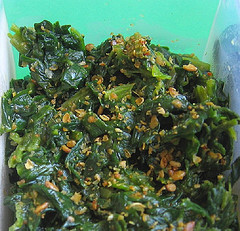 I got the inspiration for this quick spinach dish from the Japanese cookbook "Obento Daijiten" おべんとう大事典, where they flavor the spinach with black sesame seeds, soy sauce and a little sugar.
Quick Spinach Recipe
1 cup chopped frozen spinach (it reduces down when heated)
3 Tb vinaigrette or vinegar-based salad dressing
2 Tb roasted sesame seeds, ground (grinding is optional)
Put frozen spinach into a microwave-safe bowl with 2 Tb water, cover, and microwave for 1 minute or until warm (times may vary according to the power of your microwave)
Drain spinach in a strainer, and squeeze most of the water out with your hand or by pressing on the spinach with a spoon.
Stir in the vinaigrette and sesame seeds, adjust seasonings (add salt and pepper if necessary), and serve. Top with a few extra sesame seeds.
Variation: Add canned or frozen corn to the drained spinach for a color and texture contrast. I used the last of our leftover grilled corn.
Note: You can buy sesame seeds that are already roasted and ground, often quite reasonable at Korean markets. You can also toast a batch of sesame seeds pretty easily. If you don't have a sesame seed roaster , just put them in a pan over low heat and cover with a splatter screen (keep moving the pan around to keep them from burning).

Note: Organic frozen spinach is worth seeking out, especially if a child will be eating it, as spinach is one of the vegetables that retains a lot of pesticides even after washing. Consumer Reports has a good article on "When buying organic pays (and doesn't)".
Lunch in a Box is nominated for Best Food Blog in the Blogger's Choice Awards. If you'd like to cast your vote for speedy lunch packing, click here (you can vote for multiple blogs in the same category).
READ MORE: