Cheater's tamagoyaki lunches
I finally broke out a picnic bento set and got practice making diabetic-friendly food with these lunches. I packed for four this past Tuesday as my in-laws were here visiting, and they joined us for Japanese playgroup. Also, I can't say that I'm much of an Emeril Lagasse TV fan, but his creamed spinach recipe is excellent and my preschooler devours it like there's no tomorrow — it's up there with tamales and tofu in Bug's list of favorite foods. The thickener proportions are off, though; it's too thick as written. I use the normal roux proportion of equal parts butter and flour, and so changed the recipe to 4Tb of flour, 1.5 cups milk or more, plus Tabasco and Cajun spice to taste. I've mixed leftover creamed spinach with egg the following day and made it into spinach scrambled egg purses.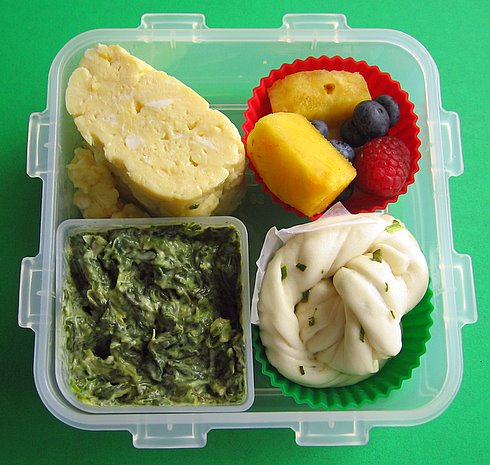 Contents of my lunch: Slices of cheater's dashimaki tamago omelette (made in a round frying pan without creating layers: full tutorial here), fresh pineapple, blueberries, raspberry, steamed Chinese green onion bun, and Cajun creamed spinach. My mother-in-law's lunch is identical to this one, so no separate photo.
Morning prep time: 17 minutes, mostly to make the 8-egg tamagoyaki for all four lunches. The tamagoyaki rests for 10 minutes on the counter, though, so during this inactive cook time I was able to pack the rest of the lunch using leftover creamed spinach, pre-cut pineapple from breakfast, and pre-packaged green onion buns that I briefly heated in my microwave mini steamer.


Packing: I packed all three adult lunches in a multi-person picnic set from Lock & Lock in an insulated case. I used the set's removable food cups to pack the creamed spinach, and silicone baking cups for the fruit and Chinese bun. (Confession: the bun didn't actually require a baking cup, I just liked the shot of color it gave.) I then stuffed frozen ice packs (cut from a flexible ice blanket) into the sides and top to keep everything cool for best packed lunch food safety. Each large square container is 870ml (click photos for larger views).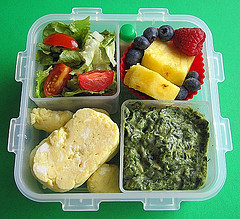 My father-in-law's lunch: This is the diabetic version of my lunch, with leftover salad and a tiny container of low-carb, low-fat ranch dressing replacing the steamed bun. The salad dressing is by Eating Right (distributed by Lucerne Foods, I picked it up at Safeway), and I can't tell much difference between it and regular ranch dressing.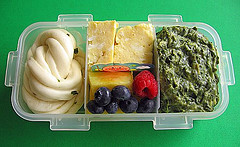 Preschooler's lunch: Packed in one 350ml tier of a Lock & Lock lunch set, Bug's lunch is the same as ours, with a little plastic Anpanman food divider keeping the egg from touching the fruit. Everything got wolfed down except the steamed bun, which was sub-par as it hardened up after steaming/packing. They were much better right out of the steamer.
READ MORE: