Quinoa salad x 3 bentos
Fighting the hot weather with some quinoa I had around from our year of gluten-free cooking. Three bentos today: this one was for my husband, with mine and my son's behind the cut.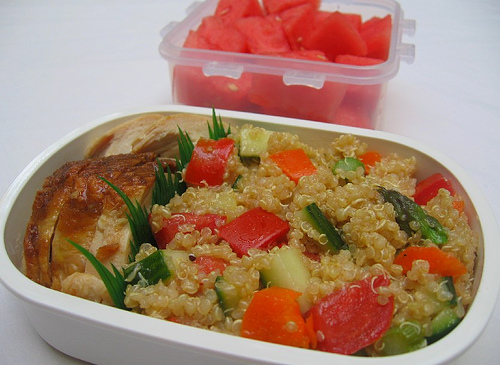 quinoa salad with tomatoes, cucumbers, orange bell pepper and asparagus
roast chicken
watermelon
Quinoa Salad Recipe: 1 cup quinoa
2 cups water
1 Tb or cube of dried bouillon (chicken or vegetable)
1 small tomato, seeded and diced
1/2 orange bell pepper, seeded and diced
1/3 cucumber, diced (I used an English cucumber, so no seeding necessary)
6 or so stalks of asparagus, sliced (tips reserved)
1 clove garlic, minced or put through a garlic press
dash of salt & fresh ground black pepper
1/2 tsp. thyme
1/4 cup red wine vinegar
splash of black fig vinegar (optional)
less than 1/4 cup regular extra virgin olive oil
heavy splash of orange-flavored extra virgin olive oil (optional)
Prepare the quinoa according to the box directions (bring the quinoa, water and bouillon seasoning to a boil in a 1.5-quart saucepan, reduce heat, cover and simmer for 10-15 minutes until the moisture evaporates, fluff with a fork). In the last 2 minutes of cooking, stir in the chopped asparagus. When the quinoa has finished cooking, stir in the asparagus tips. Put this all into a metal bowl by the window or cool place and allow to cool (fluffing periodically to help it cool)
Make any vinaigrette dressing you like in a separate small bowl, and adjust seasonings to taste. I used garlic, red wine vinegar, black fig vinegar, orange olive oil, regular EV olive oil, salt, pepper and thyme. This would also be good with a splash of balsamic vinegar instead of black fig vinegar, or a squeeze of orange juice to bring out the orange olive oil. But play around and make your favorite.
To the cooled quinoa and asparagus, add the diced tomatoes, orange bell pepper, and diced cucumber. Add some of the vinaigrette dressing and stir. Taste and add more vinaigrette dressing as you feel necessary.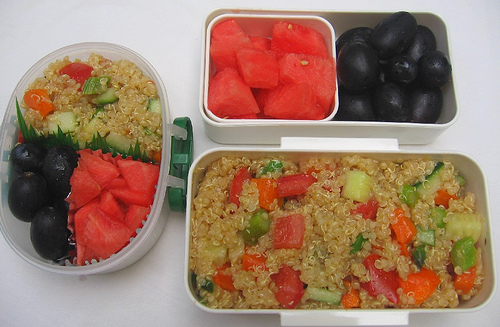 A vegetarian version for my toddler and I, with black grapes.
READ MORE: