Purple kale lunches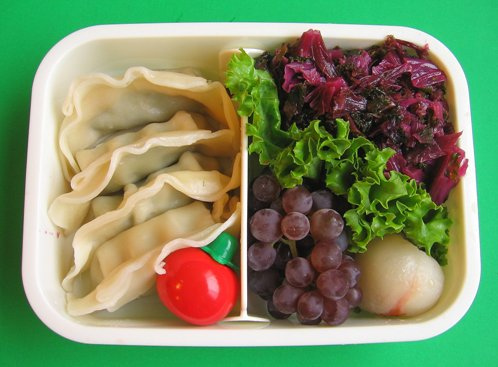 Contents of my lunch: Pork and Chinese spinach gyoza (boiled) with soy/vinegar dipping sauce, sauteed purple kale with garlic and red wine vinegar (loose recipe below), curly green-leaf lettuce, tiny black Corinth Champagne grapes, and a fresh lychee. I didn't know that Zante currants are actually dried black Corinth grapes, and not actually true currants! The purple kale was strikingly beautiful in the store, and cooked up simply with a basic recipe from the Chez Panisse Vegetables cookbook. I turn to the Chez Panisse Vegetables book when I've got an interesting new vegetable from the farmer's market but haven't yet figured out how to showcase its flavor — trust Alice Waters to bring out the peak flavor of fresh, local produce.
Morning prep time: 12 minutes, mostly because it took a while to bring the water to a boil for the store-bought frozen dumplings. The kale was leftover from dinner, and I used pre-filled sauce containers for speed.
Packing: I used the curly leaf lettuce as an edible divider to keep the kale away from the fruit. I drained the kale in a mini strainer and bowl before packing to keep the sauce from leaking into the rest of the lunch, and for better packed lunch food safety. Packed in a 500ml Leaflet bento box.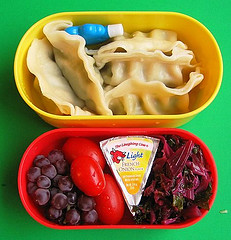 Cooking: Saute a head of chopped, washed, slightly wet kale leaves (minus stems) in a little olive oil. Once the kale has reduced down, add a little extra water and a minced garlic clove, cover, and cook on medium-low heat until tender (5-15 minutes, depending upon the maturity of the kale). When tender, remove lid and let the remaining water evaporate. Add a tablespoon of red wine vinegar per head of kale (or to taste), salt and pepper, and serve. I added a teaspoon of sugar in hopes that Bug would eat it (taking the edge off of the bitter greens), but no go. Big hit with the adults, though!
Contents of preschooler lunch: Same as mine, with the addition of a cheese triangle and plum tomatoes. Bug appears to be on a strike against purple food, though, as he was unimpressed with the purple kale (green seems to be okay, though).
Packing: The cheese wedge acted as a divider to keep the flavor of the kale away from the rest of the lunch. Bug ate (inhaled?) the gyoza with his hands — it's one of his favorites. Packed in two tiers (180ml & 280ml) of a 4-tier nesting Thomas the Tank Engine box.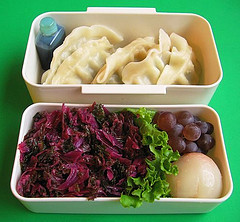 My husband loves kale, so he got extra. I pre-peeled the lychee to make it easier to eat. Packed in a 600ml two-tier box.
READ MORE: