USB bento warming bag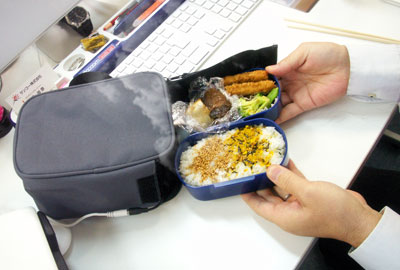 Here's an ingenious specialized contraption from gadget-crazy, bento-friendly Japan. It's a USB-powered bento warmer bag from Thanko Co. that plugs right into the USB port on your desktop computer and warms your bento lunch to 60 degrees C (140 deg. F). I could see this as being handy for people working in offices without a proper kitchen, or who use pack lunches in metal containers that can't go into the microwave. It's a little disappointing that it won't work with laptop computers due to power requirements, though.
A Thanko staff member developed this when he wanted to heat up the bento lunches that his wife made him. The company already made a line of USB gadgets, so coming up with a USB-powered bento warmer was a natural solution.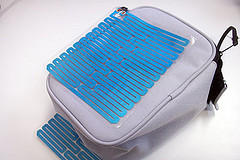 The bag opens wide to accommodate even large bento boxes.
There are two heaters inside the bag, incorporated into the top and bottom.
The webpage says it can heat up bento lunches bought in convenience stores as well as homemade bento lunches.
Due to power requirements, this can only be used from a desktop computer, and not from laptop computers, AC chargers, or some USB hubs.
Price in Japan: 1,980 yen (approx. US$21.50)
Dimensions: 140 x 200 x 90mm (5.5″ x 7.9″ x 3.5″) (W x D x H)
Handle: 170mm (6.7 inches)
Weight: 175g (6.2 oz)
USB cable length: 125cm (4 feet 1 inch) (Can you tell that I used to translate consumer electronics specifications as part of my job in Japan?) (Read on for information on availability.)
To use this, you'd want to pack your lunch carefully with heating in mind, packing fruit and other cold dishes separately or in a removable subcontainer (see my post on Hot vs. cold lunch packing considerations). If you're not comfortable with heating food in plastic, tempered glass or metal bento boxes would be an excellent option.
The USB-powered hot lunch bag is currently available only on preorder through the Japanese-language website, and Thanko expects to have more in at the end of February 2009. UPDATE: Similar products are also available here on Amazon.
It might turn up eventually on Thanko USA's online store Rare Mono Shop, which also stocks other USB gadgets like a USB coaster that can both cool and warm cups and bottles, USB cordless warm slippers, and even a USB head refresher!
(Disclaimer: I have no commercial affiliations with Thanko.)
FURTHER READING:
Bento FAQ and Biggie's list of top speed tips, tutorials and reviews