Vacation bento lunches & food sculpture centerpieces
Fresh back from my family vacation in Alaska, I'd like to thank Amorette (Sakurako Kitsa) for her great series of how-to posts for making artistic bentos that she wrote for Lunch in a Box while I was away. The techniques are more time-intensive than I'm up for on a weekday morning, but they're good tricks to have up my sleeve for the rare decorative lunch I might get motivated to make for a special occasion. A full list of her guest posts is below, under "Further Reading."
Also, Lunch in a Box was recently featured in an article about packed lunches in The Boston Globe, so welcome to new Boston readers! If you're new to bento lunches, you might be interested in the Bento FAQ and the Bento Store Locator with Google Maps for local store listings with reader-generated feedback. Back-to-school season has been a big news time for me; I'm scheduled to go on live TV this Friday 9/12/08 to do a brief segment on the Sacramento morning news (Fox40 at 8:23 & 8:48am — time updated). This'll be my first TV appearance for bento-related stuff, so wish me luck!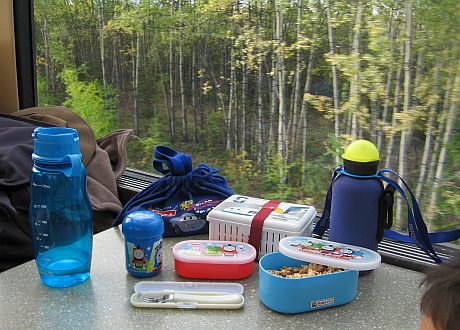 When we were on the road, I brought along a selection of compact bento gear to box up leftovers from restaurant meals so we'd be more independent and not totally at the mercy of airlines and trains for our meals. (See my post on How to pack a bento lunch for the airplane.) I used a combination of collapsible sandwich cases that fold flat when empty, Bug's stacking and nesting Thomas the Tank Engine bento boxes, reusable utensils in travel cases, elastic bento bands to keep things closed, and a carrying bag. Here you can see breakfast leftovers and Bug's new tricked-out Sigg water bottle on a domed sightseeing train from Fairbanks to Denali National Park. I brought along little travel packets of powdered drink add-ins to add to the water, especially in the airports after we cleared security with empty bottles. Fill up at a water fountain and we were all set! I wrote little snippets about the travel portion of our trip on my Twitter. (Read on for more travel bento info and photos of edible table centerpieces made from carved fruit and vegetables.) 
I like the collapsible sandwich cases when we're on the road as they neatly contain bulky sandwiches that are commonly available when we travel, and the four lidded/nesting bento boxes are watertight enough to contain moist foods. This allowed us to raid the breakfast buffet and pack afternoon snacks of dry granola, fruit, rolls, etc. — most convenient when traveling with an ever-hungry preschooler!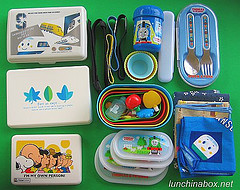 Having some compact boxes tucked in my purse also meant that I didn't mind ordering Bug a full-size entree from restaurants without kids' menus. Bug's plane bento, shown above, actually holds half of his restaurant breakfast of a fluffy buttermilk pancake and fresh fruit salad. I cut the huge pancake up into bite-size pieces before packing it up so that it would be easy to eat (cutting things inside the boxes themselves is unwieldy). Hey, it's better than wasting breakfast leftovers and relying on the unappetizing snack packs sold on airplanes (less wasted packaging as well).
It also helped me control my own portions — without the ability to pack up the restaurant leftovers I probably would have eaten some of the pancakes as I have that little voice in my head that says it's bad to waste food. (It's not always a productive voice to have from a diet perspective!)
Fruit Carving Demonstration

While we were away, I sat in on a demonstration of fruit and vegetable carving put on by Princess Cruises. The edible centerpieces below are a little too ornate for my table, but I found the techniques interesting nonetheless. The scale is larger than the kind of bento food art that Amorette showed us last week; I looked at it as more of a curiosity than anything else. In the demonstration they said the key element to holding everything together was common wooden skewers and wire cutters; on a smaller scale you could use toothpicks, uncooked spaghetti or linguine noodles. (Click on any photo for a larger view.)
Here's an edible centerpiece made out of a hollowed-out honeydew melon stuffed with an entire celery plant, studded with "flowers" made out of shaved daikon radish, carrots, and red cabbage leaves with blueberry centers. The two "dragonflies" on top are made out of shrimp, the end part of a lobster tail, and a grape.

A flat platter holds a 3D woodpecker painting made out of fruit and vegetables dipped in clear gelatin to adhere to the creamy pudding-like base. Head: red bell pepper, carrot and blueberry; wing: eggplant (aubergine) and lemon rind; body: lemon slices and eggplant; tail: cucumber. Branch: eggplant, maraschino cherries and zucchini (courgette) skin. The "frame" around the edge is made out of chopped red cabbage leaves.

Bug likes this teddy bear photo the best. Body: honeydew melon; head: grapefruit, orange and lemon; eyes: radish and grape; nose and tie decoration: grapes; arms: zucchini (courgettes); base: pineapple.
And a vegetable bird. Body: Napa cabbage, neck: yellow summer squash, face: carrot, red bell pepper and blueberry, base: honeydew melon, red bell pepper and grape.

Here's a squirrel. Body/tail: eggplant (aubergine), face: lemon, carrot and blueberries, arms/legs: yellow summer squash, base: pineapple, red bell pepper and a grape.

The food carver's piece de resistance: a child with a bottle. An edible child creeps me out a little, but the artistry is undeniable. Arms/legs: eggplant (aubergine), body: watermelon, face/hands: cantaloupe melon, bottle: daikon radish and carrot, decoration on hat/chest: red bell pepper.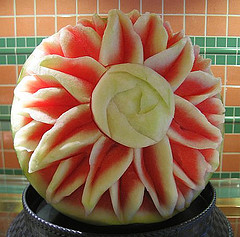 And a couple of carved watermelons, which seemed to be everywhere.
FURTHER READING: