Book Review: The Manga Cookbook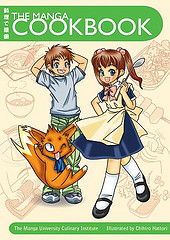 There aren't that many English-language bento cookbooks out there, so when I saw that The Manga Cookbook
(available now) was going to be sold bundled with an Urara bento box set
in September 2008 I was curious. Was it a cookbook with bento how-to tips and recipes, or a straightforward Japanese cookbook in manga style? As with my review of the coffee table book Face Food, what's important here is for people buying this book to know what it is and what is not.
In Japan, as in France, comics aren't just for kids: There are interesting and popular comics (manga) for adults, and even product manuals for complex consumer electronics often feature playful drawings and cartoon characters to illustrate directions in a fun manner. As a result, it's not immediately clear that The Manga Cookbook is intended to be a cookbook for children, not adults. In fact, I too had assumed it was for adults until the book's editor e-mailed me describing it as a book for kids, which put it into context. (Read on for the full review.)
So if you pick this up thinking that it'll be a full-on cookbook for adults done in manga style, think again. Written by Yoko Ishihara (a nutritionist and chef) and illustrated by manga artist Chihiro Hattori, this 144-page book from Japanime is a collection of 27 simplified recipes for Japanese dishes that are suited for bento box lunches, including some cute bento how-to's with decorative food and tips on bento composition. There's some introductory material about ingredients, setting the table, and how to use chopsticks, followed by seven pages of color photos depicting all of the dishes. Brief cultural notes and tips follow many of the recipes, giving additional information in a chatty manner without overwhelming the reader. The English is natural, and captures the spirit of manga without seeming like a clumsy translation from Japanese (what you'd expect from the organization that brought you the popular "How to Draw Manga"
series, "Kanji De Manga"
, "Kana de Manga"
, and 50 Things We Love About Japan
).
As a cookbook aimed at kids, it's quite appealing:
Particularly easy recipes are marked as being beginner-friendly.
Ingredients should be widely available in mainstream markets.
The illustrations are well done, playful, and clearly depict the important steps of each dish's preparation. The manga style makes the dishes seem approachable and not scary or too complex.
On the other hand, some aspects may frustrate adults or more experienced cooks relying on it to prepare food. The recipes seem to sacrifice flavor and authenticity for simplicity, and the book is not a substitute for a serious Japanese cookbook. Two examples:
The book often omits important and sometimes hard-to-find ingredients, and streamlines preparation steps to an extreme degree. This can be good in some cases, such as the shortcut tamagoyaki rolled omelet. But it's more of a problem with other dishes. The recipe for apple rabbits, for instance, omits the ice water soak that curls the ears, and the okonomiyaki recipe leaves out tenkasu, nagaimo, benishoga and aonori, which usually keep it from turning into a chewy hockey puck.
Calorie counts are provided for each 2-serving recipe, but seem to be way off in some cases. Wait, only 42 calories total for two servings of teriyaki sauce made with 1 cup each of sugar, mirin, sake and soy sauce?!? This can't be correct — how many servings does the recipe actually make?
(Disclaimers: Lunch in a Box received a free review copy of The Manga Cookbook from the publisher, but I have no commercial affiliations with Japanime or Daiso. See the Reviews page for my product review policies. Amazon and J-List links are affiliate links that support Lunch in a Box at no additional cost when you use them to get to the sites when shopping there anyway.)
FURTHER READING: