Food books in my kitchen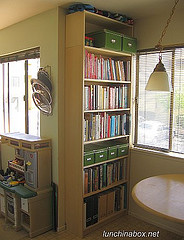 On seeing my new kitchen bookshelf that holds most of my cookbooks and some organized lunch gear, reader Spiceaholic of One Bite at a Time asked for a list of all my cookbooks. Twist my arm! Please pardon me while I indulge my inner Virgo; here's an organized list of my 150 or so books (plus food writing) with brief comments. They're not all ringing endorsements; some of these I've had since college, others are more like souvenirs I've picked up in my travels. Plenty of award-winners, though — I do have a weakness for the James Beard and IACP cookbook awards. I've underlined my favorites. Have a recommendation for a really outstanding book? Let me know in comments. (Read on for the full list of cookbooks with commentary…)
(Disclosure: Any purchases made through the Amazon links below support Lunch in a Box at no markup over regular Amazon prices. Amazon Japan ships books internationally. Edited to add: There's a fast and easy way to turn Amazon Japan pages into English. On any product page, there's a little bit of text in the top part of the right hand column ("Would you like to see this page in English? Click here."). It's below the first blue bar, but above the shopping cart button on the right. That'll turn your whole Amazon Japan shopping experience into English (with the exception of what's written in the books themselves, of course!). You'll be billed in yen by Amazon, and your credit card company would handle the currency exchange.)
Packed Lunches:
Brown Bag Success: Making Healthy Lunches Your Kids Won't Trade: Dietitians advise on children's packed lunches (dietary balance, special touches, recipes, etc.), but unfortunately there are no photos (just an illustration of the food pyramid).
Lunch Box: Creative Recipes for Everyday Lunches: Not bento-specific, but a solid cross-platform lunch book by Canadian dietitians with excellent introductory material. Good food safety section, and tips for each recipe with photos. A recommend for the intro, although I haven't made many of the recipes.
The Healthy Lunchbox: Half intro material with nutritional advice for a child's lunch, half recipes. Tips on each recipe.
The Laptop Lunch User's Guide: Fresh Ideas for Making Wholesome, Earth-friendly Lunches Your Kids Will Love: The Laptop Lunch company's cookbook and guide for kids' lunches. Interesting introductory material on making a healthy meal and getting kids to eat, but no photos.
The School Lunchbox Cookbook: Health focus on kids' lunches, with good introductory material but heavy focus on sandwiches.
Kids' Food:
Deceptively Delicious: Simple Secrets to Get Your Kids Eating Good Food: The controversial book by Jessica Seinfeld for parents of picky eaters (see my thoughts on bentos and picky eaters).
First Meals: This was the book I used to start Bug on solid foods. Some good ideas for purees and dishes for beginning eaters, and the tone is not alarmist.

Kitchen Playdates: Easy Ideas for Entertaining That Includes the Kids ** 70 Delicious Recipes: New to my kitchen, but it looks like recipes adult food that I'd make anyway, with notes on how to have your children help with each recipe (suggestions for both older and younger children). Glossy with nice photos.
Toddler Cafe: Fast, Healthy, and Fun Ways to Feed Even the Pickiest Eater: New to my kitchen. Kids' food for picky eaters with lots of photos that got my three-year-old excited about the dishes.
Bento Lunches:
Bento Boxes: Japanese Meals on the Go: One of the only bento cookbooks available in English, the book shows traditional Japanese food packed in bento boxes with recipes.
Watashitachi no Obento "Our bento lunches": Not so much of a cookbook per se, more of a collection of lunches from normal people. I find it inspiring to see the wide variety of foods and containers, which inspired my post using everyday Glad containers in a wine bag. (Also available from J-List)
Papatto Jukuben "Fast Bento Lunches for Cram School": Clever lunches and snacks for hungry cram school students, with freezing tips and speed ideas.

Aisai Yarikuri Bento "How to Make Bento Lunches from a Loving Wife": Despite the retro title, this is not an altogether bad book. Clear graphic timelines for each lunch, with packing advice, prep time and calorie count. Layout is a little messy, though.
Konban no Okazu to Asu no Obento "Tonight's Dinner and Tomorrow's Bento": A book on how to cook dinner in a way that yields leftovers for the next day's bento lunches, and how to create leftover remakes. (Half dinner, half bento lunches.)
Youchien no Obento Zensho: Enji ga Yorokobu Idea ga Ippai! "Kindergarten Bento Compendium: Lots of ideas to make kids happy!": Full review here in my write-up of children's bento books.
Ichinenju Yakudatsu Tsuen Obento: Daisukina Kondate ga Ippai: "Children's Bentos that are Helpful Year-round: Lots of Favorite Menus": Full review here in my write-up of children's bento books.
Mini Frypan Hitotsu de Mainichi Tsukaeru Enji no Obento "Everyday Child's Bentos from a Mini Frypan": Full review here in my write-up of children's bento books.
Aijou Ippai Youchien no Obento: "Kindergarten Bentos Full of Love": Full review here in my write-up of children's bento books.
Tsukaeru! Obento no Hon: Kore Issatsu Areba Anshin "A Bento Book You Can Use: The Only Book You Need": Full review here of in my write-up children's bento books.
Okosama Lunch to Obento "Children's Lunches and Bentos" : Full review here in my write-up of children's bento books.
Obento Daijiten: 748 Recipe Oishii Obentou Tsukuri o Oen Shimasu! "Bento Encyclopedia" Comprehensive, and one of my favorites. Full review here in my write-up of children's bento books.
Aijou Tappuri! Obento: Chugakusei kara Otousan Made Kazoku Minna ga Daimanzoku "Bentos Full of Love: Satisfying everyone in the family from middle school students to Dad" Full review here in my write-up of speed bento books.
Papatto 15-fun! Oishii Obentou "Delicious bentos in just 15 minutes!" Full review here in my write-up of speed bento books.
5-fun de Dekita! Chobenri! Kawahaya Obento "Cute and Fast Bentos in 5 Minutes! Super Convenient!" Full review here in my write-up of speed bento books.
American & Californian:
Better Homes and Gardens New Cookbook, new edition here: To duplicate mom's cooking
Betty Crocker's Cookbook: To duplicate mom's cooking

Chez Panisse Cafe Cookbook: Along the same lines as the Chez Panisse Fruit and Vegetables cookbooks, but more far-reaching in focus.
Chez Panisse Fruit: What I reach for when I've got a lot of fruit from the market.

Chez Panisse Vegetables: What I reach for after coming back from the farmer's market with a new vegetable.
Frugal Gourmet: An early purchase to get a handle on Western cooking when I was in Japan.
I Hear America Cooking: The Cooks, Regions and Recipes of American Regional Cuisine (cookbook & food writing)
Martha Stewart's Hors d'Oeuvres Handbook: Excellent source of ideas and how-to's for miniature food adaptable to bento-style lunches.
Martha Stewart's Hors d'Oeuvres: The Creation and Presentation of Fabulous Finger Foods: Martha's old hors d'oeuvres book, not as complete as her subsequent Martha Stewart's Hors d'Oeuvres Handbook
Silver Palate Cookbook: A lot of good French/American basics.
The 1997 Joy of Cooking, but they've come out with a new 75th anniversary edition: To duplicate mom's cooking
The Best Make-Ahead Recipe: Make-ahead dishes from the authors of Cook's Illustrated magazine, with extensively tested recipes.
The Cook's Illustrated Complete Book of Poultry: Award-winning single subject cookbook from the authors of Cook's Illustrated magazine, with extensively tested recipes.
The New Basics Cookbook: From the authors of the Silver Palate Cookbook
The New Best Recipe: All-New Edition with 1,000 Recipes: I LOVE this cookbook, from the authors of Cook's Illustrated magazine. The recipes come with articles explaining their test methods and results, so you can learn enough to change recipes around on your own (and better understand recipes from your other cookbooks).
Barbecue and U.S. Southern:
How to Grill: The Complete Illustrated Book of Barbecue Techniques: Raichlen's companion book on grilling (as opposed to low and slow barbecuing).
Legends of Texas Barbecue Cookbook: Recipes and Recollections from the Pit Bosses
New Orleans Cookbook: Pretty good New Orleans basic cookbook.
Peace, Love, & Barbecue: Recipes, Secrets, Tall Tales, and Outright Lies from the Legends of Barbecue
Raichlen on Ribs, Ribs, Outrageous Ribs: All ribs, all the time, from Raichlen.
The Barbecue! Bible: Raichlen's tome on barbecued world cuisine, an excellent intro to barbecue.
The Commander's Palace New Orleans Cookbook: Refined New Orleans (Creole) food from the well known restaurant.
The Cornbread Book: A Love Story with Recipes: A small book with numerous variations on cornbread.
The Southern Cook's Handbook: A Step-by-Step Guide to Old-Fashioned Southern Cooking: From my Southern mother-in-law, to make down-home cooking.
White Trash Cooking: A silly book with Southern food from the trailer park.

Chinese:
Classic Deem Sum: Illustrated recipes from San Francisco's famous Yank Sing dim sum restaurant. Bought when I had the time and inclination to make my own dim sum from scratch instead of buying take-out or going to a restaurant.
Encyclopedia of Chinese Food and Cooking: Plenty of unusual, regional recipes in a very sparse writing style (no photos).

New Chinese Cooking School: A gift from my mother when I was in college, this is a well illustrated educational intro to Chinese cooking. I learned a lot from this book.
Quick & Easy Enjoy Chinese Cuisine: Chinese food that appeals to Japanese people, with lots of photos

The Joy of Chinese Cooking, A Step-by-step Guide with 186 Recipes: Plenty of how-to photos.
French:
Mastering The Art of French Cooking, Volume One: My Philadelphia grandmother gave me her 1966 copy of the Julia Child classic when I was in college. My intro to traditional French cooking.

Greek, Turkish, and Eastern Mediterranean:
Food of Greece: Cooking, Folkways, and Travel in the Mainland and Islands of Greece: Interesting culinary history notes precede each recipe. Inspiration for my galaktoboureko recipe.
Meze: Mediterranean-Style Eating: Not a fave.
The Cooking of the Eastern Mediterranean: 215 Healthy, Vibrant, and Inspired Recipes: Your classic Paula Wolfert book, authentic but very time-consuming, calling for unusual ingredients.
The Art of Turkish Cooking: Bought on the recommendation of one of my Turkish-American friends, who says her mother uses this highly regarded book. Inspiration for my cheese and Swiss chard bourek recipe.
Indian:
Great Curries of India: Bought on a trip to Singapore; interesting but not as educational as other books.
Madhur Jaffrey's Quick & Easy Indian Cooking: New to my kitchen, by the highly regarded Indian cookbook author.
Moghul Microwave: Cooking Indian Food the Modern Way: Who would've thought you could make great Indian food in the microwave oven? Time-saving Indian food.
South Indian Cookery Vegetarian - Vasanthi: I picked this up in Bangalore. Authentic but often confusing to me due to language issues (using local words for ingredients).
The Complete Book of Indian Cooking: Bought on a trip to Singapore, with metric and Imperial measurements. Lots of prep photos.

Italian:
365 Easy Italian Recipes: Fine for what it is, but not a high recommend. One of my first cookbooks.

Essentials of Classic Italian Cooking: Excellent cookbook of traditional Italian food from respected taskmaster Marcella Hazan. I consult this for Italian dishes to see what the proper way is, then riff on my own. No photos, but a workhorse.
Marcella Cucina: A glossy photo follow-up by Marcella Hazan.
The Classic Pasta Cookbook: Well illustrated visual guide to pasta by Giuliano Hazan, son of influential Italian cookbook author Marcella Hazan.
Japanese:
A Dictionary of Japanese Food: Ingredients & Culture (reference): Detailed info on all kinds of Japanese foods (not recipes, but a handy reference).
Favorite Japanese Dishes (Quick & Easy): Visual guide to making shabu-shabu, sukiyaki, tempura, teppan-yaki, and teriyaki steak.
Japanese Cuisine for Everyone (Quick & Easy Series): Visual guide to making a variety of Japanese dishes — an introduction.
Let's Cook Japanese Food!: Everyday Recipes for Home Cooking: New to my kitchen, by a Jewish woman who married into a Japanese family. The recipes actually look like pretty authentic Japanese home cooking as I've experienced it.
The Guide to Japanese Food and Restaurants (reference): Good restaurant reference for the traveler to Japan. Even though the restaurant listings themselves may be outdated, the ordering tips and notes on the dishes are solid.
Itsudemo Onigiri "Onigiri Rice Balls Anytime": Magazine-book of all kinds of onigiri. Visual and compelling.
5-fun de Dekita! Nandomo Tsukuritai Ninki no Okazu "Popular Dishes You Can Make in Five Minutes": Magazine-book ("Mook") of super-speedy Asian food with graphic timelines.
Nakamura Kouhei Washoku no Kihon "Kouhei Nakamura's Basics of Japanese Food": Seasonal Japanese food from the noted Japanese chef with lots of glossy how-to photos
Ketteiban Kihon no Washoku Recipe "Basic Japanese Recipes, The Definitive Version": Step-by-step photos and directions for Japanese food, from the noted Shufu no Tomo publishing house.

"Okonomiyaki, Takoyaki and Monjayaki": Just what the title says, with tons of how-to pointers and variations like yakisoba fried noodles, Akashiyaki, negiyaki, etc. This was helpful in putting together my tutorials for okonomiyaki (savory cabbage pancake) and takoyaki (octopus balls).
Washoku no Kihon Gijutsu "Basic Techniques of Japanese Cuisine: Fish and Seafood Edition": Need an illustrated guide to skinning and gutting an eel to make your own kabayaki? This is the book for you, chock full of how-to photos for all kinds of fish and seafood.
Korean:
Quick & Easy Korean Cooking for Everyone: Illustrated intro to Korean food, using Japanese brands I was able to find easily when living in Japan.

Latin American:
Daisy Cooks!: Latin Flavors That Will Rock Your World: Companion book to Daisy Martinez' TV show of pan-Latin American cooking. A little heavy on the salt sometimes, but reduce that and I have yet to encounter a disappointment. Tone is chatty like the TV personality.
Rick Bayless's Mexican Kitchen: Capturing the Vibrant flavors of a World-Class Cuisine: Excellent educational guide to Mexican food that makes cooking it very approachable and doable in any kitchen. A recommend.
The Book of Latin American Cooking: Interesting culinary notes interspersed between the recipes help put the foods into perspective.
Russian:
The Art of Russian Cuisine: I've had mixed results with this book, but plan to re-explore it as I've found some good local Russian food markets lately.
Thai and Southeast Asian:
Hawkers delight: A guide to Malaysia & Singapore hawkers food: Picked up on a trip to Singapore, I like this tiny handbook as much for its photos of food stalls as its recipes. Unfortunately out of print.
Hot Sour Salty Sweet: A Culinary Journey Through Southeast Asia: Authentic recipes with travelogue of the region.
Step-by-Step Thai Cooking: Visual step-by-step Thai cookbook, a good introduction with time-saving tips. (I picked this up in Bangkok.)
Thai Food: Award-winning Thai cookbook by an Australian who married into a family of cooks to the Thai royal family. SLOW cooking that calls for many unusual ingredients, but results are outstanding.
The Southeast Asia Cookbook: Ruth Law's tour of Southeast Asian cuisines, an early purchase to get familiar with the region's different foods.
Vatch's Thai Street Food: Bought to duplicate Thai food stall dishes — interesting street photos and good recipes. Like Hawker's Delight, but for Thailand.
Baking:
In The Sweet Kitchen: The Definitive Baker's Companion: Excellent baking reference book with recipes.
Rose's Christmas Cookies: Rose Levy Beranbaum's definitive book on Christmas cookies, with notes on which cookies will hold up for sending through mail, how long each will last fresh vs. frozen, etc. Nice photos, very browsable — I pull this out for my annual holiday cookie baking.
The Cake Bible: Rose Levy Beranbaum's award-winning cake book.
The Secrets of Baking: Simple Techniques for Sophisticated Desserts: Sherry Yard's book of master recipes and variations gives a better understanding of where desserts fit into the larger picture.
Wilton Cake Decorating Yearbook 2007, similar to their Wilton Cake Decorating for Beginners Guide
Cheese:
Cheese Primer: A solid reference book and guide to world cheeses
French Cheeses: The Visual Guide to More Than 350 Cheeses from Every Region of France: Great photos and info on all sorts of French cheeses (including photos of different stages of ripeness). Definitely recommended for those interested in French cheese.
Convenience:
Cooking with Convection: Everything You Need to Know to Get the Most from Your Convection Oven: Good convection reference, helpful in adjusting other recipes for my convection toaster oven.
Microwave Gourmet: Good reference and recipes for the microwave.
Moghul Microwave: Cooking Indian Food the Modern Way: Who would have thought you could make good Indian food in the microwave? Time-saving Indian.
Semi-Homemade 20-Minute Meals: Some interesting thoughts on how to organize the pantry and kitchen for speed. The food itself is a little scary, though.

Quick Fix Meals: 200 Simple, Delicious Recipes to Make Mealtime Easy: Some good ideas on organizing the pantry and kitchen for speed.
Drinks & Brewing:
Cool Cocktails: The Hottest New Drinks and the Best of the Classics: Glossy coffee-table book of cocktails, a gift.
The Insider's Guide to Sake: Pocket-sized illustrated reference to sake, very educational.
New Brewing Lager Beer: The Most Comprehensive Book for Home and Microbrewers: From when my husband thought he would have to brew his own gluten-free beer during his nine-month misdiagnosis of celiac disease. He was undiagnosed before we started home brewing.
Radical Brewing: Recipes, Tales and World-Altering Meditations in a Glass: From when my husband thought he would have to brew his own gluten-free beer during his nine-month misdiagnosis of celiac disease. He was undiagnosed before we started home brewing.
Sotheby's World Wine Encyclopedia: A Comprehensive Reference Guide to the Wines of the World: Now outdated world wine reference book.
The Coffee Companion: A Connoisseur's Guide to the World's Best Brews (but there's a new edition here): Good reference to the world's coffee by country (doesn't go into brands, though). Nice little gift for the coffee lover.
The Complete Joy of Homebrewing: From when my husband thought he would have to brew his own gluten-free beer during his nine-month misdiagnosis of celiac disease. He was undiagnosed before we started home brewing.
The New American Bartender's Guide: Extensive listing of drinks by main type of alcohol, like a Joy of Cooking for drinks in our home.
Freezing:
Reitou Hozon & Tsukaikiri Maru Tokuwaza 555, "Techniques for Freezer Storage and Using Things Up" THE ultimate freezing book in Japanese. Full review here in my write-up of freezing books.
Reitou Teku & Setsuyaku Recipe "Freezing Techniques and Frugal Recipes" Brief magazine-book on freezing, but falls short of the Reitou Hozon & Tsukaikiri Tokuwaza book above.
Freezing de Tsukaikiri Okazu "Dishes that Use Things up by Freezing" Pretty good book on freezing with summary poster chart, but falls short of Reitou Hozon & Tsukaikiri Tokuwaza. Full review here in my write-up of freezing books.
Game:
The L.L. Bean Game and Fish Cookbook: A gift from my Dad. For the next time we hunt elk in the city? Still, it did come in handy when my sister was looking for a deer meat pate recipe.
Gluten-Free:
Against the Grain: The Slightly Eccentric Guide to Living Well Without Gluten or Wheat (reference/food writing): Upbeat GF guide, but does advocate some irresponsible eating practices for the celiac, such as just scraping glutened food off of party hors d'oeuvres and eating the rest (ignoring cross-contamination dangers). Take with a grain of salt.
Gluten-Free Baking: More Than 125 Recipes for Delectable Sweet and Savory Baked Goods, Including Cakes, Pies, Quick Breads, Muffins, Cookies, and Other Delights: Highly respected GF baking book.
Gluten-Free Diet: A Comprehensive Resource Guide (reference): Excellent gluten-free reference for the newly diagnosed.
The Gluten-Free Gourmet Bakes Bread: More Than 200 Wheat-Free Recipes: Bette Hagman's well-tested GF bread recipes. If you're celiac, you can do so much better than the dense GF pre-made breads in health food stores. Spend the time to make your own every so often and freeze what you won't eat that week. I finally got regular use out of my heavy-duty KitchenAid stand mixer with this book.
The Gluten-Free Gourmet Cooks Comfort Foods: Creating Old Favorites with the New Flours: Another solid GF book from Hagman.
The Gluten-Free Gourmet Cooks Fast and Healthy: Wheat-Free and Gluten-Free with Less Fuss and Less Fat: Another solid GF book from Hagman.
Wheat-Free, Worry-Free: The Art of Happy, Healthy Gluten-Free Living (reference): Excellent reference for the newly diagnosed celiac.
Vegetarian:
The New Enchanted Broccoli Forest: From my husband's collection before we got married, I haven't worked with this much.
The New Moosewood Cookbook: From my husband's collection before we got married, I haven't worked with this much.
The New Moosewood Cookbook: From my husband's collection before we got married, I haven't worked with this much.
New Recipes from Moosewood Restaurant: From my husband's collection before we got married, I haven't worked with this much.
Other:
Cooking (Chic Simple): One of my first cookbooks, but not a fave now.
Glorious Garnishes: Crafting Easy & Spectacular Food Decorations: How to create food garnishes from fruit and vegetables.
The Great Garlic Book: A Guide With Recipes: Not a fave.
The Joy of Pickling: 200 Flavor-Packed Recipes for All Kinds of Produce from Garden or Market: One of these days I'll start pickling, and this'll be my how-to guide to pickling for world cuisine.
The Joys of Entertaining: I don't refer to this much anymore.
The New InterCourses: An Aphrodisiac Cookbook: A gift: sexy food porn coffee table book with recipes.
The Stinking Cookbook: The Layman's Guide to Garlic Eating, Drinking, and Stinking: From San Francisco's Stinking Rose Restaurant (new edition here). A little disappointing as I'd envisioned something more along the lines of the Tokyo's Ninnikuya restaurant (which has great world food, including Asian).
Food Reference:
Beef & Veal (The Good Cook Techniques & Recipes Series): Part of Time Life's excellent Good Cook series with extensively photographed and researched how-to's. I'd love to own the whole series.

Cookwise: The Secrets of Cooking Revealed: Shirley Corriher's informative food science book.
Culinary Artistry: Inspirational when I'm creating my own dishes, helpful with its extensive listing of "flavor pals" — classic flavor combinations organized by ingredient.
I'm Just Here for the Food: Version 2.0: Alton Brown's fun food reference book about cooking, with a scientific slant and lots of illustrations.
I'm Just Here for More Food: Food x Mixing + Heat = Baking: Alton Brown's fun food reference book about baking, with a scientific slant and lots of illustrations.
Larousse Gastronomique, but there's a new edition here. A culinary dictionary of French food.
The Ethnic Food Lover's Companion: A Sourcebook for Understanding the Cuisines of the World: A handbook for world cuisines (a.k.a. how to fake it when you're in a new and unusual restaurant).
The New Professional Chef (TM), but there's also a newer edition.: The textbook of the Culinary Institute of America, good for learning basic techniques and professional restaurant protocols.
The Oxford Companion to Food 2nd Ed: This is my food encyclopedia, with information on a wide variety of foods from all over the world. Better than Larousse Gastronomique if you're interested in more than just French food. Highly recommended, this has settled many a late-night food discussion.
The Well-Tooled Kitchen: My copy is a bit dated now, but a good visual encyclopedia of kitchen gear. Once you subscribe to the Alton Brown religion of multitaskers, though, single-purpose equipment starts to lose its luster.
Setsuyaku no Urawaza Shittoku Memo 999: Ways to save energy and money from respected home publishing company Shufu no Tomo (Japanese-language). Extensive kitchen tips, including frying quail eggs in a ladle and steaming vegetables together with rice in your rice cooker.
Food Writing How-to:
Recipes Into Type: A Handbook for Cookbook Writers and Editors
The Recipe Writer's Handbook, Revised and Updated
Will Write for Food: The Complete Guide to Writing Cookbooks, Restaurant Reviews, Articles, Memoir, Fiction and More
Magazines:
Cook's Illustrated: The Consumer Reports approach to cooking. No ads means no conflict of interest in their reviews. Extensively tested recipes and lengthy articles about how they came up with the "best" recipe help you understand the process and thinking behind each recipe. This helps me break free of recipes and riff on my own, and better evaluate other the recipes on my bookshelf.
Fine Cooking: Somewhat like Cook's Illustrated with glossy photos and advertising, still educational.
Saveur: Like a travelogue with authentic recipes.
Gastronomica: Academic-focused lengthy food writing, like The New Yorker of food. Very thoughtful.
Food Humor/Kitsch:
BORDEN'S EAGLE BRAND 70 MAGIC RECIPES: Total kitsch from the 1950′s (or 1940′s?), recipe leaflet from Borden gives terrifying jello salad recipes, etc. From my mother-in-law.
I Like You: Hospitality Under the Influence: Comedienne Amy Sedaris' hysterically kitsch coffee table book on entertaining, with silly photos of historically scary food and funny commentary. I laughed through this one — even funnier than The Gallery of Regrettable Food.
The Gallery of Regrettable Food: Photos and funny blurbs about scary 1950′s food (jello surprise and meat aspic, anyone?).
The Tummy Trilogy: Culinary fun from Calvin Trillin.
Food Writing:
A Cook's Tour: Global Adventures in Extreme Cuisines
American Appetite: The Coming of Age of a Cuisine
Best Food Writing 2002
Best Food Writing 2003
Bread and Chocolate: My Food Life in San Francisco
Cornbread Nation 1: The Best of Southern Food Writing
Eating In America
Feeding a Yen: Savoring Local Specialties, from Kansas City to Cuzco
Heat
Home Cooking: A Writer in the Kitchen
Is There a Nutmeg in the House?: Essays on Practical Cooking with More Than 150 Recipes
It Must've Been Something I Ate
Kitchen Confidential Updated Ed: Adventures in the Culinary Underbelly
Kitchen Culture: Fifty years of food fads
Much Depends on Dinner: The Extraordinary History and Mythology, Allure and Obsessions, Perils and Taboos of an Ordinary Meal
My Kitchen Wars
Outlaw Cook
Tender at the Bone: Growing Up at the Table
The Art of Eating
The Man Who Ate Everything
The Omnivore's Dilemma: A Natural History of Four Meals
The Physiology of Taste: Or Meditations on Transcendental Gastronomy
The Tummy Trilogy