Tutorial: Making takoyaki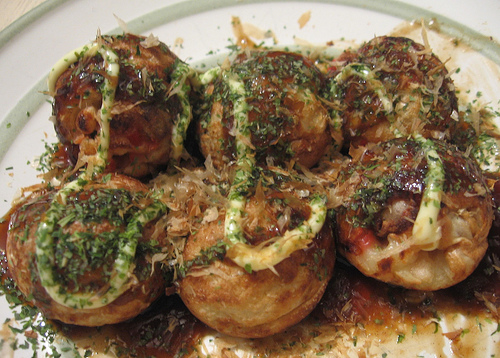 Having lived in Osaka for years, I miss classic Kansai street food like takoyaki (octopus balls), but buying them frozen in a bag just isn't the same. So last year I bit the bullet and bought a takoyaki griddle so I can have the real thing at home in San Francisco. Making takoyaki at home is something of a recent trend in Japan, and the last time I was there I saw gas and electric tabletop takoyaki griddles, instant mix for the batter, and the Japanese friend I stayed with made us all takoyaki for dinner one night. Her tips on technique (and notes from Japanese cookbook "Okonomiyaki Takoyaki Monjayaki") gave me the courage to try it myself; I hope you'll be similarly encouraged by this tutorial if you've got access to the ingredients. Thanks, Saito-san! (You can freeze these and pull them out one at a time to pack in a lunch like this.)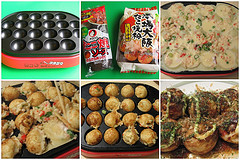 Full takoyaki tutorial follows…
Making Takoyaki (Octopus Balls)
(for 3 small servings or 1.5 regular servings)
For a technique demonstration, check out the takoyaki-making videos at www.takoyaki.org and YouTube. Takoyaki.org also has a forum with all kinds of discussions about takoyaki and a takoyaki sauce recipe (all takoyaki, all the time!). Electric tabletop pans are available at a premium on eBay (watch the voltage!), but the cast-iron pans that work well on gas burners are more widely available. In the San Francisco area, I've seen them at Daiso and Kamei (see my local shopping guide), and of course you can get them through Amazon as well.
Batter:
4/5 cup (100g) prepackaged takoyaki mix. If unavailable, substitute a scant 4/5 cup (90g) flour, 1 tsp (5g) instant hondashi granules (bonito stock), 3/4 tsp (3g) grated "nagaimo" mountain yam (optional, but fabulous for tender texture), and 1/4 tsp (1g) baking powder
340cc cold water (a scant 1 & 1/2 cups)
1 large egg
For the filling:
1/4 lb (120g) cooked octopus (Japanese prefer the tentacles), cut into 1/2″ or bite-sized dice (NOTE: If you like, you can substitute other things for the octopus such as cheese, chicken, pork, squid, anko — bean paste, etc.)
1/2 cup (18g) tenkasu (crunchy fried tempura batter bits — if unavailable, use Rice Krispies)

1 Tb (6g) beni shoga (red pickled ginger), chopped
one half green onion, chopped (a.k.a. scallion, spring onion)
For the topping:
takoyaki sauce (or substitute okonomiyaki sauce, yakisoba sauce, or even tonkatsu sauce)
aonori (seaweed flakes)
katsuobushi (bonito flakes)
mayonnaise (Optional: I like Japanese Kewpie mayonnaise, but any standard mayo in a squeeze bottle will work.)
Make the batter by whisking together the mix and water well, then beating in the egg. (If not using a mix, grate the nagaimo on the finest holes of a box grater, combine with the water, flour, hondashi and baking powder.) Set aside.
In a medium bowl, mix together the tenkasu, benishoga and green onion. Keep octopus at hand.
If using a nonstick takoyaki pan, heat the pan first, then oil the surface with cooking oil spray, an oil brush or a folded paper towel dipped in vegetable oil. (If using cast iron, oil the pan first, then heat over medium heat.) Follow the steps in the tutorial below to cook. These can be flash-frozen on a metal pan in the freezer, then transferred to a plastic freezer bag for longer-term storage.
| | |
| --- | --- |
| | An electric tabletop takoyaki griddle with nonstick coating. You can also make these with a cast iron takoyaki pan pan on your gas stove (over medium heat). Cast iron pans are often sold with little brushes for oiling the little cups, but a cooking oil spray like Pam works well too. I'm hoping that this pan will also work for Thai kanom krok or Danish aebelskiver pancakes. |
| | Takoyaki sauce (Hiroshima's Otafuku brand shown) and takoyaki mix (Nissn brand, note the drawing of Osaka's famous Tsutenkaku tower on the package — near my old neighborhood of Shitennoji!) — just add water and egg. If you can't find takoyaki sauce, you can also use okonomiyaki sauce, yakisoba sauce, or even tonkatsu sauce . |
| | First, pour the prepared batter to fill the griddle halfway up. Add a cube of octopus to each little cup, then sprinkle the mixture of tenkasu, ginger and green onions liberally over the top. Pour more batter over the griddle until it lightly floods the remaining surface. |
| | Let the takoyaki cook for a few minutes until the bottom has started to harden. Trying to turn them when the bottoms are still soft will damage the appearance and texture of the takoyaki! Before turning, drag a wooden or bamboo skewer (or metal skewer if using a cast iron pan) between the little molds in a grid pattern to cut/separate the batter on the surface of the pan. Pierce the bottom-front of the takoyaki (the 4 o'clock position) with the skewer and use a circular scooping motion to roughly flip the half-ball over, so that the uncooked batter flows out into the mold to form a ball. Tuck remaining batter bits into the ball with the skewer. |
| | When you first turn them, they won't be perfectly round. Don't worry, just continue to flip them around in the little cups with a skewer as they cook and they'll take shape. You can see that the first ones I turned on the left are rounder and browner as I flip them. I like to let them crisp up before taking them out to eat. |
| | When they're done, they should be a little crispy on the outside and have a hollow sound when tapped. Put some on your plate and top with takoyaki sauce, katsuobushi (bonito flakes ) and aonori (seaweed flakes). I like them Osaka-style with a little Kewpie mayonnaise as well, but that's personal preference. Watch out! They'll be hot! |

Lunch in a Box is nominated for Best Food Blog in the Blogger's Choice Awards. If you'd like to cast your vote for speedy lunch packing, click here (you can vote for multiple blogs in the same category).
FURTHER READING:
Subscribe to Lunch in a Box by e-mail updates or via RSS feed