Hanami cherry blossom viewing picnic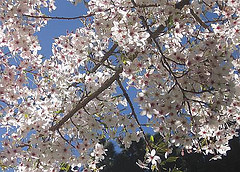 On Sunday our family did a version of hanami, the Japanese spring tradition of having a party under sakura cherry trees during that brief moment that they're in bloom. We went to Golden Gate Park, where we were able to enjoy our little picnic without the crowds of Japan. I remember quickly thrown-together hanami parties in the afternoon or evening with friends and colleagues in Japan, with all kinds of food from sparse sandwiches or pre-made bentos bought from convenience stores, to elaborate barbecues cooked on portable hibachi grills accompanied by beer and sake. Hanami parties in the evening usually wound up being unpredictable and fun, with the drunk salarymen next to you wanting to share their food and try out their English.
In my old residential neighborhood in Tokyo, people would reserve their spots at popular picnic locations by writing their names and desired times on a piece of paper by the cherry tree in question. There are even official blossom forecasts (sakurazensen) by the weather bureau reporting exactly where the trees are in bloom, and where they've peaked. My mini version of these cherry blossom reports for San Francisco's Golden Gate Park follows — this is the week for it! If you have tips on good hanami locations near you, please let us know in comments.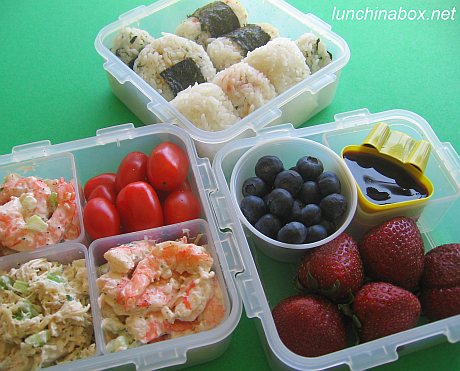 Contents of picnic bento for three (two adults, one preschooler): The top tier holds a variety of onigiri rice balls, some mixed with shrimp-flavored or vegetable-flavored furikake
rice sprinkles, and filled with either Gohan Desu Yo! nori seaweed paste or leftover Chinese-steamed trout. The middle tier holds removable containers of shrimp salad, chicken salad and plum tomatoes. The bottom tier holds strawberries, blueberries, and little food cups of homemade blueberry-raspberry juice jiggler cups (how-to here).
Morning prep time: 25-30 minutes, using shrimp and chicken salad from Costco's deli section, and homemade juice gelatin cups that I'd made earlier. What took the most time was making the variety of onigiri rice balls by hand. (Read on for cooking notes, my San Francisco blossom forecast, and an additional preschooler lunch.)
Cooking: Last week over spring vacation I went to a kids' barbecue at a Japanese friend's house and had wonderful hand-made onigiri with a nice salty flavoring on the outside that's achieved by wetting your hands with cold salty water when forming the rice balls. I decided to hand-make this batch of onigiri for that reason and for greater control over size — I could quickly make tiny triangles for Bug, barrel shapes, and large filled triangles for the adults without needing to dirty three or four different rice molds. The texture of the rice ball is also subtly better when made skillfully by hand — the inside should be soft, and the outside just compressed enough to hold it all together (you don't want a squashed lump of rice that's overly dense). I should go on record as saying that I don't have a problem with rice molds, though, and have a collection myself. They're definitely convenient for making perfectly shaped onigiri in no time flat.
In a leftover remake, I used leftover Chinese-steamed rainbow trout as a rice ball filling to good effect. Before dinner, Bug helped me scale the whole trout with a child-safe fish scaler
, standing on a stool at the kitchen sink. He was really into it — it was funny. He didn't want to hold the fish himself, just rub at it with the scaler, so I held the fish for him while he did his damage. He even excitedly asked if we were going to eat the head and eye (ah, that's my warped boy!). I seasoned it with ginger, salt and pepper, then steamed it whole on a metal platter in a big Korean steamer
. For topping, I sauteed julienned vegetables (what was on hand: green onions, carrots, and zucchini) and finished them in a slightly thickened sauce of Chinese black vinegar, soy sauce and chicken stock (based on a braise sauce from Kenneth Lo's New Chinese Cooking School
). To make the leftovers into onigiri filling, I chopped the vegetables and flaked the fish, using a little of the leftover vinegar sauce to flavor the fish/vegetable mix in a small bowl. You can use most any leftovers to fill rice balls, just be sure the filling is not too wet. Strongly-flavored fillings work best to offset the blandness of the rice.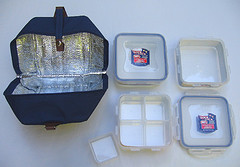 Packing: I used a three-tier Lock & Lock picnic set and insulated bag t

o pack the lunch, with three 870ml tiers (one of which has four removable subcontainers). Because of the mayo-based shrimp and chicken salad, I put little ice packs cut from a flexible ice blanket down into the insulated carrying bag for best food safety. I threw in three tiny plastic spoons I washed and saved from the little shelf-stable Kiku mini pudding cups and an ice cream sampler spoon. To keep things neat, I packed oshibori damp hand towels, drinks and forks. My husband surprised me with a chilled bottle of wine, but had forgotten wine glasses. We improvised by using the emptied water bottle and cap from a smaller Lock & Lock lunch kit that had been holding extra water for Bug.
Verdict: Bug surprised me by eating both the trout-filled and nori paste-filled rice balls, but rejecting the plain ones that I'd made as a back-up in case he didn't like the fillings. He announced that he liked the Gohan Desu Yo! seaweed paste and would like it in his school bentos. The chicken salad was for Bug, who requested that instead of the shrimp salad. He ate everything up (no complaints), and was especially pleased with the big strawberries and the little jello cups. Bug also requested the jello cups for his school bento lunches, saying that he would show them to everyone else in his class. When questioned, evidently he said that if someone has something for lunch they're really excited about, they stand up and show everyone else.
* * * * *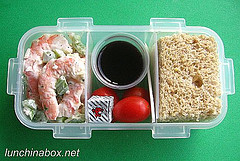 Today's bento lunch for preschooler: I wound up making a miniature version of our picnic for Bug's lunch today, with shrimp salad, a little juice gelatin cup, cheese, tomatoes, and three little pieces of whole wheat bread so that Bug could assemble his own sandwiches (closed or open-face). I tucked a tiny plastic spoon for the jello into the center compartment, and put a little lid on the jello cup before closing the bento up. The lunch is packed in one 350ml box from a Lock & Lock lunch kit with insulated case, and little ice packs cut from a flexible ice blanket tucked inside to keep the shrimp salad and juice jello jiggler cool and fresh. No verdict yet as Bug's still in school, but he likes everything in this lunch so I don't anticipate any issues.
* * * * *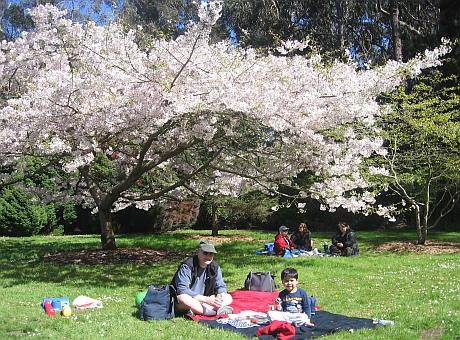 San Francisco Blossom Forecast: My mini-version of the cherry blossom report for San Francisco locals is that right now the cherry trees are in various stages of bloom in Golden Gate Park and the weather is temporarily nice (rain is forecast tomorrow, although haven't they been forecasting that the last few days only to have gorgeous weather?). The petals are just starting to fall from the tree we found, though, so you've got probably a week at most before the blossoms are gone (less if tomorrow's rain is hard).
We found a beautiful, large tree across from the buffalo pasture in the west end of the park (on JFK east of the intersection with Chain of Lakes) that had long, graceful branches over a flat, grassy clearing (photo above). The trees by the entrance to the Japanese Tea Garden are beautiful in bloom, but it's a crowded location with a lot of foot traffic. There's a medium-sized tree in the field and picnic grounds east on of the buffalo enclosure on JFK that's in full bloom, but the branches aren't as long and it's on a slight slope. There's another set of cherry trees on a flat clearing right at the JFK & Chain of Lakes intersection that's about 3/4 bloomed out (where we went last year), so that's a good back-up location if the blossoms have already fallen from your first pick. (April 2 Update: I drove by some beautiful, large cherry trees in 3/4 bloom on the west park side of Stanyan between Haight & Page Street today; nice grassy area underneath, although there's a lot of foot and car traffic nearby.)
The cherry trees in foggier/colder areas are slower to bloom, though, with the ume plum tree in front of our house just starting to show flowers (which will be followed by cherry blossoms on a nearby tree). I know there are a bunch of cherry trees at Peace Plaza in Japantown with benches underneath — if you know their flowering status please let us know in comments. Actually, please feel free to leave comments with tips on good hanami locations wherever you are (not just the Bay Area); there may be others interested in a cherry blossom-viewing picnic in the weeks to come!
FURTHER READING: