Greek lunch & galaktoboureko recipe
I catered a big Greek/Mediterranean meal for a friend's engagement party yesterday, and packed a quick bento with the more easily packed leftovers when cleaning up.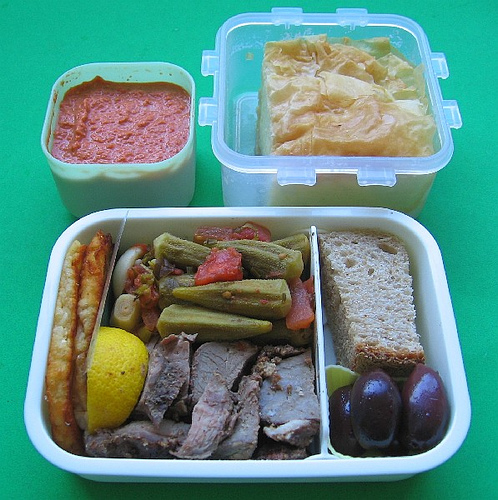 Contents: Saganaki (pan-fried haloumi cheese) with lemon, bamyes yiahni (okra braised with tomato and parsley, cooking tip below), roasted lamb with mint/garlic (a variation on Alton Brown's "Silence of the Leg O' Lamb" recipe), kalamata olives and wheat bread. The little side dish container holds muhammara (roasted red pepper and walnut dip, recipe from Paula Wolfert's award-winning book ), and the larger Lock & Lock container holds a piece of galaktoboureko (semolina custard baked in phyllo dough, recipe below).
Morning prep time: 0 minutes, as I packed everything the night before when cleaning up from the party.
Packing: The original okra dish was quite juicy, so I drained it on paper towels before packing so that the juice wouldn't leak onto the bread (reducing the moisture also helps with packed lunch food safety). I often wind up treating bento lunches roughly in transit, stuffing them sideways into my diaper bag, so the pepper/walnut dip worked best in a separate lidded container. For food safety reasons, I decided to avoid packing the leftover raw dairy dishes (tzatziki and labneh) as I wouldn't be keeping the meal cold until eating. All packed in a new 500ml Leaflet box (in stock at Irving Housewares in San Francisco, with two larger sizes).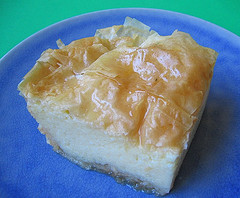 Cooking: A lot of the meal was derived from excellent cookbook Food of Greece by Vilma Liacouras Chantiles, with detailed cultural and culinary notes on each recipe. Tips include desliming the okra by soaking it in vinegar for 30 to 60 minutes before sauteeing and braising. I made the galaktoboureko from this book as well, but found similar adapted recipes on Recipezaar and below.
Galaktoboureko (syrupy milk custard in phyllo)
6 cups milk
1 cup semolina flour
3.5 Tbs cornstarch
1 cup sugar
1/4 tsp salt
6 eggs
1/2 cup sugar
1 tsp vanilla extract
3/4 cup butter, melted
12 sheets phyllo dough
1 cup water
1 cup sugar
peel of one lemon or orange
Pour milk into a large saucepan, and bring to a boil over medium heat.
In a mixing bowl, whisk together the semolina, cornstarch, 1 cup sugar and salt so there are no cornstarch clumps.
When milk comes to a boil, gradually add the semolina mixture, stirring constantly with a wooden spoon.
Cook, stirring constantly until the mixture thickens and comes to a full boil.
Remove from heat, and set aside, keeping warm.
In a large bowl, beat eggs with an electric mixer at high speed.
Add 1/2 cup of sugar, and whip until thick and pale, about 10 minutes. Stir in vanilla.
Fold the whipped eggs into the hot semolina mixture, stirring well.
Partially cover the pan, and set aside to cool.
Preheat the oven to 350 degrees.
Butter a 9x13x3 inch baking dish, and layer 7 sheets of phyllo into the pan, brushing each one with butter as you lay it down.
Pour the custard into the pan over the phyllo, and cover with the remaining 5 sheets of phyllo, brushing each sheet with butter as you lay it down.
Bake for 40 to 45 minutes in the preheated oven, until the top crust is crisp and the custard filling has set.
In a small saucepan, stir together the remaining cup of sugar, water and citrus peel.
Bring to a boil and set aside.
When the Galaktoboureko comes out of the oven, spoon the hot sugar syrup over the top, particularly the edges.
Cool completely before cutting and serving. Store in the refrigerator.
READ MORE: