Bourek lunch for toddler
No speed bento tips today, just a regular bento for my son. Packed in a 300ml box, we've got leftover homemade bourek (savory Turkish phyllo pie) with two layers: one is cheese, the other is Swiss chard with pine nuts and currants. The right divider holds garlic Greek yogurt, watermelon and blueberries. My son has a bottomless pit for bourek — he ate all of this and asked for more (big hit!).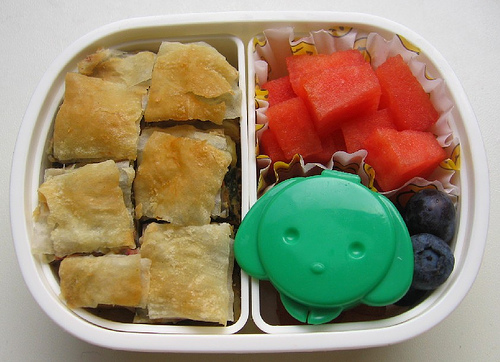 Last night when we were cleaning up after dinner I sped up bento prep by cutting a piece of bourek (easier for my son to eat), packing it up directly in the bento box, and filling up the little sauce container with garlic yogurt. So I had an almost-made bento waiting in the fridge (almost makes up for all the time I spent making the bourek in the first place!).
Two-layer Cheese and Swiss Chard Bourek
(based on recipes in The Art of Turkish Cooking by Neset Eren, and The Cooking of the Eastern Mediterranean by Paula Wolfert)

Filling A
leaves from 3 large bunches Swiss chard (about 1 pound) (or spinach, or mixed chard/dandelion leaves)
1 small onion, grated (on the large holes of a box grater or Microplane grater)
1.5 Tb vegetable or olive oil
1/4 cup pine nuts (toasted or plain)
2 Tb currants
1/4 cup grated Parmesan cheese
2 Tb crumbled feta cheese
1 tsp sugar
2 Tb milk or cream
1.5 tsp cumin
salt & pepper to taste
2 eggs
Filling B
1/4 pound feta cheese
4 ounces cream cheese, softened
1/8 pound Cheddar cheese, grated
2 eggs
1 Tb butter
1 Tb milk or cream
3 Tb chopped parsley
1 pound bourek sheets or phyllo sheets (preferably the extra-thick phyllo if available)
12 Tb butter (mixed with olive oil, if desired) to brush on phyllo sheets
1/4 cup milk
1. Make the chard filling A: Heat a large skillet, and add the whole chard leaves still slightly wet from washing. Cover the pan and cook until wilted — a few minutes. Drain the leaves, squeeze dry, and chop coarsely. In the same skillet, heat half the vegetable oil and add the grated onion. Cook over medium heat for 5-6 minutes, then add the remaining vegetable oil, and wilted/chopped chard leaves. Cook, stirring, for 3 minutes. Transfer to a mixing bowl to cool.
While the chard cools, prepare the cheese filling.
2. Make the cheese filling B: In a medium bowl, mash the feta cheese and cream cheese together with a fork. Add Cheddar, eggs, butter, milk and parsley and mix well.
3. Finish making the chard filling A: Once the chard/onion mixture has cooled, add the pine nuts, currants, cheeses, sugar, milk, cumin, salt/pepper, and eggs to the bowl and mix well.
4. Preheat the oven to 350 degrees F once both fillings are prepared, and melt the butter (either in the microwave on reduced power, or on the stovetop)
5. Grease or butter a 12 x 15 inch baking pan (or roasting pan). It also works in a lasagna or cake pan half this size, you'll just need to cut the phyllo sheets in half before assembling (bourek won't be quite as crispy & flaky then, but it'll still taste good).
6. Divide the phyllo sheets into three equal parts. Lay one phyllo sheet in the pan, brush the surface with melted butter, and sprinkle with a few drops of milk. Put the second sheet on top of the first, butter, and sprinkle with milk. Repeat until one third of the sheets are used up. Spread the cheese filling evenly over the entire surface.
7. Build the second layer of phyllo sheets the same way (phyllo, butter, milk) until the second third of the sheets are used up. Spread the chard filling evenly over the entire surface. Then build up the last layer of phyllo sheets the same way, and butter the top generously. Carefully cut into 16 squares with a very sharp knife.
8. Bake for 30 minutes or until golden brown. Serve with plain or garlic yogurt (1/2 pint thick yogurt mixed with 1 minced garlic clove and a dash of salt).
READ MORE: