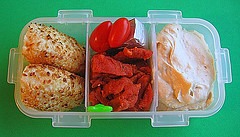 Contents of preschooler lunch: Sesame bread (Turkish simit or Greek koulouri), Filipino pork tocino (sweet cured pork), grape tomatoes, wrapped cheese triangle, and Sabra roasted garlic hummus from Costco. This was from the first batch of tocino I've cooked (from a frozen package); it was sweet like longanisa sausage and Bug downed it happily (he passed on the traditional vinegar accompaniment). Next time I'll try packing it with some fried rice and fried egg to make Filipino comfort food…
Morning prep time: 3 minutes, using all leftovers.
Packing: I tucked a little pick into the center compartment for the pork, and the box's built-in dividers and watertight lid contained the thick hummus without leaking. Lunch packed in one 350ml tier of a Lock & Lock lunch set.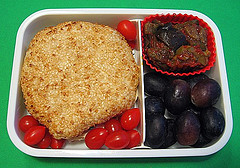 Contents of my lunch: Sandwich of hummus, ham and thinly sliced cucumber on Turkish sesame bread. Venezuelan eggplant, grapes, and grape tomatoes.
Morning prep time: 5 minutes, using leftover eggplant.
Packing: The tiny tomatoes act as gap fillers to stabilize the lunch during transport, and the eggplant went into a reusable silicone baking cup to keep it away from the grapes. This was a bit of a poor choice on my part, as the lunch got shaken around before eating, and some of the oil from the eggplant leaked out of the cup. It didn't get on the rest of the food, but with a little more shaking it probably would have. If I were to repack this, I'd either put the eggplant in a disposable lidded plastic cup or drain and dry the eggplant before packing it in the silicone cup. Packed in a 500ml Leaflet box with movable divider.
READ MORE: