Preschooler lunch round-up
Today I've got a couple of my son's lunches from last week to clear before we get into this week's lunches. I'm finding that even if Bug doesn't eat the entire bento at preschool itself, he finishes everything up in the car after I pick him up (15 minutes after his lunch ends). I haven't yet deciphered the pattern between amount of food packed vs. how much he leaves; sometimes he'll eat all of a 350ml lunch, other days he'll leave a third. I previously wrote guidelines on choosing the right size bento box, with a table with the appropriate size box by age group and gender. This is pretty much on target for Bug so far.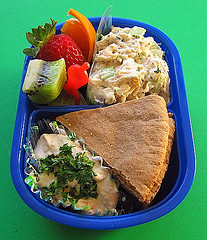 Contents of Thursday preschooler lunch: Hummus, pita bread triangles, chicken salad from Costco, kiwi, strawberry and an orange slice.
Morning prep time: 5 minutes, having pre-packed the hummus, pita and chicken salad the night before. In the morning I just cut up the fruit.
Packing: The viscous hummus went into a plastic food cup to keep it away from the dry pita bread, and I used a little plastic food divider between the chicken salad and fruit. I cut between the orange skin and the flesh of the orange almost all the way down the segment, making it easy for Bug to eat. I also partially sliced the strawberry so Bug wouldn't take a huge bite and choke (you laugh, but it happens sometimes!). I used a paring knife for the strawberry, but egg slicers are also handy for that, as I wrote in this egg slicer post. The lunch is packed in a new 360ml Cars bento box, and the kiwi got a tiny pick for little hands.
Verdict: Mixed. Bug left the pita and hummus, eating only the chicken salad and fruit during preschool. In the car afterwards, though, he happily ate all the pita and hummus after I picked the parsley garnish off. Note to self: don't bother with parsley garnish in the future! But so much brown or beige in a lunch??? Ugh.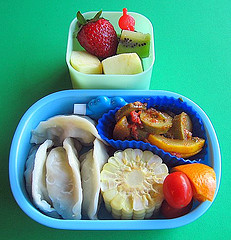 Contents of Friday preschooler lunch: Pork and leek Shandong dumplings, corn on the cob, plum tomatoes, an orange slice, and lauki bhaji (north Indian dish of zucchini braised in tomato cumin sauce). I got the speedy zucchini recipe from Julie Sahni's cookbook Moghul Microwave that I wrote about in my post on weekday Indian lunches. The dumplings are my new favorite brand: Wei Chuan. They've got a variety of distinct flavors, and the pork in these frozen dumplings was raw so it cooked up juicy and tender upon boiling. Not as fast as some of the precooked varieties (Wei Chuan makes those too), but exceptional flavor.
Morning prep time: 10 minutes, mostly boiling the dumplings.
Packing: I put the zucchini in a reusable silicone baking cup to keep it away from the corn, and put some dipping sauce into a tiny blue sauce container that Bug is able to open by himself. Packed in a 350ml Power Rangers bento box, and the fruit got a tiny pick for little hands.
Verdict: 3-year-old Bug ate everything in the main box at preschool, then ate the fruit in the little container in the car. Dumplings and corn are always a hit with my son, but I was especially pleased that he ate all of the Indian zucchini as he'd been requesting some without cumin at dinner (uh, sorry kid).
(Disclaimer: I have no commercial affiliation with Wei Chuan, I just like their dumplings.)
READ MORE: