Mini bagel sandwich bento lunches
Last week I discovered that whatever I write while taking painkillers makes very little sense. I tried writing and rewriting posts while recovering from some medical stuff, only to find that Vicodin makes me stupid, dizzy and sleepy. Anyway, all is well with me again — sorry about the unintended break! It's time to get back to bento with mini bagel sandwiches, a compact way to pack a non-squishable sandwich in a bento box.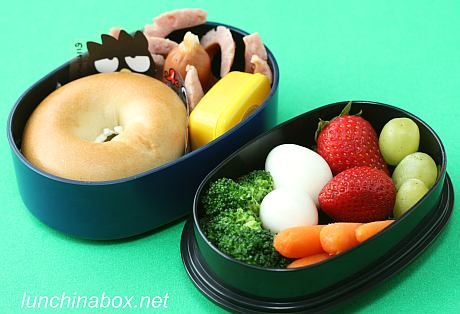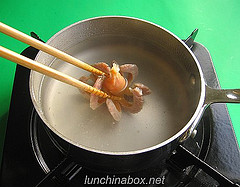 Contents of preschooler bento lunch: Mini bagel sandwich with cream cheese and spruce tip jelly from our trip to Alaska (reviewed below), an "octodog" (octopus-shaped hotdog, full tutorials here for boiling, and here for frying) with ketchup for dipping, boiled broccoli with vinaigrette, hard-boiled quail eggs, boiled carrots, strawberries, and grapes.
Morning prep time: 12 minutes, using already-boiled quail eggs from the fridge and the multi-boiling technique to cook multiple things at once. In the morning I made the bagel sandwich while the water quickly came to a boil in my electric kettle (see my earlier post on Kettle Races: Electric vs. stovetop). I poured the boiling water into a small saucepan and cooked the broccoli, carrots and octodog. (Read on for lunch details, a review of local Alaskan jellies, and additional mother/son lunches.)
Ingredient: One of the more interesting souvenirs we brought back from our recent trip to Alaska was a trio of local jellies. I tried out salmonberry jam, spruce tip jelly, and salal jelly (shown above, left to right, online source here). Calling it "the tree jelly," my four-year-old is most taken with the spruce tip version, which retains the slight smell of pine needles. The purple-bluish wild salal berry jelly is like a cross between blueberries and Concord grapes, and is not challenging to the palate at all (quite nice). The most challenging is the jam made from salmonberries, which are similar to raspberries with rather large seeds and a mild, honeyed flavor. I should have bought the jelly version instead of the seedy jam version, to even out the tasting. It may take us a while to get through the salmonberry jam…
Packing: I separated the dry bagel sandwich from the octodog with a Badtz Maru "baran" food divider from Ichiban Kan, which is meant to be disposable although I tend to wash and reuse them. Ketchup went into a wide-mouthed rectangular food cup for easy dipping, and the whole lunch is packed in a 415ml two-tiered Hakoya brand bento box that I picked up locally at Kamei earlier this year.
Verdict: Sigh. Bug ate the bagel, the octodog and the fruit, but left the eggs and the vegetables until after preschool.
* * * * *
These are two mother-and-son bento lunches that I made for a school field trip in October. They're nothing fancy, but they got the job done without a lot of fussing. Because Bug attends a Japanese immersion preschool here in San Francisco with kids of different backgrounds, there were a variety of lunches on the field trip. I saw everything from elaborate kyaraben and oekakiben food art (complete with printouts from a Japanese how-to website) to onigiri rice balls and sandwiches wrapped in plastic wrap.
Contents of adult bento lunch: Sauteed shiitake and enoki mushrooms with soy sauce, a mini bagel sandwich with lox (smoked salmon) and cream cheese, apple wedge, sauteed red bell pepper and broccoli with Thai oyster sauce.
Morning prep time: 13 minutes, using the multi-frying technique to cook the mushrooms, bell pepper and broccoli in the same pan at the same time.
Packing: Packed in a 490ml Asvel bento box with the largest subcontainer removed to accommodate the bagel.
Verdict: This was fine, although next time around I'll substitute a little oil for the butter when sauteeing the mushrooms. Because the butter solidifies at room temperature, it made the mushrooms less appealing when eaten cool.
* * * * *
Contents of preschooler bento lunch: The same as my lunch above, but with the apple peel removed as Bug's not fond of it. He'll actually eat everything but the peel if I give him a regular apple wedge or an apple bunny (tutorial here), so I've learned to just go with the flow and not cutesy up his lunch so much that it won't be appreciated.
Morning prep time: 13 minutes, using the multi-frying technique to cook the mushrooms, bell pepper and broccoli in the same pan at the same time.
Packing: I popped the sauteed mushrooms into a reusable hard plastic food cup shaped like a dog's head, and put the sauteed bell peppers and broccoli together in a foil baking cup. I tried using a reusable silicone baking cup first (regular and mini sizes), but the bases were too big for the available space in the bento box. The foil baking cup folded up quite small into the little space, keeping the oyster sauce on the vegetables away from the mini bagel sandwich.
The whole lunch is packed in a cheap (US$1.50) 360ml "Car Race" bento box from Daiso in Daly City. Daiso, a Japanese discount store with branches worldwide, also carries other products in the same Car Race line, including lunch bags, a small cup, a cup bag, chopsticks and carrying case, and a small fork. I got the 360ml box as a replacement when one of the flaps on Bug's Power Rangers box broke — I like having a couple of similarly sized boxes so that I can have one in the dishwasher and pack the next day's lunch in the spare.
Verdict: Pretty good. Bug ate everything except the bell peppers and broccoli at the outing, and ate those after school as a snack.
FURTHER READING: