Simple American bento lunches
First off, welcome to new readers finding their way here from yesterday's article in The Washington Post on packed lunches and bentos (free registration required to view the article). The article calls me "the Rachael Ray of bentos" because of my focus on speedy lunches, which I found to be pretty amusing. So does this mean I need to come up with a catchphrase like Yum-O now?
If you're new to bento-style lunches, be sure to read the Bento FAQ for an introduction. I'm on the road at the moment posting only sporadically, so please accept my apologies for not being as responsive to comments as usual.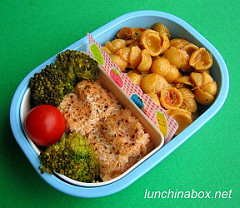 My husband likes to barbecue on the weekends when we have people over, so earlier this summer he smoked some pork butts on the DIY flowerpot smoker for about 15 hours. We generally have people over when we do this, and it yields so many leftovers that I divide some into smaller portions, double-wrap, and freeze it for later when we'll really appreciate it. It makes great fodder for Leftover Remakes, where I use leftovers to make a new dish. In the past I've used leftover pulled pork in dishes such as pork sopes, a straight sandwich packed in a Mr. Bento-type thermal lunch jar
, as a pizza topping, or even plain.
In a play on a pulled pork sandwich with coleslaw, one evening I sautéed some chopped-up cabbage, added a portion of the leftover pulled pork, seasoned it with a little jarred tomato-based pasta sauce, and added the mixture to some Annie's boxed shells & cheese pasta. To maximize payoff for the times when you take time to cook, make more than usual and freeze the excess planned leftovers to use in other dishes. A list of freezing tips is on the Top Tips page.
Contents of preschooler dinner: Roasted salmon and broccoli, cherry tomato, and shells and cheese pasta doctored with sautéed cabbage and North Carolina-style pulled pork. (Click on any photo for a larger view.)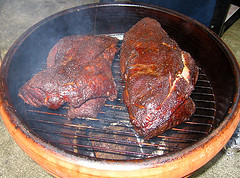 Morning prep time: 10 minutes, using all leftovers. In the morning I revived the texture of the leftover pasta by microwaving it in a microwave-safe dish with a little splash of water, and tossed the broccoli with some vinaigrette so that it would have some flavor when eaten at room temperature. (Read on for packing details and an additional preschooler bento lunch.)
Packing: I usually like to pack hot macaroni and cheese in a thermal food jar
so that it stays warm and soft when it's time to eat. This was actually a bento I made for dinner at our running club, and was eaten within an hour after packing it. I made three versions of this meal for Bug, my husband and myself, and used our thermal food jar and thermal lunch jar for the other two. There was just a little mac & cheese left, so I just grabbed a little bento box to put the rest in. My three-year-old ate this with me (unlike his usual bento lunches, which he eats on his own at preschool), so I didn't cut up the salmon into bite-size pieces for him beforehand as I was able to help him with it when he ate.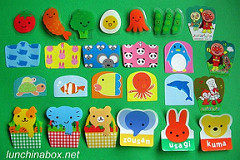 I'm guilty of unnecessary garnish again, and used a plastic food divider purely for fun – it serves no actual purpose in this case as the bento box's subcontainer neatly holds the side dishes separate. The lunch is packed in a 360ml Power Rangers bento box with one subdivider removed, the right size box for a three-year-old according to the bento box size guidelines. One of the flaps on the lid finally gave up the ghost sometime after I made this lunch, so this is one of the last appearances of this particular box. Good thing I miraculously found this on the ground in my neighborhood a couple of years ago! Manna from heaven (and you can tell I live near a school with a Japanese bilingual enrichment program – I can't imagine just randomly stumbling across an abandoned bento box in a normal neighborhood.).
Verdict: Thumbs up as Bug finished all of this in one sitting, but that's not surprising as I was there to encourage him and help with the big salmon chunks. If he were to eat this at preschool, I would have cut the salmon smaller for little hands.
* * * * *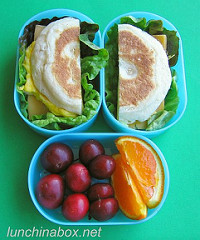 As I wrote in an earlier post about this type of sandwich, bento lunches don't have to include rice, and actually sandwiches are a popular item in children's bento boxes as they're easy for little hands to hold. You can use all kinds of breads to make interesting sandwich variations: mini bagels, English muffins, croissants, dinner rolls, sandwich bread cut into shapes, cocktail bread for teeny sandwiches, biscuits, regular bread roll-ups, or even focaccia or regular bread packed in a collapsible sandwich case.
Contents of preschooler lunch: Homemade egg McMuffin-type sandwich with scrambled egg and cheddar cheese (no meat as Bug likes it better without) on some red-leaf lettuce, cherries and orange slices. This is a meal I've made before, but Bug likes it and is tickled when I pack it as lunch for him from timeto time..
Morning prep time: 13 minutes, making the muffin sandwich from scratch when I made breakfast.


Packing: For a splash of color in the lunch, I packed the sandwich halves on top a bit of red leaf lettuce. I used a cheap three-tier bento box from Daiso in Daly City (Japanese discount store with branches worldwide where most products are US$1.50), which is cute but the lids are not watertight. I closed it all up with a cheap elastic bento band shaped like a panda (also from Daiso). I chose not to use a collapsible sandwich case to pack this meal, but that or a standard flat bento box would also be suitable containers.
Verdict: This was too big for Bug; he ate just the sandwich at preschool, and had the fruit at the playground after school as an afternoon snack. The pretty green lettuce went uneaten — I keep hoping he'll eat it, but no go so far, even with dressing for dipping… He doesn't eat green salad either, though, so at least he's consistent!