Speedy sandwich lunches
Morning prep time: 5 minutes each (10 min. total). In a lunch very similar to this one, I packed Costco chicken salad sandwiches on whole wheat toast with cheese and lettuce in two collapsible sandwich cases (equipment review here). Bug's lunch below is actually quite large as I made it to be shared with his little friend on our outing to the children's museum. It adds non-messy sides of leftover roasted asparagus from dinner (tips cut off at Bug's request), dried apricots, a stack of two wrapped cheeses, and cherry tomatoes as gap fillers to stabilize the lunch for transport. The sandwich case is one that I got for US$1 at a local dollar store (Ichiban Kan in San Francisco), held together with a cheap elastic lunch band (from Daiso). They folded up nice and flat after lunch because I didn't use hard plastic food cups inside.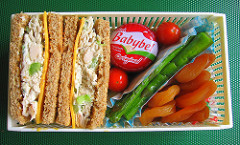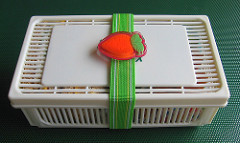 Mine is similar, with the sandwich cut into thirds instead of halves.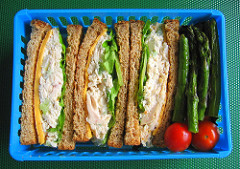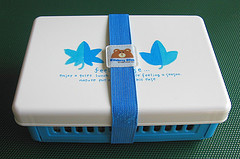 In other news:
I've added resource links in the column to the left; have a look.
The Daily Tiffin food and lifestyle blog would like you to show them your lunch: details here.
READ MORE: