Sandwich lunch and collapsible sandwich cases
Morning prep time: 5 minutes per lunch (15 minutes total). On Saturday all three of us went out for the day and brought sandwiches packed in collapsible sandwich cases and a little bento box for my son. I previously wrote about collapsible sandwich cases here, and recently picked up a smaller one at a local Japanese dollar store for $1 (Sanrio stores sell them as well). Both hold one full-size sandwich, cut in half or thirds. Sandwiches are actually a popular item to pack in children's bentos in Japan — Japanese kids' bento cookbooks show a surprising number of them.
Lunch prep was sped up by using store-bought fresh chicken salad from CostCo; it's with lettuce and Jarlsberg cheese on toasted whole wheat bread. We also had little tomatoes, cucumber and bell pepper sticks with low-fat ranch dressing in little containers for dipping.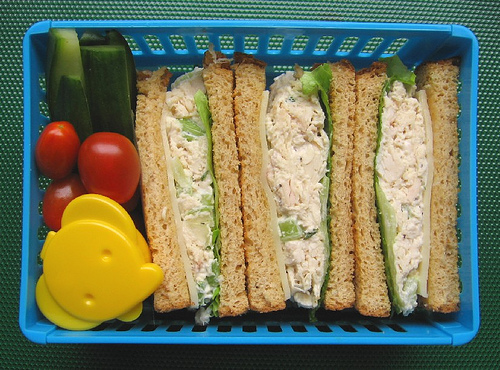 The top of the sandwich case: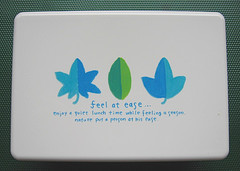 My husband's lunch went into the larger sandwich case; the deeper case is able to accommodate a sandwich cut in half, more vegetables, a whole tangerine and a cheese triangle. I like that this Sanrio case has a movable divider that the $1 case above does not — it stabilizes the lunch for transport nicely. I put elastic bands around both boxes to be sure the lids didn't come off, and stacked them inside of a deep carrying bag. After we ate, I was able to fold the sandwich cases flat and put the sauce containers into Bug's empty bento box.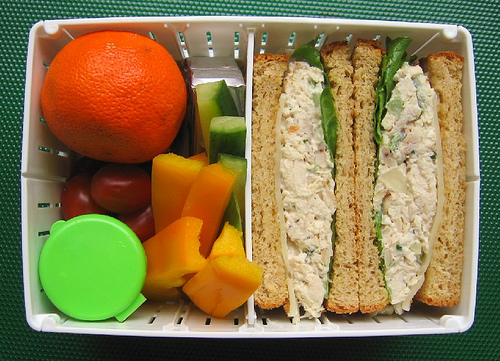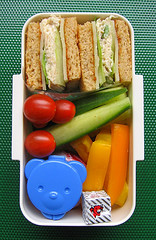 Bug's lunch of half a sandwich and veggies went into the bottom layer of a 600ml two-tier box. He really likes finger food and dipping things, so this was a big hit with him ("more sandwich?") and he practically inhales those cheese cubes. Not shown: a tiny pick to hold the little tomatoes for dipping — otherwise they fall into the dressing and frustrate Bug.
READ MORE: