Shortcut tamagoyaki or Japanese rolled egg
Sometimes I'd like to have tamagoyaki (Japanese rolled omelette) at home, but just can't be bothered to spend the time it takes to make the individual layers. A recent Orange Page magazine story on make-ahead bento lunches showed how to make a speedy shortcut version of tamagoyaki in a round frying pan with no rolling, so I was intrigued. Essentially molded scrambled eggs, I made this the other day when I was making dashimaki tamago for four people using eight eggs. This many eggs would ordinarily mean making two separate rolls the standard way, but that was just too much to deal with on a tight schedule. So I tried out the super-speedy version and was pleased with the result. I wouldn't serve it to impress guests or anything, but it's definitely a nice tool in the speedy bento lunch toolbox. I used my standard recipe for dashimaki tamago, but this method is actually easier with tamagoyaki as there'll be less leakage when the egg rests on the cutting board (recipes and full tutorial for both dashimaki and tamagoyaki here).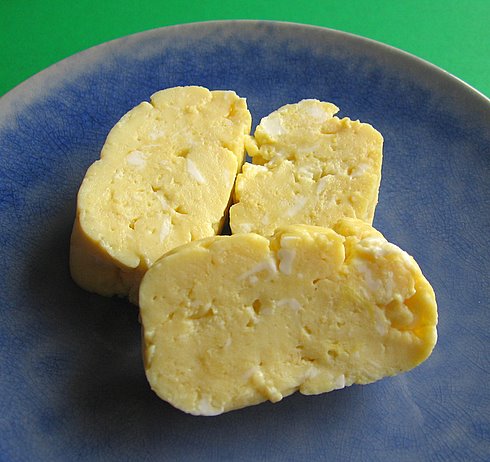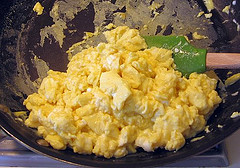 Scramble eggs normally over medium heat until heated through but not dry (click on photo for a larger view of the moist curds).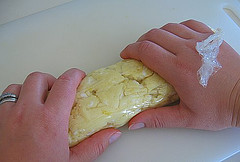 Spread a large piece of plastic wrap out on a cutting board, and turn out the moist egg curds onto the plastic wrap while still hot moldable. Tightly wrap the egg with the plastic wrap, and use your hands to form it into a log shape that's slightly larger than a regular tamagoyaki roll. Let it sit, tightly wrapped, for 10 minutes so that the egg sets up in the right shape. Unwrap and cut into slices.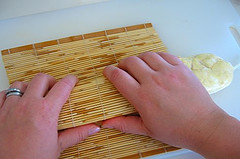 You can also use a bamboo sushi mat ('makisu') to push the egg into shape, as shown here.
Tip: You'll get best results with this method if you prepare the more solid tamagoyaki as opposed to dashimaki tamago, but dashimaki is also doable. The excess liquid in dashimaki tamago will spill out of the plastic wrap after molding (also during molding if you're not careful). After you unwrap it, just dry the entire egg log by blotting lightly with paper towels and slice as usual. You can also make a variation by reducing the amount of dashi in the egg mixture, thus reducing the amount of leakage at the end.
READ MORE: