Salad & lasagna lunches x 2
Today I'm trying out two different Fit & Fresh lunch containers with built-in cold packs for carrying salads.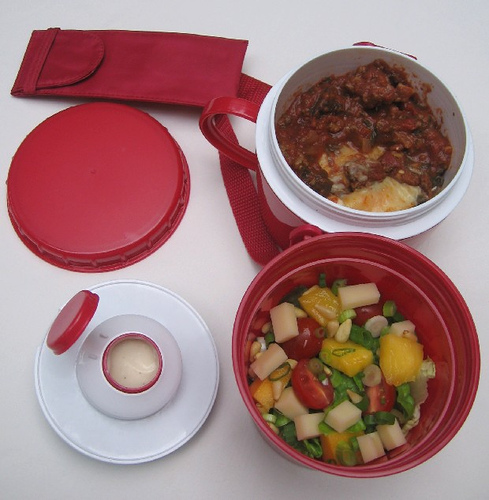 This container is designed to keep soups hot in the top section (insulated and microwaveable 12 fl. oz. bowl), and two cups of salad cold in the bottom (cold pack in the lid, which also has a built-in 2Tb dressing dispenser). The lunch itself is warm lasagna a friend made us with Italian sausage and portobello mushrooms (and extra sauce), and the salad is red leaf lettuce, cherry tomatoes, mangoes, Swiss cheese, pine nuts and green onions with ranch dressing. X-posted to the bentolunch community & Flickr.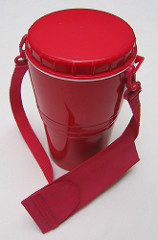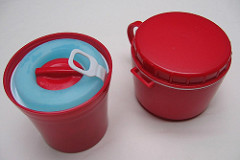 It fits together and has a strap similar to the Mr. Bento-type lunch jars, but is much lighter. Utensil holder is on the carry strap. This is a pretty good size and weight, but I think my husband is going to be embarassed carrying this on the subway (time to think about what I can rig up as a carrying case). (EDIT: I can't recommend this product as the ice ring broke the second time I used it. Others on Amazon report the same problem — bad ice ring design. Too bad, it was an ingenious concept.)
Here's the salad container: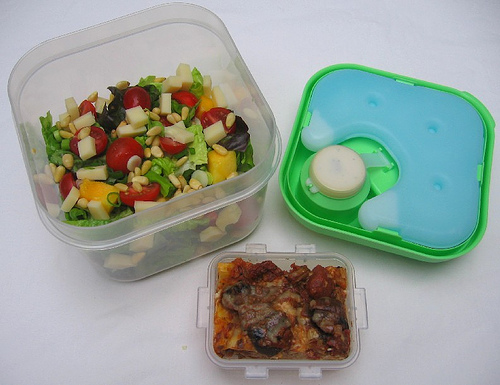 Holding four cups of salad, it's pretty huge (too much for me). Next time I'll try packing a side dish and slice of bread inside the container. It's also heavy because of the large cold pack in the lid and 4Tb dressing dispenser. I can see this being more useful for picnics where I'd pack salad for multiple people.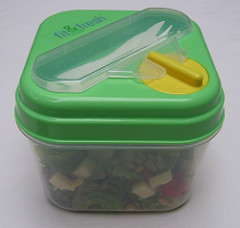 It also comes with a plastic spork and knife that I'll probably replace with something nicer.
READ MORE: