Thermal lunch jar shootout
If you'd like to have warm food at lunch but don't have access to a microwave oven where you eat, odds are good that you've looked into different thermal food jars and thermal lunch jars. Whereas a thermal food jar is typically a small widemouth thermos that you put food directly into, a thermal lunch jar is a vacuum insulated jar that holds a number of smaller microwaveable bowls stacked neatly inside. Preheat (or prechill) by filling the outer jar with hot or cold water for 1-2 minutes, empty and dry the outer jar, pack up your lidded bowls inside, and you've got a portable meal that's not just room temperature food.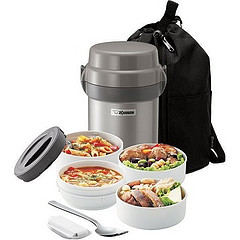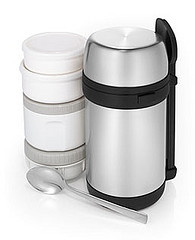 Two good-quality large lunch jars are the US$50 Zojirushi Mr. Bento
(above left) and the US$38 Thermos Nissan Stainless Steel Lunch Tote (JLN1400P and JLN1200X, above right). There are a number of other thermal lunch jars
on the market, including Tiger thermal lunch jars
, Sabor Latino thermal food carriers
for about $10, cheap Trekker Food on the Go thermal lunch jar
, and smaller Zojirushi Ms. Bento thermal lunch jars
. Another workaround is provided by thermal bento sets
or a thermal food jar with a separate side dish container. I'll be reviewing these at a later date.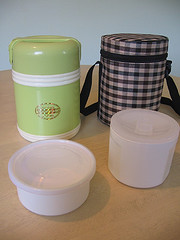 When I was first in the market for a thermal lunch jar a couple of years ago, I went to a store with a variety that I could take out of the box and compare in person. I thought the cheaper Lunch Tote from Thermos Nissan was on par in quality to the more popular Mr. Bento, but was always curious about how the two would fare in a side-by-side comparison against a cheap no-name knockoff I found locally (at left). Zojirushi sent me a Mr. Bento for testing so that I could satisfy my curiosity; I'll be giving this to a lucky reader in a giveaway now that I'm done (enter by October 5, 2008, see the separate post for details). (NOTE: Comments on this post are not eligible, only comments on the separate giveaway post are eligible to win.)
Summary
The Mr. Bento and Thermos Nissan were extremely close in performance and weight, with the Thermos Nissan having better overall heat/cold retention and the Mr. Bento having better separation between the upper and lower sections. The Mr. Bento's separate bag is convenient for tucking in lunch extras like condiments and utensils, though. The cheap Chinese knockoff jar performed significantly worse in tests, but at US$10 the price was right for a small jar. The Thermos Nissan is usually priced at least US$10 cheaper than the US$50 Mr. Bento, so decide if the bag is worth a little extra money to you. (Read on for the full review and test results…)
Lunch Jar Pros
Lunch jars effectively keep foods warm or cool for hours until you eat, and the separate bowls prevent flavors from mixing.
The thermal lunch jars often feature a leakproof soup bowl: an excellent way to send liquid foods like soup, stew or curry.
Lunch Jar Cons 
I don't use our big thermal Thermos Nissan lunch jar that often because it packs way too much food for my preschooler according to the bento box size guidelines, but I did use it when packing lunches for my husband during his gluten-free period. He came back saying that it was too big even for him, so I started packing an afternoon snack in one bowl, or packing the containers less densely by including a small salad or a bun for a do-it-yourself sandwich lunch. I picked up a small no-name lunch jar to reduce portion sizes; Zojirushi also puts out a line of 2- and 3-bowl Ms. Bento thermal lunch jars that are smaller than the four-bowl Mr. Bento.
My husband's main complaint with the lunch jars is that their weight (2 lbs 4.5 oz for the Nissan) and bulk made it impossible to fit into his messenger bag on the way to work. Because of their size, he often stashed the empty container in a drawer or under his desk after eating, and forgot to bring it home at night (out of sight, out of mind: see my post on six ways to make sure your lunch gear gets home).
Packing 
If you have a microwave where you eat, you can pack a thermal lunch jar with all chilled food and microwave the individual bowls that you want warmed (minus the lids, which can warp). Like many plastics, the bowls can stain if packed with tomato- or turmeric-based foods. See my post on Caring for Your Bento Gear for ways to remove stains and odors from plastics, or my post on microwaving plastics for health concerns.
The large rice bowls tend not to be watertight, but you can use the "rice lid" packing method to pack a liquidy stew or curry in the bottom of the rice bowl, with a layer of rice or grains on top to keep the liquid from sloshing out. This is especially handy when using other food jars or the smaller Ms. Bento thermal food jar without a dedicated leakproof soup bowl.
If you have a thermal lunch jar, don't forget that you can always use the containers separately when packing a bento-style meal, as I did when I packed just the lunch jar bowls in a wine bag. The sealed soup bowl comes in especially handy when packing dipping sauces, and can be tossed around in a backpack without leaking.
Inspiration
Browse thousands of photos of meals packed in thermal lunch jars on the large and active Mr. Bento Porn group on Flickr. The group's discussion board also has tips and information specific to thermal lunch jars, making it an excellent place to pose related questions.
There's also a small Flickr group for vegetarians: the new Mr. Bento Vegetarian/Vegan Porn.
Giveaway
A lucky reader will win a free Zojirushi Mr. Bento thermal lunch jar; leave a comment at the separate giveaway post and I'll choose one at random on Monday, October 6, 2008 using random.org. The Mr. Bento lunch jar will be the same one that I tested here by filling it with water (no food has been packed in it). Zojirushi sent me one to test out, but my Product Reviews policy prohibits me from keeping anything valued over US$40 so it's time to pass it on. (Click on any photo for a larger view.)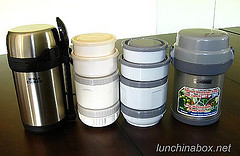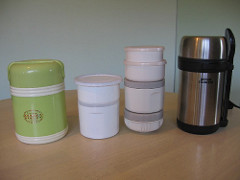 Here are the Nissan Thermos vs. Mr. Bento, and the no-name knockoff vs. the Nissan Thermos lunch jars. The soup bowls nestle into the bottom, followed by the large main bowl (often used for rice or the meal's carbohydrate), and the two side dish bowls. The Nissan Thermos and Mr. Bento's rice bowls have insulated lids designed to keep the heat or cold in the bottom two bowls. The cheap knockoff does not have an insulated lid, and its heat retention reflects this (see the tests results in the table below).
The Nissan Thermos is the only one with a stainless steel exterior, making it quite modern and masculine. The Mr. Bento's gray plastic exterior is unobjectionable and sturdy, though — much better than the chintzy plastic knockoff with an easily broken top handle.
Here are the two thermal jars side by side (Thermos Nissan on the left, Mr. Bento on the right). The Mr. Bento is slightly shorter and wider than the Thermos Nissan, with a secure clip-on top lid and a domed bottom. The Thermos Nissan's top lid screws on securely, and is touted by the manufacturer as being sturdy enough to be used as an additional bowl when eating.
The Mr. Bento comes with its own black carrying bag with two outer pockets, side zipper, detachable carrying strap and drawstring tie around the top (napkin not included). The strap is long enough to wear messenger-style if you're biking to school or work. The strap on the Thermos Nissan is shorter, and is suitable for shoulder wear only. My knockoff jar has an ugly plaid carrying bag that is too tight for adding utensils, and the strap length is not adjustable. I personally prefer the Mr. Bento bag as it's convenient for tucking in extra utensils or condiments, and it protects the jar's exterior finish. That said, my husband prefers the simplicity of the all-metal Thermos Nissan without the bag to mess with. Just our personal preferences.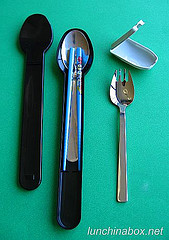 Both the Nissan and Mr. Bento come with a utensil and carrying case. The Nissan Stainless has a spoon and full-length carrying case that can also hold a small pair of child-sized chopsticks (not included). The whole utensil case slides into a holder on the outside of the lunch jar. The Mr. Bento comes with a spork and a small hinged case that covers just the spork's business end, keeping the weight down. If you want to pack a different utensil with the Mr. Bento, the spork cover might fit on other utensils or you can wrap a different utensil in a napkin and tuck it down into the Mr. Bento bag.
Here are the two soup containers, showing both top and bottom of the lids (Nissan on the left, Mr. Bento on the right). Both lids have removable rubber gaskets set into the bottom, and secure screw-on lids that keep liquids from leaking out of the container. The lids have different grip styles on top; I found both easy to grab when lifting a full container out of the bottom of the lunch jar.
The rice bowls are the largest containers in each set, and have insulated lids that are designed to keep the heat (or cold) in the bottom half of the thermal lunch jar. Design and quality are similar, although the insulation in the Mr. Bento lid performs slightly better than the Nissan (see the hot/cold retention test results in the table below). For food safety reasons, the manufacturers advise against packing hot and cold foods together at once in the same lunch jar. Instead, they recommend either chilled dishes in all four bowls, hot in the bottom and room temperature on top, or chilled in the bottom and room temperature on top. The rice bowl is NOT watertight at all, but you can use the "rice lid" packing method to expand your lunch options.
The two side dish bowls have similar plastic lids that effectively contain moisture but are not perfectly watertight. This makes them fine for moist foods but not suitable for soup. Quality of the Thermos Nissan and the Mr. Bento are pretty equivalent. The side dish bowl on my no-name knockoff does not have a securely sealing lid, and is more prone to spillage than the Thermos Nissan or the Mr. Bento. The manufacturers advise against putting hot food in the top two bowls in order to avoid warping the lids (the same reason you'll want to avoid putting the lids in the microwave or hot dishwasher cycles).
 
Zojirushi Mr. Bento SL-JAE14

Thermos Nissan JLN1200X
no-name Chinese knockoff
Heat retention
(see Note #1)
small: 85.8° F
medium: 88.5° F
rice: 107° F
soup: 110.5° F
(average: 97.95° F)
small: 89.1° F
medium: 92.3° F
rice: 108° F
soup: 111.5° F
(average: 100.2° F)
side bowl: 85.8° F
rice: 107° F
(average: 90.3° F)
Cold retention
(see Note #2)


small: 69.1° F
medium: 67.1° F
rice: 61.3° F
soup: 60.6° F
(average: 64.5° F)
small: 67.3° F
medium: 65.5° F
rice: 61.0° F
soup: 59.7° F
(average: 63.4° F)
side bowl: 66.4° F
rice: 64.8° F
(average: 65.6° F)
Hot/cold retention
(see Note #3)

small: 75.9° F
medium: 78.1° F
rice: 99.7° F
soup: 103.0° F
(cold avg: 77° F, hot avg: 101.4° F)
small: 77.0° F
medium: 78.4° F
rice: 98.1° F
soup: 102.5° F
(cold avg: 77.7° F, hot avg: 100.3° F )
side bowl: 78.3° F
rice: 83.3° F
Capacity
Total: 1230ml (41.6oz) (from company)
small: 200ml (6.8oz)
medium: 300ml (10.1oz)
rice: 450ml (15.2oz)
soup: 280ml (9.5oz)
Total: 1140ml (measured by me)
small: 200ml
medium: 280ml
rice: 380ml
soup: 280ml
Total: 800ml (measured by me)
side bowl: 350ml
rice: 450ml
Dimensions
8.5″ x 5.25″ (H x D)
9.5″ x 4.75″ (H x D)
7.25″ x 5″ (H x D)
Weight
Total: 2 lbs 6 oz
Jar & bowls alone: 1 lb 14.9 oz
Total: 2 lbs 4.5 oz
Jar & bowls alone: 2 lbs 2.2 oz
Total: 1 lb 11.6 oz
Jar & bowls alone: 1 lb 8.7 oz
Utensils
spork & plastic half-cover
spoon & plastic full case
n/a
Watertight?
soup bowl: 100%, side bowls: mostly, rice bowl: no
soup bowl: 100%, side bowls: mostly, rice bowl: no
no
Microwave-safe?
Bowls only, not lids
Bowls only, not lids
Bowls and lids only
Dishwasher-safe?
Bowls only, not outer thermal jar
Bowls only, not outer thermal jar
Bowls & lids only, not outer thermal jar
Cost
List price US$65, street price US$51 and lower (Amazon)
US$38 and lower (Amazon)
About US$10 (local Asian discount store)
Notes
Heat retention: I preheated the thermal jar with boiling water, and filled the bowls with 128° F water. The lunch jars stood for 6 hours in a 75° F room.
Cold retention: I prechilled the thermal jar with ice water, and filled the bowls with 56° F water. The lunch jars stood for 6 hours in a 70° F room.
Mixed hot and cold retention: I left the thermal jar at room temperature, filled the bottom bowls with 128° F water, and filled the top bowls with 56° F water. The lunch jars stood for 6 hours in a 69° F room.
(Disclosure: The Amazon links are affiliate links that support Lunch in a Box at no additional cost when you use them to shop.)
FURTHER READING: