North Carolina pulled pork sandwich bento
Spent Sunday smoking a couple of pork butts on our kludged-together flowerpot smoker for pulled pork sandwiches. All packed in my Nissan Stainless thermal lunch jar to keep the cole slaw fresh and cool.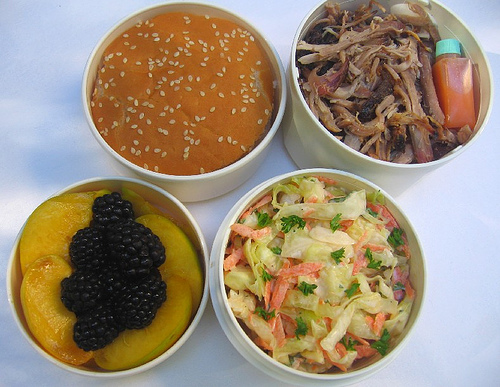 bun cut to fit the container
homemade pulled pork, smoked for 15 hours
vinegar hot sauce for the pork
homemade buttermilk coleslaw
blackberries and "mango nectarines" — a new kind of nectarine with a slight taste/texture of mangos (quite good!)
Here's the pork shoulder on the smoker.
Insulated smoker kludged together from flower pots and an electric coil burner a la Alton Brown's Good Eats — our first smoker (details here). We're looking at getting a proper smoker now that we're really into it.
RELATED POSTS: