"My Hashi" personal travel chopsticks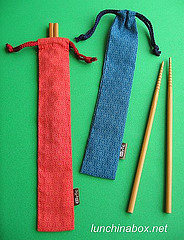 A couple of years ago, my friend Camille sent me an e-mail with a Chinese-language slideshow describing the detrimental effect that disposable chopsticks were having on the environment in China, and encouraging everyone to carry their own reusable chopsticks.
As background, China produces around 45 billion pairs of disposable chopsticks a year, amounting to about 25 million trees. Japan consumes about 25 billion pairs a year, or 200 sets per person, the majority of which come from China. In April 2006, China imposed a 5% tax on exported chopsticks, increasing the cost of disposable waribashi chopsticks and bringing widespread attention to the issue.
Fast forward a couple of years and there's now a full-fledged "My Hashi" movement across Asia, spawning entire lines of travel chopsticks and cases designed to be tucked into a purse or briefcase and taken to restaurants and work. And what would a Japanese trend be without some wacky invention of dubious use? Check out the My Hashi chopstick bra, which looks like the least comfortable bra EVER. (Read on for the full post.)
I generally pack utensil trio sets in my three-year-old's lunches that include a fork, spoon and miniature chopsticks in a flat case. These don't rattle around in my bag, but the chopsticks are a little short for adult hands and the case is a little large if all you need is chopsticks. If you've got the space for full-sized chopsticks but no fancy case, you can make a makeshift case out of toothbrush travel cases available for about a dollar in stores like Target or Walmart. Have you fashioned a clever, makeshift case for your lunch utensils? Let us know in comments!
The biggest drawback to full-sized regular chopsticks is the space they take up in a small bag. Enter collapsible, full-size chopsticks that unscrew in the middle to fit into short, compact cases. I've currently got chopstick lust for this black lacquer-look pair, this modern-looking pair in a clear case
, and a stainless steel version with a black, red, or metallic case. There are also folding "FlipSticks" out there, but I'm dubious about how comfortable the handles would be over a full meal.
(Disclaimer: J-List and Amazon links are affiliate links that support Lunch in a Box at no markup over the stores' normal prices. A list of the Amazon reusable utensils in this post and travel forks is at the utensil section of my Amazon store.)
FURTHER READING ON LUNCH IN A BOX: