How to eat whole tamarind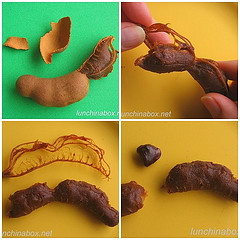 No, I haven't lost my mind! That's not poop in my son's lunch! It's little bits of whole tamarind fruit, which our friend from the French-African island of Reunion showed us how to eat. I've previously used blocks of tamarind pulp or paste
as a souring agent when cooking Indian or Thai food, but had always shied away from the big packages of whole tamarind pods
as I wasn't quite sure what to do with them. So when our friend Vincent brought out whole sweet tamarind pods at a dinner party last month, my three-year-old son and I were both fascinated. Bug inhaled them then, and laughingly asked that I pack the "unchi fruit" (poop fruit) in his bento lunch the next day. Here's what I packed for my warped child, as well as a guide to eating whole tamarind.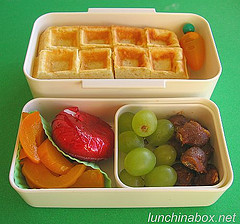 Contents of preschooler bento lunch: Waffle and maple syrup, sauteed yellow bell pepper in vinaigrette, wrapped cheese, grapes, and tamarind fruit.

Morning prep time: 7 minutes, using frozen waffles and leftover bell pepper. In the morning I toasted a frozen homemade waffle, cut up the waffles and peeled the tamarind pod. (Read on for the illustrated how-to and more lunch details.)
Packing: The moist bell pepper went into a reusable silicone baking cup to keep the wrapped cheese clean for finicky little hands, and the subcontainer in the upper tier kept the grapes and tamarind from rolling around. I put maple syrup into a little carrot-shaped sauce container that I picked up at Ichiban Kan discount store a while back (retail store info at my San Francisco Bay Area shopping guide for bento gear, online store info at my Ichiban Kan online store review). The whole lunch was loosely packed in a Basis:1 two-tier 600ml bento box, which was admittedly too large for a three-year-old according to the bento box size guidelines.
Verdict: Bug ate the waffle, cheese and grapes at preschool, and mangled the carrot-shaped sauce container by sucking and chewing on it, trying to extract every last bit of maple syrup (sigh). He did wind up leaving the bell peppers and tamarind despite having specially requested tamarind that morning. Maybe he got embarrassed once he opened it up in front of everyone; when I picked him up from preschool his teacher asked me what the brown thing was in his bento. I laughed and explained it to him, saying Bug had been really excited about it that morning. Anyway, he finished up the peppers and tamarind at home as a snack (I encourage him to finish his packed lunch before giving him other snacks). Tamarind is now an at-home treat, not a bento staple.

* * * * *
Although I didn't know it at the time, I first encountered tamarind as a key ingredient in Worcestershire sauce & HP sauce, giving them their slight pucker. As I grew older, I then used tamarind in Thai and Indian recipes, as a souring agent in curries and chutneys. After moving to San Francisco and exploring the Latin American markets in the Mission district, I became more familiar with tamarind as a flavoring for drinks and candies. This is the latest in my evolving relationship with tamarind — whole, as a snack.
Whole tamarind pods are covered with a hard shell that's easily cracked in your hands. Note that one end is pointed and the other is round — you'll be coming back to the pointed end soon.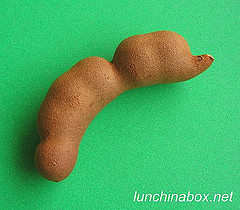 Crack open the shell with your hands, revealing the sticky fruit with little strings running through it.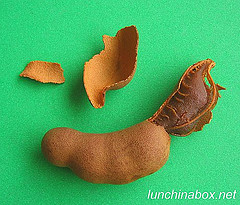 Here's the naked tamarind pod with the strings still intact.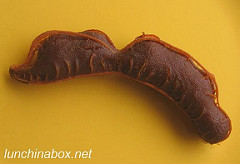 Grasp the pointed end with your fingers and peel the strings down and away from the fleshy pod. All of the strings should come away still bunched together at the top, without much resistance.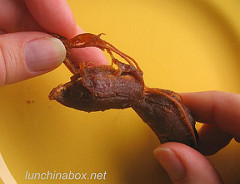 Behold the tamarind fruit and its little plant exoskeleton! The strings all came away neatly, with none remaining on the fruit.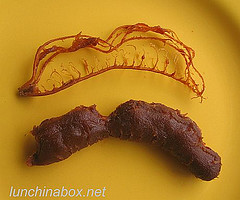 Inside of the tamarind fruit are several rock-hard seeds, covered by a softer edible coating. You can pop whole segments of the tamarind fruit into your mouth, chew around the seed, and spit the seed out. It was a novel and somewhat addictive experience.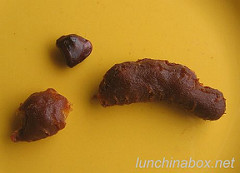 FURTHER READING: