Chicken drumstick box lunches
My preschooler actually gets distressed if his hands get messy when he eats, so I used some decorative aluminum foil to create a clean "handle" on a chicken drumstick for him. Success! He dove right in and grabbed the chicken leg without complaint, gnawing happily.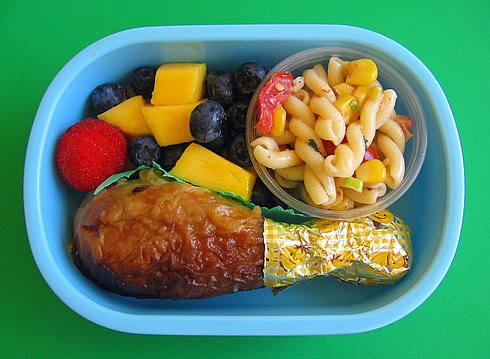 Contents of preschooler lunch: Roast chicken drumstick, strawberry tree fruit (a.k.a. arbutus berry), mango, blueberries, and pasta salad with roasted corn, cherry tomatoes, cilantro and chipotle chiles (recipe from Cook's Illustrated's The New Best Recipe).

Morning prep time: 5 minutes, using store-bought roast chicken from Costco and leftover pasta salad.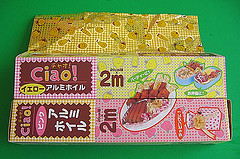 Packing: In addition to using decorative foil to make a clean "handle" on the chicken, I also used plastic sushi grass to keep the sweet fruit away from the savory chicken. The pasta salad is packed in a disposable condiment cup with a lid, although I forgot to put the lid on and some of the corn escaped the cup in transit (oops!). The entire lunch is packed in a 350ml Power Rangers bento box.
Equipment: A while back I picked up some yellow and pink aluminum foil from Daiso in Daly City (Japanese dollar store with branches internationally) for US$1.50 each (click on the photo for a larger view). It's Ciao! brand, which puts out a popular line of bento lunch accessories such as food cups, rice ball wrappers, picks, cutter, dividers, antibacterial lunch sheets, etc.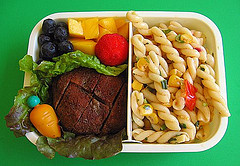 Contents of my lunch: Smoked hamburger that my husband the grillmaster cooked over the U.S. Labor Day holiday weekend, red-leaf lettuce, container of poppy seed dressing, and the same fruit and pasta salad that Bug ate.

Morning prep time: 5 minutes, using leftover smoked hamburger and pasta salad. In the morning I just cut the fruit and hamburger.
Packing: I used red-leaf lettuce as an edible food divider to keep the sweet fruit away from the savory burger, and cut the burger into bite-sized pieces to avoid in-box cutting. I grabbed a pre-filled sauce container with salad dressing from the refrigerator, and used it to dress the lettuce as a mini-salad after I ate the burger. Last week I filled three little sauce containers with leftover salad dressing from a store-bought salad, which speeds things up when I pack lunch on the fly in the morning. Packed in a 500ml Leaflet box with movable divider.
READ MORE: