Nonya skate wing box lunches
I love Singapore-Malaysian food. Nonya cuisine is the fusion that arose when male Chinese migrant workers moved to Singapore and Malaysia four centuries ago and married Malay women, and the cuisines merged in a most delicious fashion. Today's lunches have skate wing (also known as ray, or stingray), which I had for the first time in Singapore in the Airport Hawker Center in the 90′s. A local friend took my husband and me there, promising amazing food, and she was right. There was an outstanding red sweet/hot chili sauce on grilled skate wing, and I haven't yet been able to duplicate it.
Anyway, my Southeast Asian cookbooks have failed me so far in the quest to duplicate my memory of the ultimate hawker's skate wing, so we resorted to a recipe from Steve Raichlen's book The Barbecue! Bible . I have to hand it to Raichlen — his books are surprisingly international and well researched. (That said, can anyone recommend a really authoritative Singapore-Malaysian cookbook with recipes for authentic dishes like skate wing?) The Nonya sauce is sweet but hot, with shallots, jalapenos, garlic, lime juice and coconut milk. My husband made the skate, and the sauce came out SUPER-SPICY. Delicious, but not something that Bug could eat. So we grilled some plain skate and gave him mild pesto yogurt sauce instead.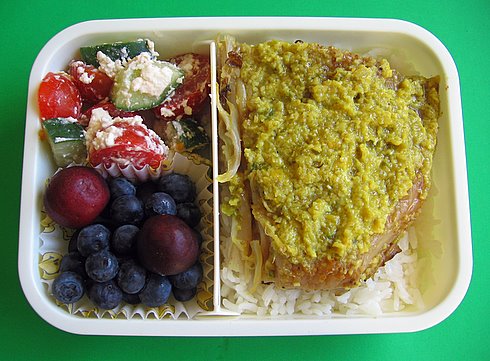 Contents of my lunch: Grilled skate wing with Nonya sweet-and-sour sauce, blueberries, cherries, and a quick salad of cucumbers, cherry tomatoes, feta cheese and sanbaizu sweet vinegar sauce.
Morning prep time: 8 minutes, using all leftovers. In the morning, I microwaved leftover cold rice to restore the texture, and trimmed the skate wing to fit into the box.
Packing: I packed the sauced skate wing right on top of the rice layer, with the rice absorbing a little bit of sauce ("donburi bowl style" — it wasn't so liquidy that the rice became sodden). Packed in a 650ml Leaflet box with movable divider that I picked up this weekend for US$8 at Irving Housewares in San Francisco, identical to this 500ml Leaflet box but a little bigger.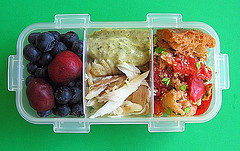 Contents of preschooler lunch: Blueberries, cherries, grilled skate wing with pesto yogurt sauce, and bread salad (crusty bread cubes, heirloom tomatoes, bocconcini marinated mozzarella balls, fresh basil, and homemade vinaigrette). (Click photo for a larger view.) Summer's the perfect time to make bread salad, with tomatoes and basil in season. An added benefit is that it packs well in lunches because the bread soaks up all of the seasoned liquid from the salad. At dinner, Bug initially didn't like the look of it, but ate it all up once he tried it. The Two Bite Rule in action! (You don't have to eat it all, but you must have two bites.)
Morning prep time: 6 minutes, using all leftovers.
Packing: In the morning, I deboned the skate wing and flaked it for easier child eating. Packed in one 350ml tier of a Lock & Lock lunch set.
READ MORE: