Magnets to track freezer inventory
A number of my speedy lunch tips involve making food ahead of time and freezing it in individual portions to throw into a packed lunch. Keeping track of what's in your freezer is key to being able to cycle through it regularly (avoiding freezer burn and food waste). I've tried different techniques, but haven't been able to stick with anything too demanding that requires me (or my husband) to write down exactly what we take out or put in each time (ack). I did find a pretty straightforward technique in Shufu no Tomo's book on freezing in my collection of food books, though: make magnets using photos from the weekly supermarket advertising pages, magnetic sheets sold at dollar stores, and tape. I sometimes scan through new ad circulars as they come to see if there are additional photos that might be good freezer magnet candidates.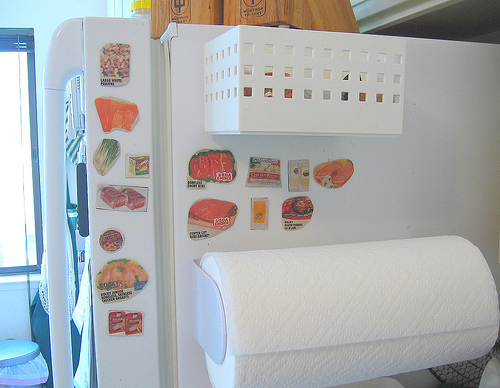 To make the magnets, you can use any thin magnets — I picked up a big yellow magnetic sheet from Daiso (dollar store), and also used paper-thin freebie magnets we've accumulated over the years from pizza delivery, online ordering, etc. Cut out little photos of food you commonly freeze, tape it to the thin magnet with either double-sided tape or regular tape looped over onto itself, and cut to shape. I disregard brand names, of course: I don't have Eggo waffles in my freezer, but I do have homemade mini pancakes for packed lunches and fast breakfasts for Bug.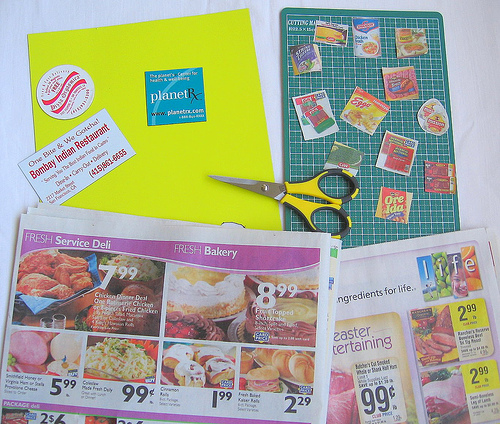 If you wanted to get elaborate with this, craft stores stock special magnetic products you could use with custom photos of your own choosing, and you could finish the top and seal the edges for durability. That's a little much for me, but I bet they'd be cool magnets! For larger views of either photo, click on it, then click the "All Sizes" button above the photo.
RELATED POSTS ON LUNCH IN A BOX: