Curried quail egg lunches: Multi-boiling
Morning prep time: 8 minutes (15 min. for two lunches). I cooked washed quail eggs and sausages together to save prep time, used leftover homemade yellow rice with alcaparrado (olives, pimientos and capers), nuked broccoli in the microwave steamer, and put ketchup into the sauce container. What took the most time was peeling the hard boiled quail eggs before a brief simmer in curry/soy/water (recipe below). Japanese bento cookbooks show a lot of quail eggs in children's lunches, often colored with natural flavorings instead of dye. Yellow: curry powder or takuan packing liquid, pink: umeboshi packing liquid with red shiso or red ginger packing liquid (benishoga), purple: grape juice, brown: soy sauce, etc.
I quickly made the little egg into a "goldfish" by sticking a little sprig of parsley into one end (ouch!), and affixing a black sesame seed 'eye' to the egg with a little honey to make sure it didn't fall off in transit (a hazard of intricate bento designs). Bug's lunch is packed in a 350ml Lock & Lock container from a lunch set.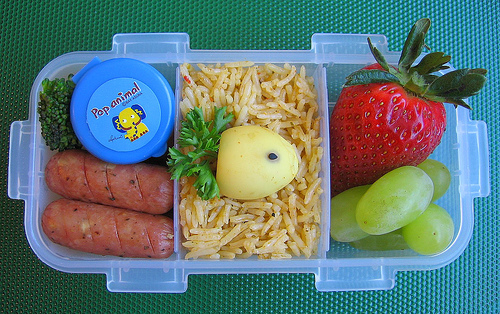 To save time in the morning, combine prep of different ingredients into one pot (or steamer, pan, broiler, etc.) — saves on both prep and cleanup time. If I'd planned it better I would have thrown the broccoli in the pot at the same time. My secret's out — I don't do a lot of prior planning of the exact makeup of our lunches, I just wing it as I'm packing. It is helpful to think of one item the night before, though, so you're not completely at a loss. EDIT: Someone pointed out that the quail eggs they buy sometimes have dirty shells, so it'd be best to wash the eggs before cooking them with other food.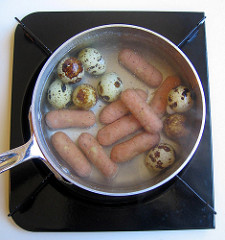 Here's my lunch, the same as Bug's except my curried quail eggs are on skewers with little plum tomatoes. Bug actually got excited when he saw my skewers, so I ate maybe one and a half and gave the rest to him. Everything's more exciting when it's on a pick! My lunch is packed in a 500ml Feel at Ease box that I got for about US$1 at a local Japanese dollar store (Ichiban Kan).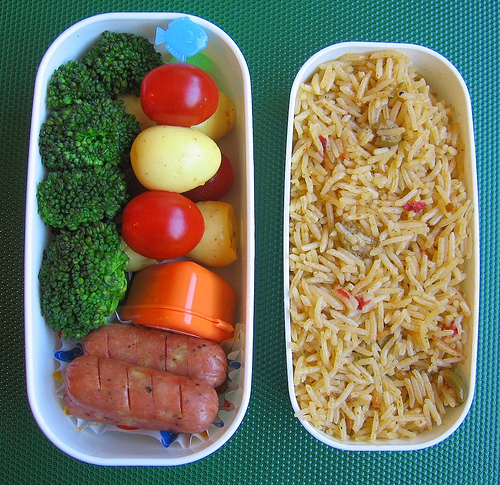 Curried Quail Eggs
Put quail eggs in a small pot and cover with cold water. Bring to a boil. Turn off heat, cover, and let sit for a few minutes. Peel.
Put about 1/3 cup water in the small pot you used when boiling the eggs, add 1/2 tsp. curry powder (or more) and a splash of soy sauce. Simmer on low heat for 3 minutes or so, stirring occasionally, until the color is how you want it. Cool and eat!
Note: If you can't find fresh quail eggs (often in the egg section of an Asian grocer), you may be able to find cans of hard-boiled quail eggs. I haven't been impressed with the texture of the canned eggs so far, but…
READ MORE: