Speedy pupusa lunch
Morning prep time: 5 minutes (10 minutes for 2 lunches). Nothing fancy today, just leftover mini pupusas that I'd made for dinner (as big pupusas). For lunch, I cut them in half to eat as finger food, put spiced crema in the sauce containers for dipping, and cut a couple of kiwis and half of an orange. Kiwi chunks are easiest to eat with little picks.
I made the pupusas the night before with fresh masa (ground cornmeal for tortillas) and leftover homemade smoked pulled pork from the freezer, so they were fusion stuffed with North Carolina-style pulled pork, homemade barbeque sauce, sauteed onions and queso fresco.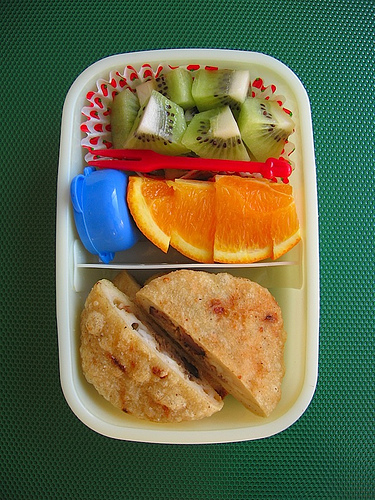 Bug's lunch below is a little larger than usual because I packed enough to share with his little friend in playgroup. The kids devoured these, and had a good time dipping the pupusas — success!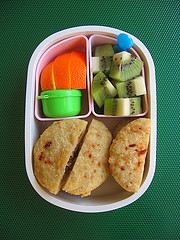 READ MORE: