Shumai "burger" lunches
Morning prep time: 5 minutes (10 minutes for two lunches). We've got leftover spaghetti puttanesca (with tomatoes, olives, capers, anchovies and olive oil), steamed broccoli and kabocha squash (cooked together quickly in a microwave mini steamer, speeding up cook time 50%), and pan-fried frozen shumai (a.k.a. siomai or siumai). I saw the pan-fried shumai in a Japanese bento cookbook, described as a "Chinese hamburger" — I got a chuckle out of that. I keep a few sauce bottles pre-filled with dipping sauces we use a lot (such as soy, dumpling dipping sauce, hot sauce, Lizano, etc.), so I was able to just grab a couple and throw them into our lunches. Tiny green grapes and a cherry tomato act as "gap fillers" to stabilize the lunch for transport.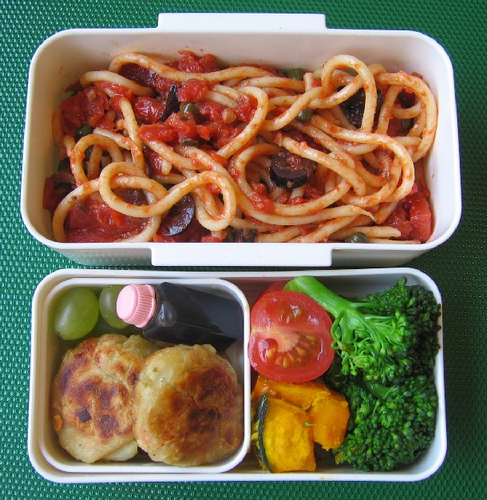 The shumai "burgers" were fast and easy, using frozen shumai (Chinese dumplings). I microwaved the frozen shumai until soft (30 seconds on high in my 1100W microwave), heated a nonstick frying pan on medium heat, sprayed it with vegetable oil, and pan-fried the dumplings until crispy, mashing them down with a spatula throughout.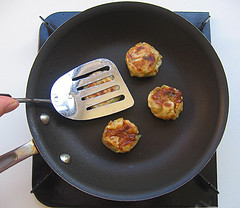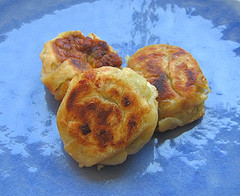 Bug does better if I cut up his spaghetti for him, so I did this quickly with clean kitchen scissors after putting the pasta in the bento box. Bug actually doesn't like olives or capers, so I pulled those out of his puttanesca so he'd eat the whole thing. Success! He made a beeline for the finger food shumai "burgers" first, grabbed one of mine, then attacked all of the broccoli and pasta. He wasn't interested in the kabocha, though — you never can tell (he usually likes it). Bug's lunch is packed in a 350ml container, just about right according to the Japanese nutrition and bento box size guidelines. I used a little plastic divider ("baran") to keep the crispy shumai away from the moist broccoli, and threw in a tiny pick for the kabocha.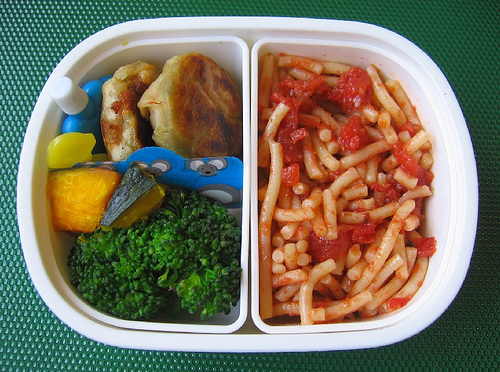 READ MORE: