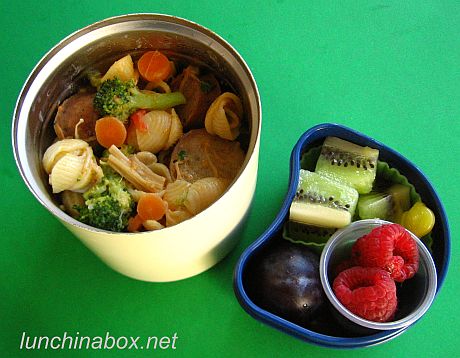 Contents of preschooler bento lunch: Pasta shells & cheese with sauteed enoki mushrooms, carrots, broccoli and Aidell's chicken/apple sausages. The side car holds kiwifruit, a plum, and raspberries.
Morning prep time: 5 minutes, using leftover mac & cheese. In the morning I prewarmed the thermal food jar with hot tap water while I cut the kiwi and warmed the pasta in the microwave. I added a little splash of water to the pasta before warming to help revive the texture.  (Read on for packing details and an additional lunch of pork stew with fennel, leeks and prunes.) Read the rest of this entry »
What food containers do you usually use to pack lunches?
Although I have a wide variety of different containers for all kinds of foods and appetites, I usually wind up reaching for a bento box, a Lock & Lock box (Tupperware-type container), or a thermal bento set. It depends upon what I'm packing, what shape the food is, and if I want it hot. How about you?
If you're not clear on the differences between the containers, click on the following for examples of a: Laptop Lunchbox, thermal lunch jar (like the Mr. Bento), thermal food jar, thermal bento set, tiffin tin
, sandwich case, tempered glass box, disposable container, or other reusable container. I've left out  lunchboxes and lunchbags themselves from this poll; that can be a separate question at some point.
What containers do you pack your lunch in? (check all that apply)
Tupperware-type container (66%, 985 Votes)
Bento box (52%, 776 Votes)
Plastic baggies (29%, 431 Votes)
Sandwich case (16%, 239 Votes)
Thermal food jar or thermos (14%, 202 Votes)
Laptop Lunchbox (12%, 175 Votes)
Other reusable container (describe in comments) (11%, 170 Votes)
Thermal lunch jar (like Mr. Bento) (9%, 133 Votes)
Tempered glass box (6%, 90 Votes)
Tiffin tin or stacking metal box (5%, 73 Votes)
Thermal bento set (4%, 56 Votes)
Other disposable container (describe in comments) (3%, 49 Votes)
Total Voters: 1,496
 Loading ...
FURTHER READING:
Forum Poll: Valentine-themed Bento of the Month contest (log in on forum to vote)
Poll: Where are your lunches eaten? (poll closed)
Poll: Why do you pack bentos? (poll closed)

Poll: When do you pack lunch? (poll closed)

Poll: Who do you pack lunch for? (poll closed)
Bento FAQ and Biggie's list of top speed tips, tutorials and reviews
So my news is that I'll be speaking at this year's BlogHer '09 Conference on the food blogging panel, "Identity/Passions: FoodBlogging in the Time of Recession". This year's annual BlogHer Conference will be held Friday and Saturday, July 23-24, 2009 in Chicago, and is the largest conference of women bloggers in the world, including women (and men) who blog about parenting, food, politics, travel, business, sex, health, etc.
I went to last year's BlogHer conference in San Francisco (see my write-up), and it was the first time I'd met so many bloggers in person. I was struck by the sheer number of the talented women there (over a thousand), and gained valuable perspective from the sessions. I'm tickled to be chosen as a panelist this year, talking about how food bloggers can stay relevant and maybe even help people save money in this economy. (Read on for the full list of food panelists, and a recent Hong Kong Trader article quoting Lunch in a Box.)
In a break from my usual "speed bento" lunches that only take about ten minutes to pack, the other week I made more of an effort for Valentine's Day and packed a special lunch for my four-year-old son to take to preschool. You can see his whole classroom's Valentine bentos lunches here if you're curious. (If you've got any special Valentine's lunches of your own, today Feb. 23rd is the last day for entries in this month's Valentine bento contest with a chance at winning a bento box prize.)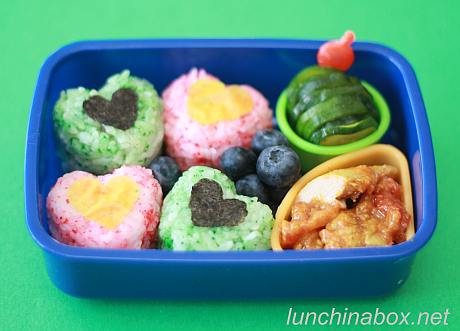 It took me a while to post this as Bug & I were in a car accident last week where we were badly rear-ended, and I've been a little discombobulated and tied up with all the post-crash red tape. Thankfully both Bug and I were able to walk away from the wreck, but our car may be totaled (jury's still out). If you'd like to see a photo of our smashed-up car, I posted one on the forum with some details.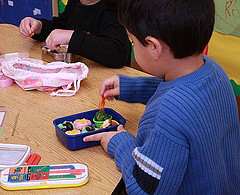 Contents of preschooler bento lunch: Heart-shaped onigiri rice balls filled with Gohan Desu Yo! seasoned seaweed paste (colored with red or green hana-ebi shrimp powder, decorated with nori seaweed and mamenori soy wrappers
described below), blueberries, steamed zucchini with Korean barbecue sauce, and chicken from a homemade Indian curry (lal shorve vala murgh).
Morning prep time: 30 minutes, WAY longer than my usual speed bento, but fine for a special occasion Valentine's Day lunch. My shortcuts were leftover curry, frozen rice, and a heart-shaped molds for the rice balls. In the morning I assembled the rice balls and made the zucchini in my microwave mini steamer. (Read on for decoration and equipment notes, a review of Uncooked Roti-Chapati Indian flatbread dough from Costco, and an additional preschooler lunch…)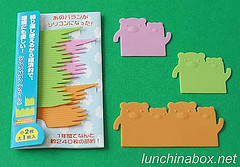 On my last trip to Ichiban Kan and Daiso discount stores, I picked up some cheap new silicone versions of bento accessories that actually make sense in silicone. I've started reaching for them recently in favor of standard paper or plastic ones as they're reusable, flexible, dishwasher-friendly, and you can heat them up.
The first are silicone food dividers (baran) that separate different foods in a bento lunch, keeping flavors from mingling and keeping textures intact. They're washable and reusable — I've had good results with putting them in a utensil basket in the dishwasher to keep them from flying around. (Time to update my bento care & maintenance post…) At US$1 for a pack of three (bears or grass versions available online), they're still reasonable. I've also heard of people cutting up flexible cutting mats to use as dividers.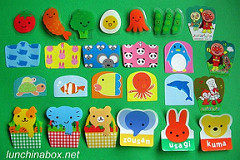 Up to now I've been using edible dividers or lightweight plastic dividers (shown at right) that are meant to be disposable, but I wash and reuse them until they're torn, worn or lost. The drawback with these is that they don't do as well in the dishwasher, and they're so flimsy that they do get torn and worn. They are adorable, though, so I'll keep them in rotation to liven things up a little. (Read on for shaped silicone food cups…)