Leftover Remake: Risotto cake recipe & bento lunches
Because I'm not my son's personal short-order cook, I love to use dinner leftovers in our bento lunches to minimize prep time. But eating the exact same thing for multiple meals can get boring pretty quickly, so finding new ways to quickly transform leftovers into different dishes is always welcome. Today I've got a simple Leftover Remake recipe for pan-fried risotto cakes.
With these lunches, I took cold zucchini risotto left over from dinner the night before, and made it into little pan-fried risotto cakes that my five-year-old ate as finger food. They're reminiscent of Sicilian arancini (deep-fried rice balls stuffed with cheese, meat, or vegetables), but I improvised as I didn't have a good melting cheese on hand.
Contents of kindergartener bento lunch: Pan-fried zucchini (courgette) risotto cakes (recipe below), teriyaki & pineapple chicken meatballs (my favorite, Aidells brand), red grapes, and steamed broccoli with onion-based salad dressing. For dinner, I'd made the zucchini risotto from a recipe in Marcella Hazan's classic cookbook Essentials of Classic Italian Cooking.
Packing: You know that I'm not one for spending a lot of time making elaborate food art, opting instead for food picks and little lunch accessories to give a bento a quick shot of cute. A while back I stumbled on a package of new colorful hugging food picks shaped like Usahana at a local thrift store for US$1, so I used them with the meatballs to make easy eating for little hands. I used all silicone lunch accessories in this bento, with a baran separator and food cup for the broccoli — keeping foods from touching (more of an issue for Bug than it would be for me).
Thorough cooling of the lunch contents before packing up the box is important to prevent condensation that would: 1) make the risotto cakes soften up, 2) create a vacuum inside of the box that would make it hard to open, and 3) increase the odds of food spoilage as bacteria thrive on moisture, protein and warmth. The lunch is packed in a 450ml Disney Cars bento box with movable subdivider, the right size box for a 5-year-old according to the bento box size guidelines.
Verdict: Mostly thumbs up with everything gone except the grapes. Bug said he only ate half of a grape because he was trying to get the seeds out and peel the skin off with his fingers as he didn't like the taste of the skin. He protested when I went to throw the remaining grapes out, though, saying he still wanted to eat them, it just took him too much time at school. So these big red grapes are off the bento list because they're too time-consuming, but still in the kitchen at home for when we're not in a hurry.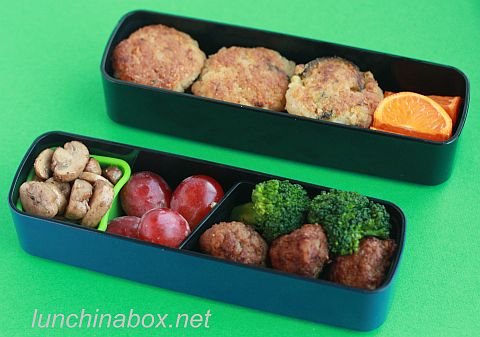 I added tangerine slices and smoked mushroom salad to our homestay Japanese teacher's bento to round it out and make it different from the child's version above.
Contents of adult bento lunch: Pan-fried zucchini risotto cakes, tangerines, smoked mushrooms dressed with homemade balsamic vinaigrette, red grapes, steamed broccoli with onion-based salad dressing, and teriyaki & pineapple chicken meatballs. I adapted a recipe for smoked mushroom salad in the terrific barbecue cookbook Smoke & Spice: Cooking with Smoke, the Real Way to Barbecue , and my husband smoked them in a vegetable grill basket on his Big Green Egg ceramic cooker. (You know, men love their grills!)
Morning prep time: 22 minutes for the two bento variations, including cooling time for the risotto cakes. The mushroom salad was leftover from a previous dinner, and I quickly sliced up half of a tangerine.
Verdict: A-sensei ate everything, with a thumbs up on the risotto cakes. When I probed more deeply about what they were like at room temperature (as I ate mine at home when they were still warm), she finally said that she thought Bug might like them better with ketchup or some other dipping sauce. Bug disagreed and said they were good as is, but it's an interesting suggestion.
* * * * *
Recipe for Pan-fried Risotto Cakes
leftover cold risotto (How much have you got? Try a basic risotto recipe is you're starting from scratch.)
1/4 cup flour (or breadcrumbs)
dash of salt & pepper
1 Tb vegetable oil (or vegetable oil spray) for pan-frying
kosher salt to taste
In a shallow bowl or pie plate, mix together the flour, salt and pepper for breading the risotto cakes.
Use a small disher or tablespoons to scoop up 2-3 tablespoons of cold risotto. Use your hands to shape the risotto into small rounds about 1/2 inch thick. (This is for small risotto cakes to fit in a bento box; feel free to make larger cakes if you like.)
Place the risotto round into the flour mixture and lightly dust. Tap off excess flour and set aside.
Heat the vegetable oil in a nonstick frying pan over medium heat. Place the floured risotto cakes in the hot pan without crowding, and fry until golden brown on the bottom (a couple minutes per side). Don't mess with the cakes too much when you first put them in — you want them to develop a nice crust that'll hold everything together when flipping.
Flip the cakes and fry until brown on both sides. Remove from the pan with a small spatula, and cool on a cooling rack lined underneath with paper towels.  Blot off any excess oil off with paper towels.
Sprinkle with kosher salt to taste while still warm.
If not packing in a lunch, serve right away while warm. If packing in a bento, let these cool as completely as you have time for before closing up in a bento box. This'll help prevent condensation inside the box that would soften the nice crust you've developed on the risotto cakes.
RELATED READING:
Subscribe to Lunch in a Box by e-mail updates or via RSS feed