Stromboli lunches and travel food
Bug and I returned safely from our trip to Philadelphia last night. On our trip, we brought along a couple of small bento boxes, a collapsible sandwich case, and a couple of sauce containers so that we could have freedom on the road instead of needing to break to find a restaurant mid-day. This turned out to be a good approach, as the boxes neatly held our lunches on the plane going out (no purchasing nasty airline "snack boxes"), restaurant dinner leftovers for the following days (held overnight in our hotel room mini fridge), cheesesteak sandwiches, and fruit and hoagies (Philly submarine sandwiches) from Wawa for the plane trip back.
Morning prep time: 3 minutes. While hoagies and cheesesteak sandwiches are pretty well known Philadelphia food, I rediscovered strombolis this trip. Essentially a stuffed pizza, a stromboli is like a loaf-shaped calzone that is supposed to have originated in the Philadelphia area in 1950. There are many variations, from the no-sauce classic Italian (with meats and mozzarella), to sauced strombolis like meatball, steak, chicken steak, pizza, etc. They're also wonderful eaten at room temperature, making them tasty lunchbox food. Here it's paired with a sliced nectarine, grapes and cherry tomatoes (plus leftover marinara sauce in a container for Bug to dip his sandwich into).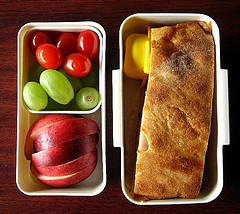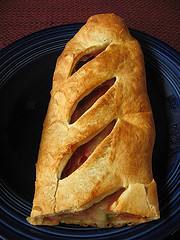 The Italian stromboli below is from Pinocchio's in Media, with ham, cappicola, salami, pepperoni, cheese and green peppers. Evidently the strombolis from Pinocchio's are an interesting variation because of the green peppers, as opposed to straight meat and cheese. I used to eat at Pinocchio's when I was a little girl, so this was a fun trip down memory lane.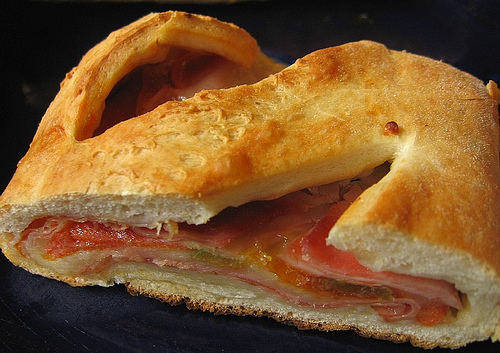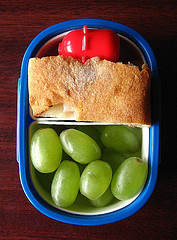 Bug's lunch is the same — two layers of stromboli with grapes and marinara sauce in a pig container.
Morning prep time: 5 minutes. I brought the following lunches along for our plane ride to Philly. My collapsible sandwich case was great because after I ate I was able to fold it up flat. Here it holds a tuna salad sandwich with cheese and dandelion greens on a ciabatta roll, two wrapped cheesees, and sugar peas and cherry tomatoes with ranch dressing for dipping. I was able to put this together in about 5 minutes because the tuna salad was leftover from making tuna/mayo onigiri for the Bug's playgroup at our house the day before. I just added some cheese and pickles to the tuna salad, assembled the sandwich, filled the sauce container with dressing, and plugged the gap with veggies, cheese and the sauce container.
A tip when making sandwiches on rolls: use your fingers to tear out some of the soft bread inside of the roll, which creates a convenient space for messy fillings that would otherwise fall out. This technique kept the tuna salad nicely contained in the sandwich, instead of all over the airplane table.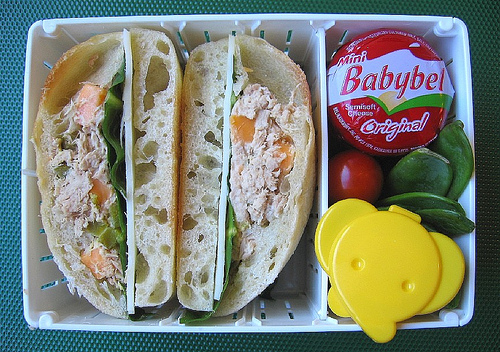 Morning prep time: 3 minutes. Bug and I split the two airplane bentos, so this is the remainer of our lunch: chicken and apple mini sausages from Aidells, grapes and blackberries. The pig container holds ketchup for the sausages (Bug's favorite lunch pasttime is dipping). This was a fast bento as I just threw the slit sausages into the microwave to heat through for optimum food safety (heat even pre-cooked processed meats to kill any bacteria).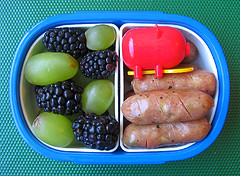 RELATED POSTS: