Spinach tamagoyaki lunch
I first heard the phrase "refrigerator velcro" from Alton Brown, describing dishes like potatoes and eggs that bind together all kinds of leftovers from the refrigerator. Frittatas, fried rice, and potato gratin are like that for me, accepting whatever is available. Tamagoyaki, or Japanese rolled egg omelette, can also incorporate fillings like sauteed vegetables, nori, kamaboko, fake crab, meat, etc. Just start your first layer of egg normally, and put a strip of filling down on the egg just before flipping the egg into that first roll. Build subsequent layers of egg as usual, and you'll wind up with stuffed tamagoyaki (an easy vegetable delivery vehicle for children). If you have leftover food scraps from making bento decorations, they can easily go into this kind of egg dish. What's your favorite refrigerator velcro dish?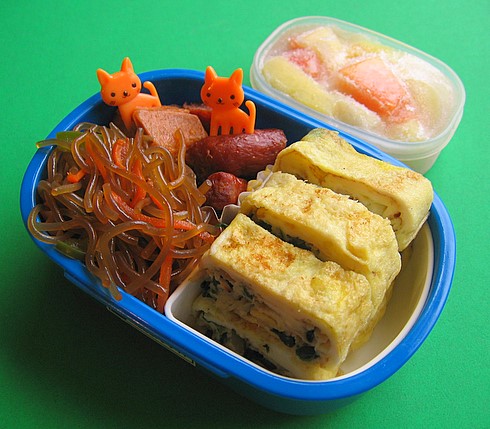 Contents of preschooler's lunch: Japchae Korean noodles (transparent potato starch noodles, carrots, onions and bell peppers), sweet potato simmered in mirin and soy sauce, cocktail sausages, and tamagoyaki Japanese rolled egg with sauteed spinach and onion in the middle (see my tutorials for traditional tamagoyaki and shortcut tamagoyaki). The smaller container holds frozen Thai fruit cocktail, with papaya, pineapple, guava and nata de coco. To make the spinach tamagoyaki, I quickly sauteed some bagged, chopped spinach and leftover grated onion in the tamagoyaki pan, then added the first bit of egg directly to the pan with sauteed vegetables in it to form the first inner layer.
Morning prep time: 10 minutes, using leftover sweet potatoes and deli noodles, and pre-frozen fruit cocktail. In the morning I quickly made the two-layer spinach tamagoyaki.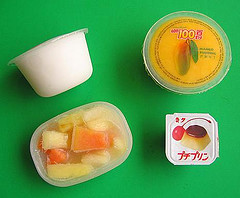 Packing: The frozen fruit cocktail acts as an edible ice pack that thawed by lunchtime and kept the rest of the lunch cool. Packed in a 270ml Thomas the Tank Engine bento box, with a 100ml side dish container and two little four-pronged cat picks from Daiso that my son picked out in the morning.
Verdict: Good, over time. Bug ate everything but the noodles at preschool, saying that he ran out of time. He inhaled the noodles in the car afterwards, though, picking the carrots strips out.
READ MORE: