Meatball and rice "bomb" lunches
Consider this lunch a bomb — a meatball and rice "bomb". I came across this rice ball variation in a Japanese-language onigiri cookbook, where it was called a "bakudan onigiri", or "bomb onigiri". It's pretty straightforward: with your hands or ball-shaped onigiri mold (photo below), cover a meatball with short- or medium-grain rice, then completely cover that with moistened scraps of nori seaweed. I used seasoned, roasted Korean seaweed because I like the taste, but regular Japanese sushi seaweed is the norm and is sturdier to work with. Variations include flavoring the rice with furikake rice sprinkles, or replacing the meatball with another flavorful filling like a steamed shumai dumpling. Think outside of the box for fillings — do you have highly seasoned, non-moist leftovers that might go well with rice?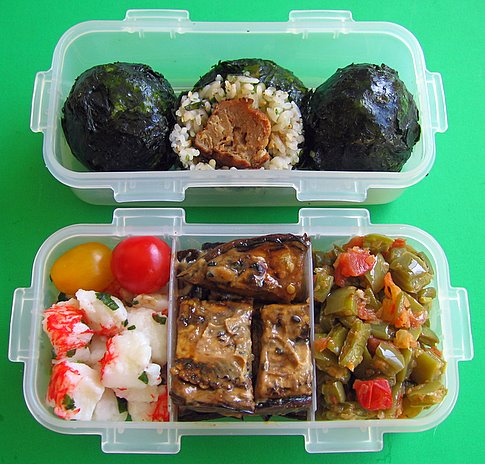 Contents of my lunch: Meatball "bomb" onigiri stuffed with teriyaki & pineapple chicken meatballs (Aidells brand) and wrapped with seasoned Korean seaweed. The second tier has chunks of imitation crab with sanbaizu sweet vinegar sauce (recipe here) and frozen chopped cilantro, yellow and red plum tomatoes, grilled eggplant with miso glaze, and sauteed nopales (prickly pear cactus paddles) with homemade salsa Criolla (vinegary fresh salsa).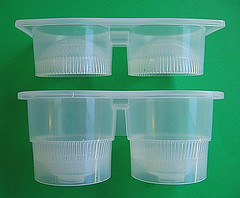 Morning prep time: 20 minutes, using leftovers (rice, eggplant and salsa Criolla), ready-made food (meatballs) and a flavorful basic sauce I keep in the refrigerator (sanbaizu).
Cooking: I bought the nopales already de-spined and diced, so it was quick work to toss that into a frypan with a little oil and salt to start cooking at the start of meal prep. I added the vinegary salsa Criolla when the nopales got slimy, and cooked until the slime dissipated — then drained and cooled in a mini bowl and strainer before packing. I microwaved the cold rice and meatballs to restore texture, and made the "bomb onigiri" with round onigiri molds (shown at left) dipped in water to assist the release. I picked up this mold at Daiso in Daly City for US$1.50 in the freezer container section; check their store locator for additional locations internationally.
Packing: I cut the long slices of leftover eggplant into bite-size pieces for easy eating, and cut the middle onigiri rice ball in half just for the photo to show what's inside. These are much more stable when left intact; I don't recommend cutting them apart before packing. Future versions will be packed and photographed whole. Lunch packed in two 350ml tiers of a Lock & Lock lunch set.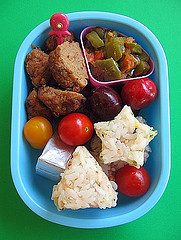 Contents of preschooler lunch: Bug requested that his meatballs be separate from his rice, so he's got some halved meatballs and shaped onigiri (rice mixed with salmon furikake), plus a cheese triangle with his lunch. Everything went down the hatch except the nopales, which he tried but didn't like. Oh well, at least he tried it!
Morning packing time: 16 minutes (didn't have to make the "bomb onigiri").
Packing: Packed in a 350ml Geki Ranger box, with a rounded-tip octopus pick for the meatballs. Everything but the nopales was finger food. If I were to remake this lunch for solo preschooler eating, I'd remove the pits from the cherries.
READ MORE: