Make your own learning chopsticks
Teaching kids how to use chopsticks can be tricky. Bug has used a variety of different learning chopsticks that I picked up in local Asian markets, but this weekend I came across a cheap and ingenious workaround that uses regular disposable chopsticks, the paper chopstick wrapper, and a rubber band. A tip of the hat goes to Sushi to Dai For restaurant in San Rafael, CA, where I saw this trick (their omakase sushi special is, indeed, to die for).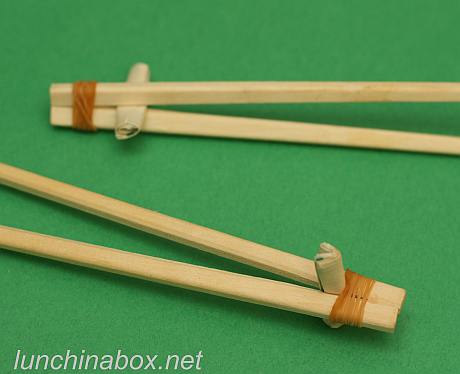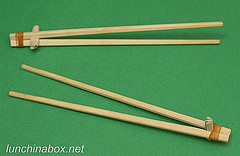 To make these, pull apart disposable chopsticks or use regular reusable ones with rectangular ends that will stay securely together. Use a rubber band to tightly bind together the non-eating ends. Take a small strip of paper or half of the wrapper from the disposable chopsticks, and fold it up small. Wedge it in between the chopsticks up near the rubber band, and hand them to your child! Kids can just squeeze the chopsticks together to grab things, and the tips are aligned properly. (Read on for additional tricks for making these, reviews of Edison learning chopsticks and the Fun Chop chopstick learning gadget, and where to see me on TV this morning.)
The trick is to make sure the rubber band is tight enough, and that the paper is not so thick that it's hard for the children to squeeze the chopsticks together. Four-year-old Bug and his two-year-old friend were able to eat with these without issues — pretty amazing for a two-year-old!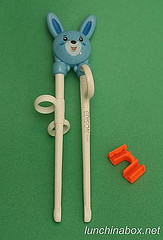 While this is a cool workaround for when we're out, at home Bug currently uses training chopsticks from Edison (the bunny ones shown at right). I like these because the flexible rubber finger guides place the hand in the correct position, and make the child use natural movement to open and close the chopsticks. The thumb guide on this particular pair can be removed and replaced with a guide that doesn't totally surround the thumb, for advanced learners. The tips are slightly flat and textured to help pick things up. They come in both left- and right-hand versions.
Bug took to these instantly and hasn't shown frustration with them, which is somewhat surprising for him. :-)  I picked these up at Kukje Korean supermarket in Daly City, but I've also found a variety of Edison learning chopsticks on eBay (including Thomas the Tank Engine)

, a penguin version on Amazon, and
of course many other styles of learning chopsticks on Amazon
.
The cheap little orange Fun Chop gadget shown above is designed to hold a pair of small children's chopsticks and help guide little hands, but the child is only learning to squeeze the chopsticks together, which is not necessarily similar to the hand position and movements when using regular chopsticks. Bug gets a little frustrated with them as sometimes the little chopsticks become misaligned and he needs a lot of hand strength to close short chopsticks held together with the Fun Chop. I wish the cheap little gadget were the best one, but the Edison ones really are better and easier for little hands to use.
What has your experience been with learning chopsticks, either for you or your children? Any recommendations or tips on what to avoid? Let us know in comments!
BTW, for any local readers in Sacramento, CA, I'm going to be on the local TV news on FOX40 Tuesday morning at 7:15am and 8:15am (Nov. 25, 2008), making turkey mole enchiladas, curried turkey croquettes, and other creative leftover remakes from Thanksgiving dinner. Tune in or grab it on TiVo to see if I spill something on myself!
FURTHER READING: