Speedy tamale lunches
Morning prep time: 2 minutes each (4 min. total). I'm almost embarassed at how little time it took to throw these together. These are frozen tamales that were leftover from dinner a couple of nights ago; I steamed extra when making dinner and just packed the spares directly into these lunch containers after we ate. After-dinner cleanup also provided a tiny bit of undressed salad, and sauces (ranch dressing, cooked salsa and crema — like sour cream) which I packed into little containers during cleanup. So in the morning all I had to do was grab the semi-packed boxes, throw in some grapes, blackberries and raspberries. Done.
A word on packing fragile fruit like raspberries, though. Although it's tempting to use them to "plug the gaps" in your lunch, they're really too delicate to stand up to shifting food during transport. Pack delicate berries in a separate container or in hard, non-flexible food cups to minimize the chance of finding berry goo in your lunch.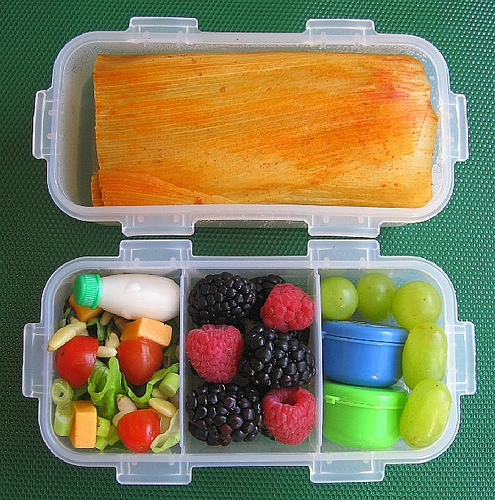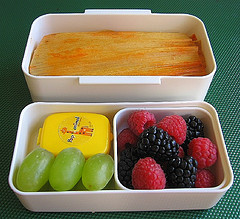 Bug's lunch is the same as mine, but without salad or hot salsa (only crema for his tamale). We ate this one with a big group of Japanese moms and kids after playgroup and it was a big hit with them as well as Bug (the other kids were hovering over the grapes and berries). Bug's lunch is loosely packed in a two-tier 600ml box, and mine is packed in two 350ml Lock & Lock containers.
READ MORE: