Muffin sandwich for toddler, + more accessories
Getting back in the swing of things; here's a little lunch for my son at playgroup. His little friend Sierra usually winds up sharing some, hence two little picks instead of one. There's an English muffin sandwich with ham and cheese, a car-shaped egg (that my son played with before eating), mustard green gratin, and kiwi. All gone now! (Packed in a 495ml box from Daiso.)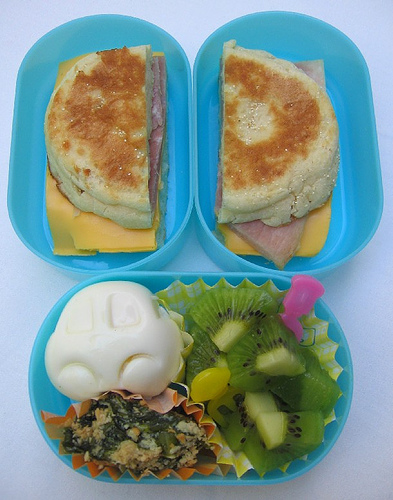 More photos of my Daiso haul and assorted bento accessories under the cut.
"Fruit" and "Yasai" (veggie) condiment containers with spreaders that stick out. Weak closure, so best for very thick spreads like butter, peanut butter, Nutella, etc.
little sauce elephant and pig with paddle that fits securely under the belly (good lid closure, too)
squeeze bottles (the egg and tomato lids open up); comes with a screw-on adaptor for Japanese mayo/ketchup bottles for filling
The little pig and elephant are excellent as they're compact and have very secure seals.
Halloween cutters from Target (Frankenstein, cat, pumpkin, bat)
transportation and animal cookie cutters that leave impressions on the top of the cookie (bought at Daiso for US$1.50 each)
fondant cutters that create a girl or a boy
Ateco "country" cutters
scrapbooking hole punch from Target (used for nori, etc.)
assorted vegetable cutters
number cutters
Turkey cutters from Target
wavy vegetable cutter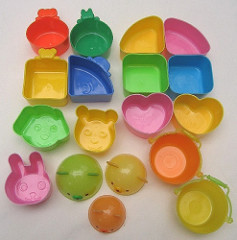 (upper right) set of 6 geometric shape cups bought at Daiso for US$1.50
(bottom right) little buckets
"(bottom middle) bikkuri animal" (surprise animal) caps — you put one on top of food, your child lifts it up for a surprise like this.
These crack me up — they're supposedly for your husband's bento, "leisure version". Of course there's golf ("Nice shot!") and fishing ("Do your best!") — both popular men's pasttimes Japan. Bought at Daiso for US$1.50.
This is a chilled 500ml bento box with built-in gel pack in the lid. The freezy pack is supposed to keep your lunch cool and safe. The manufacturers recommend wrapping the box tightly in a thick cloth or insulated bag to keep the contents cool for a longer period. They also recommend freezing the whole lid and gel pack assembled together on a flat surface in the freezer, to ensure that everything fits together after freezing. Non-microwaveable, bought at Daiso for US$1.50.
READ MORE: