The pink pig returns!
Pig onigiri shaped with ice cream sandwich molds from Williams Sonoma (they also do triple duty as egg molds — see my prior post for details). My son happily ate everything in one sitting today — bento success! Not shown: plastic pick for the kiwi, and a small packet of Anpanman furikake. Packed in my small 260ml box.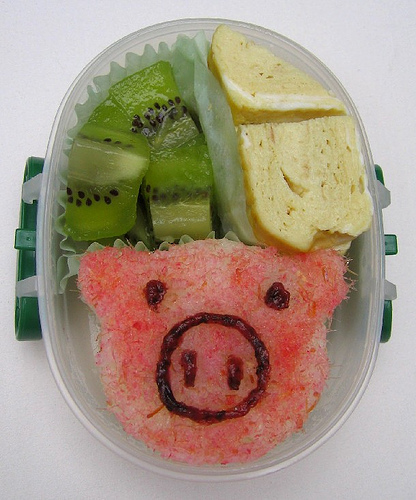 pig-shaped onigiri with nori paste filling (Gohan Desu Yo! brand), topped with sakura denbu for the face and umeshiso paste for the eyes and nose
dashimaki tamago (tamagoyaki with dashi: step-by-step tutorial here)
kiwi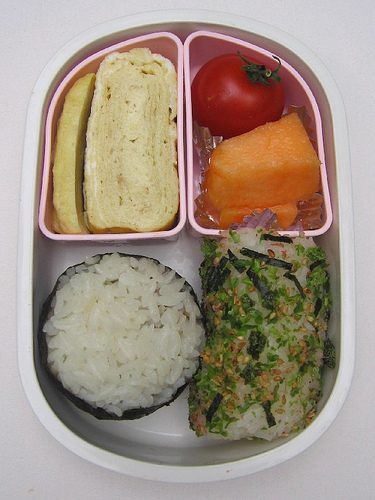 Mine has a couple of onigiri (one nori paste, one spicy tuna salad with furikake), tamago, cantalope, and tomato. Not shown: pick for the melon.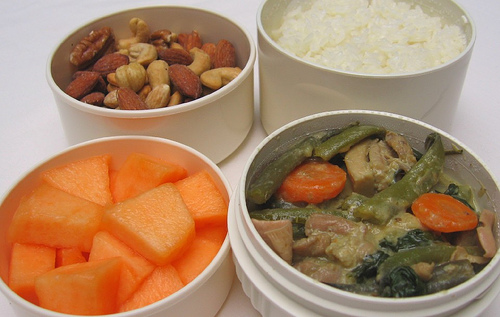 My husband said that the thermal lunch jar holds almost too much food for him, so I tried to lighten it up by packing a snack in one layer for noshing throughout the day. The curry is homemade green Thai curry with chicken, eggplant, carrots, purple beans, and Thai basil. The beans in the curry were dark purple when they were raw, but turned normal green in cooking. Interesting!
RELATED POSTS: