Holiday bento lunches
A little while ago I had a moms' night out dinner at Aziza in San Francisco and brought back some Moroccan food for Bug's lunch. The next morning I was off on yet another early-morning kindergarten school tour and in my rush forgot to take a photo or explain to Bug what strange things I'd packed for him. When I picked him up from preschool, Bug was quick to ask me what it was that I'd packed in his bento. I told him that it was couscous with lamb and vegetable stew, and asked if he liked it. Surprise! He loved it and said he wanted couscous for dinner and future bento lunches. So why didn't he eat any of the couscous in the lunch below? A packing error on my part…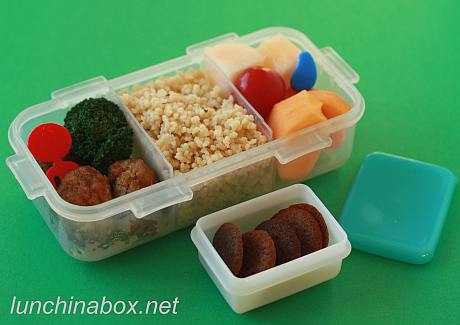 Contents of preschooler bento lunch: Italian meatballs, broccoli with vinaigrette, roasted garlic couscous, persimmons, cherry tomatoes, Asian pear, and mini cookies (ginger pennies). Bug's preschool discourages the parents from sending sweets in the children's lunches, but I couldn't resist these tiny holiday cookies for a treat (ooh, bad mom!). I made them from a recipe from Rose's Christmas Cookies, Rose Levy Beranbaum's definitive cookie book with notes on which will hold up for sending through mail, how long each will last fresh vs. frozen, etc. The crisp little cookies were a hit at a holiday party I brought them to recently, and parents allowed their children to grab a whole handful of the little rounds.
Morning prep time: 10 minutes, using leftover couscous and frozen meatballs. In the morning I microwaved the meatballs and broccoli, and cut up the fruit.
Product: The meatballs above are Kirkland Signature Meatballs, sold frozen in a bag at Costco. These are good when warmed in a tomato-based sauce, but a little peppery when eaten straight (not that my four-year-old minds). One of my friends used these at a party for do-it-yourself meatball sandwiches (meatballs and sauce served warm in my rice cooker, hoagie rolls cut in half), and they were the most popular dish there. For packing without sauce in a room-temp or cold lunch, though, I prefer the flavor of the Aidell's teriyaki pineapple chicken meatballs that I reviewed earlier.
Packing: To keep the loose couscous from spilling all over the rest of the lunch, I chose a container with built-in subdividers that come all the way up to the lid. The 350ml bento box is from a Lock & Lock lunch set, and is one of my most utilitarian boxes because of its watertight lid, secure flaps, and durability in the dishwasher and microwave. I threw in a couple of food picks for the meatballs and fruit, as well as a Thomas the Tank Engine fork and spoon set (click any small photo for a larger view). I dipped the Asian pear chunks in some sweetened lemon juice to keep the fruit from browning. The tiny cookies went into a little 50ml container that was part of a 3-box nesting set I got from Daiso in Daly City (Japanese dollar store with branches internationally) for US$1.50.
Verdict: Bug ate everything except the couscous in this lunch, which I found puzzling as he devoured the same couscous at dinner a couple of nights prior. When I asked him why, he said that it was hard to eat with the flat Thomas the Tank Engine spoon I'd tucked into his lunch bag. Evidently it fell off of the flat spoon and frustrated him; if I'd packed a more curved, bowl-shaped spoon he would have eaten more of it at preschool. Sigh. Usually I'd say he just wasn't that hungry if he wouldn't eat his food, but he was ravenous when I picked him up from school. Different kids have different food issues, I guess. Know your own child's issues and make adjustments as necessary!
* * * * *
Contents of preschooler bento lunch: Turkey drumstick, cranberry sauce, stuffing, and apple wedges.
Morning prep time: 8 minutes, using leftover turkey, dressing and cranberry sauce from Thanksgiving dinner. In the morning I sliced the apple and packed up everything else.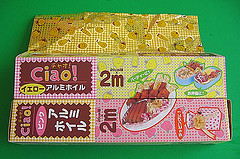 Packing: I made a clean handle on the turkey drumstick with some decorative aluminum foil from Daiso in Daly City (Japanese dollar store with branches internationally) for US$1.50 each. Ichiban Kan's online store sells similar aluminum foil. Bug's a bit of a neatnik, so little touches like this that let him keep his hands clean are a big hit. The liquidy cranberry sauce went into a disposable condiment cup with a lid to keep it contained. The stuffing went into a little reusable plastic bucket for fun, and I dipped the apple wedges in some sweetened lemon juice to keep the fruit from browning. I plead guilty to unnecessary garnish as I lined part of the bento box with a Bibb lettuce leaf for added color.
The whole lunch is packed in a 490ml "Four Leaves Clover" bento box from Ichiban Kan, which is a too large for a four-year-old according to the bento box size guidelines. I went with a larger box to accommodate the length of the turkey drumstick, but tried to pack it a little less tightly than usual by using the smaller subcontainers (bucket, condiment cup).
Gear: The 490ml "Four Leaves Clover" bento box from Ichiban Kan was cheap at US$1.50 (plus another $1.50 for the set of removable subcontainers), but the silver writing on the watertight flap lid is already starting to come off after only three uses and handwashing. Be aware! Many of the cheap dollar boxes from Ichiban Kan and Daiso have the same problem; this is one area where more expensive, better quality boxes shine. It's not a deal-breaker for me as I like having boxes that I don't care if Bug damages or loses, but it is irritating nonetheless. The manufacturer is "Marketing Art", and it's marked as being microwave-safe without the lid.
Verdict: Bug ate the turkey and apples at preschool, barely touching the dressing and cranberry sauce. He decided that he didn't like stuffing and cranberry sauce after all. No harm, no foul!
FURTHER READING:
Bento FAQ and Biggie's list of top speed tips, tutorials and reviews